Sunview Suites
258B Sunview Street, Waterloo
Property Management Co: Rentcorp Property Management

Main Intersection: University Ave W & S

Ownership Type: Condo Apt

Smallest Unit: 500

Largest Unit: 700

Style: Apartment

Condominium Corporation #: WSCP - 666
Stats
Building 258B Sunview Street is situated in the neighbourhood of and is located in Waterloo, N2L 3V9 . Additionally, there are neighbourhoods such in the immediate vicinity. In the neighbourhood, new homes are available for sale, which represents of Waterloo's total 280 homes currently listed. homeowners pay a monthly mortgage of , based on an average asking price of , than Waterloo's average list price of $1,192,932. The average listed property in is sq ft, has bedrooms, and bathrooms. In the area around 258B Sunview Street, of the homes for sale are apartments.
Currently there are no apartments for rent at 258B Sunview Street. Contact us for this details regarding this building's price history or to see units in nearby buildings.
Somewhat Walkable
Some errands can be accomplished on foot.
Good Transit
Some errands can be accomplished by public transportation.
Very Bikeable
Most errands can be accomplished on bike.
| | | | |
| --- | --- | --- | --- |
| Unit: 2155 X5990961 | 2 br | 1 bath 0 Parking | 500 sqft | Sold May 19, 2023 | $482,500 List: $489,900 |
| Unit: Ph216 X5952125 | 1 br | 1 bath 0 Parking | 500 sqft | Sold Apr 24, 2023 | $468,000 List: $498,000 |
| Unit: 2810 X5989885 | 0 br | 1 bath 0 Parking | 0 sqft | Sold Apr 24, 2023 | $378,000 List: $389,900 |
| Unit: 2715 X5939395 | 2 br | 1 bath 0 Parking | 500 sqft | Sold Mar 27, 2023 | $448,000 List: $448,800 |
| Unit: 2158 X5949647 | 1 br | 1 bath 0 Parking | 600 sqft | Sold Mar 24, 2023 | $425,000 List: $449,000 |
| Unit: 223 X5880102 | 1 br | 1 bath 0 Parking | 500 sqft | Sold Feb 09, 2023 | $400,000 List: $399,900 |
| Unit: 2151 X5721326 | 1 br | 1 bath 0 Parking | 600 sqft | Sold Aug 26, 2022 | $474,000 List: $499,999 |
| Unit: 297 X5712284 | 2 br | 2 bath 0 Parking | 800 sqft | Sold Aug 06, 2022 | $545,000 List: $549,900 |
| Unit: 2815 X5673166 | 2 br | 1 bath 0 Parking | 500 sqft | Sold Jul 07, 2022 | $480,000 List: $499,900 |
| Unit: 2153 X5541215 | 2 br | 1 bath 0 Parking | 500 sqft | Sold Mar 29, 2022 | $502,000 List: $399,900 |
| | | | |
| --- | --- | --- | --- |
| Unit: 272 X5978036 | 2 br | 1 bath 0 Parking | 500 sqft | Leased May 26, 2023 | $2,100 List: $2,100 |
| Unit: 2515 X5859266 | 2 br | 1 bath 0 Parking | 500 sqft | Leased Feb 17, 2023 | $2,000 List: $1,000 |
| Unit: 2312 X5824300 | 2 br | 1 bath 0 Parking | 600 sqft | Leased Nov 19, 2022 | $2,250 List: $2,100 |
| Unit: 2312 X5458478 | 2 br | 1 bath 0 Parking | 600 sqft | Leased Dec 19, 2021 | $1,850 List: $1,750 |
| Unit: 211 X5352982 | 1 br | 1 bath 0 Parking | 700 sqft | Leased Aug 27, 2021 | $1,700 List: $1,700 |
| Unit: 297 X5319238 | 3 br | 2 bath 0 Parking | 800 sqft | Leased Aug 05, 2021 | $2,400 List: $2,400 |
| Unit: Ph216 X5316634 | 1 br | 1 bath 0 Parking | 500 sqft | Leased Jul 29, 2021 | $1,800 List: $1,800 |
| Unit: 215 X5201716 | 3 br | 2 bath 0 Parking | 1000 sqft | Leased May 06, 2021 | $2,425 List: $2,500 |
| Unit: 231 X5104587 | 1 br | 1 bath 0 Parking | 600 sqft | Leased Feb 16, 2021 | $1,450 List: $1,395 |
| Unit: 281 X5097809 | 2 br | 1 bath 0 Parking | 600 sqft | Leased Feb 11, 2021 | $1,390 List: $1,390 |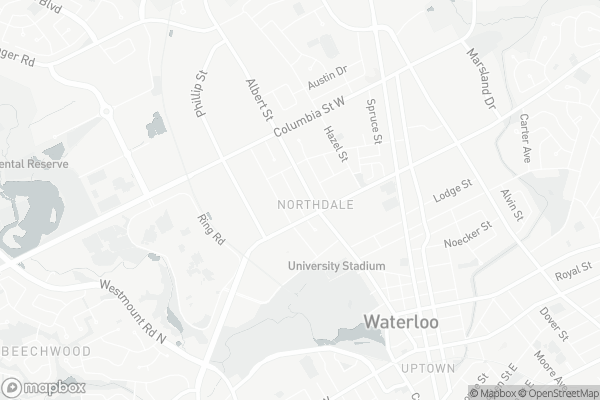 Winston Churchill Public School
Elementary: Public
Our Lady of Lourdes Catholic Elementary School
Elementary: Catholic
Cedarbrae Public School
Elementary: Public
Keatsway Public School
Elementary: Public
MacGregor Public School
Elementary: Public
Empire Public School
Elementary: Public
St David Catholic Secondary School
Secondary: Catholic
Forest Heights Collegiate Institute
Secondary: Public
Kitchener Waterloo Collegiate and Vocational School
Secondary: Public
Bluevale Collegiate Institute
Secondary: Public
Waterloo Collegiate Institute
Secondary: Public
Resurrection Catholic Secondary School
Secondary: Catholic
Waterloo Central Supermarket

Campus Court Plaza, 140 University Avenue West, Waterloo

0.23km

India Food and Grocery

275 Larch Street, Waterloo

0.35km

Kung Fu Mart

130 Columbia St W, Waterloo, ON commerical, 130 Columbia Street West unit 912, Waterloo

0.59km
Wine Rack

255 King Street North #1, Waterloo

0.69km

Lion Beer Factory

71 King Street North, Waterloo

1.13km

Gold Crown Brewery

71 King Street North, Waterloo

1.13km
Mr.Tian 田老师红烧肉

251 Hemlock Street, Waterloo

0.16km

Oka Sushi

251 Hemlock Street, Waterloo

0.16km

LooBapBap

104-280 Lester Street, Waterloo

0.2km
Lait Night

1-228 Albert Street, Waterloo

0.11km

Now Tea

280 Lester Street #106, Waterloo

0.2km

CoCo Fresh Tea & Juice

3-203 Lester Street, Waterloo

0.23km
RBC Royal Bank

75 University Avenue West, Waterloo

0.62km

RBC Royal Bank

248 King Street North, Waterloo

0.72km

BMO Bank of Montreal

255 King Street North, Waterloo

0.72km
Shell

360 Phillip Street, Waterloo

0.61km

Petro-Canada

151 Columbia Street West, Waterloo

0.61km

Petro-Canada

245 Weber Street North, Waterloo

1.13km
KW Granite Club

99 Seagram Drive, Waterloo

0.46km

Tasha's Ratchet Gym

143 Columbia Street West, Waterloo

0.49km

Wilfrid Laurier University Athletic Complex

75 University Avenue West, Waterloo

0.62km
The Quad

Veterans' Green

258-242 State Street, Waterloo

0.44km

Waterloo Park Baseball Diamond 4
Wilfrid Laurier University Library - Waterloo

75 University Avenue West, Waterloo

0.32km

WCI Library Learning Commons

300 Hazel Street, Waterloo

0.61km

Davis Centre Library

200 Ring Road, Waterloo

0.72km
Sanguen Health Centre

29 Young Street East, Waterloo

1.16km

MedX Medical Clinic

38 Bridgeport Road East, Waterloo

1.23km

Dr. Anthony Davies Family Practice

38 Bridgeport Road East, Waterloo

1.24km
My Lil' Healthbot "Rei"

University of Waterloo, Claudette Millar Hall, Place, Waterloo

0.51km

Pharmasave Campus

170 University Avenue West, Waterloo

0.54km

KW University Pharmacy| MyRxHealth

240 King Street North, Waterloo

0.72km
University Shops Plaza

170 University Avenue West, Waterloo

0.49km

University Commons

255 King Street North, Waterloo

0.69km

Westmount Place

50 Westmount Road North, Waterloo

1.42km
Princess Twin Cinemas

46 King Street North, Waterloo

1.24km

Princess Cinemas

6 Princess St W, 46 King Street North, Waterloo

1.25km

Galaxy Cinemas Waterloo

550 King Street North, Waterloo

2.51km
Gol's Lanzhou Noodle Waterloo

150 University Avenue West Unit 6B, Waterloo

0.31km

Sirens Waterloo

181 Lester Street, Waterloo

0.35km

Molly Bloom's Irish Pub

University Shops Plaza, 170 University Avenue West, Waterloo

0.36km