Property Management Co: .

Main Intersection: Yonge & Steeles

Ownership Type: Condo Apt

Smallest Unit: 900

Largest Unit: 1000

Style: Apartment

Stories: 23

Walk Score: 82

Transit Score: 79

Year Built: 1975

Total Units: 1283

Condominium Corporation #: YCC - 201

Maintenance Fees Cover: None

Owner Pays: Hydro, Heat, Air Conditioning, Water
Stats
This building is located at 205 Hilda Avenue, Toronto, M2M 4B1 and is situated in the neighbourhood of Newtonbrook West. Other neighbourhoods nearby are Newtonbrook East, Willowdale East, Willowdale West, Lansing Westgate, Westminster Branson. The district of Newtonbrook West has 141 postings available. That's just 0.7% of the 19589 total properties for sale in the city of Toronto. Homes in Newtonbrook West are listed for an average asking price of $1,327,476, or an estimated monthly mortgage of $4,497. That is 1.2 times less the average list price of $1,554,881 in Toronto. Newtonbrook West listed properties average 845 sq ft, 2.7 beds, and 2.8 baths. Apartments make up 14.9% of homes for sale in the neighbourhood around 205 Hilda Avenue.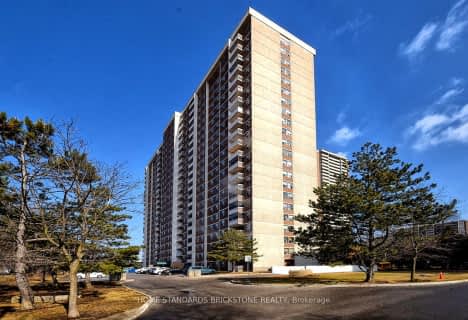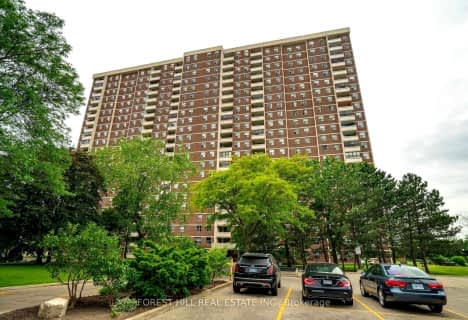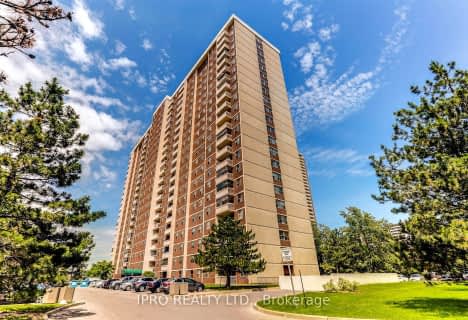 Currently there are no apartments for rent at 205 Hilda Avenue. Contact us for this details regarding this building's price history or to see units in nearby buildings.
Car-Dependent
Most errands require a car.
Excellent Transit
Most errands can be accomplished by public transportation.
Bikeable
Some errands can be accomplished on bike.
| | | | |
| --- | --- | --- | --- |
| Unit: 1406 C7008524 | 2 br | 1 bath 1 Parking | 900 sqft | Sold Oct 14, 2023 | $570,000 List: $595,000 |
| Unit: #1204 C6167936 | 3 br | 2 bath 0 Parking | 1000 sqft | Sold Jul 04, 2023 | $670,000 List: $696,000 |
| Unit: 608 C6086792 | 3 br | 2 bath 88 Parking | 1000 sqft | Sold Jun 14, 2023 | $685,000 List: $650,000 |
| Unit: 1309 C5956200 | 3 br | 2 bath 1 Parking | 1000 sqft | Sold May 25, 2023 | $685,000 List: $689,000 |
| Unit: 2107 C5925432 | 2 br | 2 bath 1 Parking | 900 sqft | Sold May 17, 2023 | $585,000 List: $599,000 |
| Unit: 607 C5908232 | 2 br | 2 bath 1 Parking | 900 sqft | Sold Apr 26, 2023 | $630,000 List: $649,900 |
| Unit: 812 C5830465 | 2 br | 2 bath 1 Parking | 900 sqft | Sold Apr 14, 2023 | $580,000 List: $599,000 |
| Unit: 604 C5924409 | 3 br | 2 bath 1 Parking | 1000 sqft | Sold Mar 24, 2023 | $717,000 List: $749,000 |
| Unit: 409 C5941721 | 3 br | 2 bath 1 Parking | 1000 sqft | Sold Mar 04, 2023 | $695,000 List: $700,000 |
| Unit: 2008 C5848550 | 3 br | 2 bath 1 Parking | 1000 sqft | Sold Jan 13, 2023 | $638,000 List: $670,000 |
| | | | |
| --- | --- | --- | --- |
| Unit: 408 C7274756 | 3 br | 2 bath 1 Parking | 1200 sqft | Leased Nov 30, 2023 | $3,400 List: $3,400 |
| Unit: 1204 C6703208 | 3 br | 2 bath 0 Parking | 1000 sqft | Leased Aug 03, 2023 | $3,600 List: $3,600 |
| Unit: 1610 C6140660 | 3 br | 2 bath 1 Parking | 1000 sqft | Leased Jul 18, 2023 | $3,600 List: $3,600 |
| Unit: 2104 C6194880 | 3 br | 2 bath 0 Parking | 1200 sqft | Leased Jul 14, 2023 | $3,500 List: $3,500 |
| Unit: 611 C5848806 | 3 br | 2 bath 0 Parking | 1200 sqft | Leased Jan 07, 2023 | $2,800 List: $2,800 |
| Unit: 1512 C5753889 | 2 br | 2 bath 1 Parking | 800 sqft | Leased Oct 24, 2022 | $2,650 List: $2,650 |
| Unit: 1512 C5753889 | 2 br | 2 bath 1 Parking | 800 sqft | Leased Oct 24, 2022 | $2,650 List: $2,650 |
| Unit: 1311 C5728153 | 3 br | 2 bath 0 Parking | 1200 sqft | Leased Aug 23, 2022 | $3,200 List: $2,700 |
| Unit: Ph#22 C5728195 | 3 br | 2 bath 1 Parking | 1000 sqft | Leased Aug 15, 2022 | $3,800 List: $3,500 |
| Unit: 1306 C5596938 | 2 br | 1 bath 0 Parking | 900 sqft | Leased May 04, 2022 | $2,000 List: $1,950 |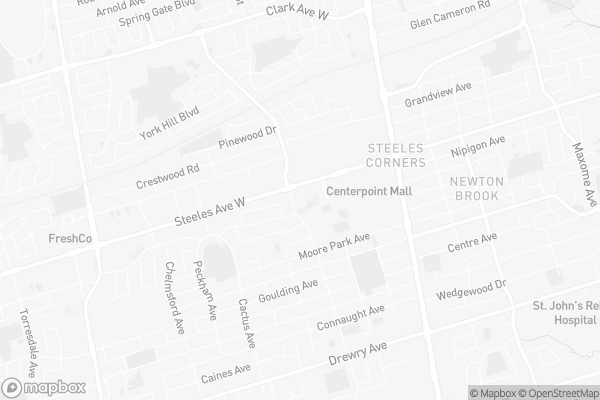 ÉIC Monseigneur-de-Charbonnel
Elementary: Catholic
Blessed Scalabrini Catholic Elementary School
Elementary: Catholic
Pleasant Public School
Elementary: Public
R J Lang Elementary and Middle School
Elementary: Public
Yorkhill Elementary School
Elementary: Public
St Paschal Baylon Catholic School
Elementary: Catholic
Avondale Secondary Alternative School
Secondary: Public
North West Year Round Alternative Centre
Secondary: Public
Drewry Secondary School
Secondary: Public
ÉSC Monseigneur-de-Charbonnel
Secondary: Catholic
Newtonbrook Secondary School
Secondary: Public
Thornhill Secondary School
Secondary: Public
Tickled Toad Pub & Grill

330 Steeles Avenue W, Thornhill, ON L4J 6X6

0.29km

Seoul Pocha 72

72 Steeles Avenue W, Unit 4, Thornhill, ON L4J 1A1

0.58km

Nangman Pocha

6283 Yonge Street, Toronto, ON M2M 3X6

0.74km
McDonald's

300 Steeles Ave. West, Thornhill, ON L4J 1A1

0.18km

Tea Shop 168

180 Steeles Avenue W, Thornhill, ON L4J 2L1

0.3km

Cafe Login

100 Steeles Avenue W, Vaughan, ON L4J 7Y1

0.4km
Main Drug Mart

390 Steeles Avenue W, Vaughan, ON L4J 6X2

0.49km

Shoppers Drug Mart

6428 Yonge Street, Toronto, ON M2M 3X7

0.49km

Carlo's No Frills

6220 Yonge Street, North York, ON M2M 3X4

0.53km
McDonald's

300 Steeles Ave. West, Thornhill, ON L4J 1A1

0.18km

Seoul House

180 Steeles Avenue W, Thornhill, ON L4J 2L1

0.22km

Alminz Kakanin

248 Steeles Avenue W, Thornhill, ON L4J 5R4

0.25km
Centerpoint Mall

6464 Yonge Street, Toronto, ON M2M 3X7

0.48km

World Shops

7299 Yonge St, Markham, ON L3T 0C5

1.06km

Shops On Yonge

7181 Yonge Street, Markham, ON L3T 0C7

1.1km
Coco Banana Pinoy Foods & Variety Store

248 Steeles Avenue W, Thornhill, ON L4J 1A1

0.13km

H-Mart

370 Steeles Avenue W, Vaughan, ON L4J 6X1

0.4km

Carlo's No Frills

6220 Yonge Street, North York, ON M2M 3X4

0.53km
LCBO

5995 Yonge St, North York, ON M2M 3V7

1.13km

LCBO

180 Promenade Cir, Thornhill, ON L4J 0E4

2.25km

LCBO

5095 Yonge Street, North York, ON M2N 6Z4

3.27km
Mercedes-Benz Thornhill

228 Steeles Avenue W, Thornhill, ON L4J 1A1

0.2km

Sisley Honda

88 Steeles Avenue West, Thornhill, ON L4J 1A1

0.47km

Esso

7015 Yonge Street, Thornhill, ON L3T 2A5

0.78km
Imagine Cinemas Promenade

1 Promenade Circle, Lower Level, Thornhill, ON L4J 4P8

2.37km

Cineplex Cinemas Empress Walk

5095 Yonge Street, 3rd Floor, Toronto, ON M2N 6Z4

3.24km

SilverCity Richmond Hill

8725 Yonge Street, Richmond Hill, ON L4C 6Z1

5.04km
Vaughan Public Libraries

900 Clark Ave W, Thornhill, ON L4J 8C1

2.11km

Bathurst Clark Resource Library

900 Clark Avenue W, Thornhill, ON L4J 8C1

2.11km

Thornhill Village Library

10 Colborne St, Markham, ON L3T 1Z6

2.31km
Shouldice Hospital

7750 Bayview Avenue, Thornhill, ON L3T 4A3

3.4km

North York General Hospital

4001 Leslie Street, North York, ON M2K 1E1

5.9km

Baycrest

3560 Bathurst Street, North York, ON M6A 2E1

7.27km
Lillian Park

Lillian St (Lillian St & Otonabee Ave), North York ON

1.42km

Edithvale Park

91 Lorraine Dr, Toronto ON M2N 0E5

2km

Antibes Park

58 Antibes Dr (at Candle Liteway), Toronto ON M2R 3K5

2.47km
TD Bank Financial Group

6209 Bathurst St, Willowdale ON M2R 2A5

1.36km

HSBC

7398 Yonge St (btwn Arnold & Clark), Thornhill ON L4J 8J2

1.65km

RBC Royal Bank

4789 Yonge St (Yonge), North York ON M2N 0G3

4.05km