Property Management Co: Cie

Main Intersection: Main St West/Leland

Ownership Type: Condo Apt

Largest Unit: 600

Style: Bachelor/Studio

Amenities: Visitor Parking

Condominium Corporation #: WSCP - 598
Stats
Building 77 Leland Street is situated in the neighbourhood of Ainslie Wood and is located in Hamilton, L8S 3A1 . Additionally, there are neighbourhoods such Mountview, Chedoke Park, Cootes Paradise, Fessenden, Westdale in the immediate vicinity. In the Ainslie Wood neighbourhood, 35 new homes are available for sale, which represents 1.8% of Hamilton's total 1956 homes currently listed. Ainslie Wood homeowners pay a monthly mortgage of $3,279, based on an average asking price of $967,901, 1.5 times less than Hamilton's average list price of $1,422,855. The average listed property in Ainslie Wood is 614 sq ft, has 2.6 bedrooms, and 1.8 bathrooms. In the area around 77 Leland Street, 25.7% of the homes for sale are apartments.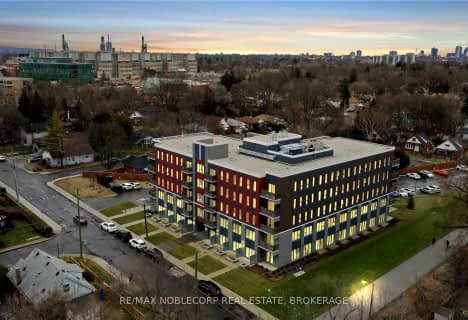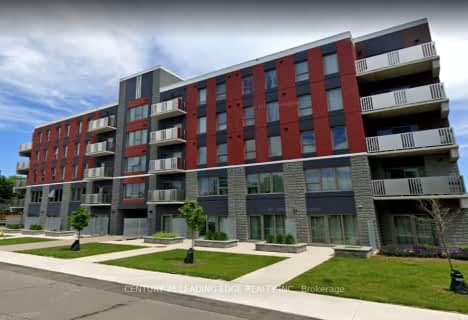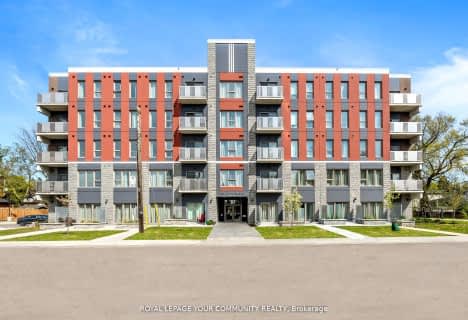 Currently there are no apartments for rent at 77 Leland Street. Contact us for this details regarding this building's price history or to see units in nearby buildings.
Somewhat Walkable
Some errands can be accomplished on foot.
Good Transit
Some errands can be accomplished by public transportation.
Biker's Paradise
Daily errands do not require a car.
| | | | |
| --- | --- | --- | --- |
| Unit: 222 X5976255 | 2 br | 1 bath 1 Parking | 600 sqft | Sold Apr 05, 2023 | $675,000 List: $699,997 |
| Unit: 102 X5687578 | 1 br | 1 bath 0 Parking | 0 sqft | Sold Sep 14, 2022 | $499,900 List: $518,800 |
| Unit: 204 X5679195 | 0 br | 1 bath 1 Parking | 0 sqft | Sold Jul 12, 2022 | $489,000 List: $499,000 |
| Unit: 223 X5640321 | 1 br | 1 bath 1 Parking | 0 sqft | Sold Jun 21, 2022 | $535,000 List: $549,000 |
| Unit: 315 X5542928 | 0 br | 1 bath 0 Parking | 0 sqft | Sold Mar 21, 2022 | $490,000 List: $429,900 |
| Unit: 203 X5538480 | 1 br | 1 bath 0 Parking | 600 sqft | Sold Mar 17, 2022 | $706,000 List: $549,900 |
| Unit: 521 X5427106 | 0 br | 1 bath 0 Parking | 0 sqft | Sold Nov 12, 2021 | $425,000 List: $421,000 |
| Unit: 519 X5328449 | 0 br | 1 bath 0 Parking | 0 sqft | Sold Aug 10, 2021 | $405,000 List: $399,900 |
| Unit: 318 X5309397 | 0 br | 1 bath 0 Parking | 0 sqft | Sold Aug 03, 2021 | $375,000 List: $389,900 |
| Unit: 207 X4892167 | 1 br | 1 bath 0 Parking | 0 sqft | Sold Sep 09, 2020 | $325,000 List: $332,000 |
| | | | |
| --- | --- | --- | --- |
| Unit: 316 X5958195 | 1 br | 1 bath 0 Parking | 0 sqft | Leased Mar 20, 2023 | $1,875 List: $1,875 |
| Unit: 306 X5971155 | 1 br | 1 bath 0 Parking | 0 sqft | Leased Mar 19, 2023 | $1,800 List: $1,800 |
| Unit: 416 X5940417 | 1 br | 1 bath 0 Parking | 0 sqft | Leased Mar 02, 2023 | $1,875 List: $1,875 |
| Unit: 517 X5851834 | 1 br | 1 bath 0 Parking | 0 sqft | Leased Jan 12, 2023 | $1,800 List: $1,800 |
| Unit: 509 X5847213 | 1 br | 1 bath 0 Parking | 0 sqft | Leased Dec 14, 2022 | $1,850 List: $1,850 |
| Unit: 106 X5783745 | 0 br | 1 bath 0 Parking | 0 sqft | Leased Oct 31, 2022 | $1,800 List: $1,800 |
| Unit: 523 X5796778 | 1 br | 1 bath 0 Parking | 0 sqft | Leased Oct 22, 2022 | $1,850 List: $1,850 |
| Unit: 58 X5699942 | 0 br | 0 bath 1 Parking | 0 sqft | Leased Sep 09, 2022 | $125 List: $125 |
| Unit: 520 X5519008 | 1 br | 1 bath 1 Parking | 0 sqft | Leased Mar 03, 2022 | $1,750 List: $1,750 |
| Unit: 517 X5478940 | 1 br | 1 bath 0 Parking | 0 sqft | Leased Jan 23, 2022 | $1,450 List: $1,450 |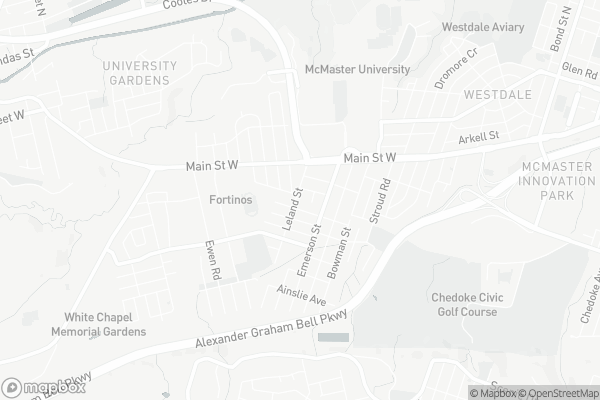 Glenwood Special Day School
Elementary: Public
Holbrook Junior Public School
Elementary: Public
Mountview Junior Public School
Elementary: Public
Canadian Martyrs Catholic Elementary School
Elementary: Catholic
St. Teresa of Avila Catholic Elementary School
Elementary: Catholic
Dalewood Senior Public School
Elementary: Public
École secondaire Georges-P-Vanier
Secondary: Public
St. Mary Catholic Secondary School
Secondary: Catholic
Sir Allan MacNab Secondary School
Secondary: Public
Westdale Secondary School
Secondary: Public
Westmount Secondary School
Secondary: Public
St. Thomas More Catholic Secondary School
Secondary: Catholic
Emerson Pub

109 Emerson Street, Hamilton, ON L8S 2X6

0.18km

West End Pub

151 Emerson Street, Hamilton, ON L8S 2Y1

0.27km

The Phoenix Bar & Grill

1280 Main Street W, Hamilton, ON L8S 4K1

0.84km
Tim Horton Donuts

1554 Main Street W, Hamilton, ON L8S 1E5

0.36km

Starbucks

1341 Main Street W, Hamilton, ON L8S 1C5

0.37km

Williams Fresh Cafe

1309 Main Street W, Unit A-2, Hamilton, ON L8S 1C5

0.46km
Shoppers Drug Mart

1341 Main Street W, Hamilton, ON L8S 1C6

0.37km

Shoppers Drug Mart

1300 Garth Street, Hamilton, ON L9C 4L7

4.07km

Sutherland's Pharmacy

180 James Street S, Hamilton, ON L8P 4V1

4.17km
Dough Box

1457 Main Street W, Hamilton, ON L8S 1C9

0.25km

Tally Ho

1536 Main Street W, Hamilton, ON L8S 1E4

0.29km

Maple Leaf Pancake House

1520 Main St W, Hamilton, ON L8S 1E3

0.29km
Jackson Square

2 King Street W, Hamilton, ON L8P 1A1

4.23km

Hamilton City Centre Mall

77 James Street N, Hamilton, ON L8R

4.36km

Upper James Square

1508 Upper James Street, Hamilton, ON L9B 1K3

6.01km
Fortinos

1579 Main Street W, Hamilton, ON L8S 1E6

0.53km

M&M Food Market

101 Osler Drive, Unit 140, Dundas, ON L9H 4H4

1.71km

Food Basics

845 King Street W, Hamilton, ON L8S 1K4

2.03km
Liquor Control Board of Ontario

233 Dundurn Street S, Hamilton, ON L8P 4K8

2.59km

LCBO

1149 Barton Street E, Hamilton, ON L8H 2V2

8.87km

The Beer Store

396 Elizabeth St, Burlington, ON L7R 2L6

12.92km
Shell Canada Products

1580 Main Street W, Hamilton, ON L8S 1E9

0.53km

Family Comfort

36 Strathcona Ave South, Hamilton, ON L8P 4H9

3.02km

Esso

1136 Golf Links Road, Ancaster, ON L9K 1J8

3.28km
The Westdale

1014 King Street West, Hamilton, ON L8S 1L4

1.6km

Staircase Cafe Theatre

27 Dundurn Street N, Hamilton, ON L8R 3C9

2.97km

Cineplex Cinemas Ancaster

771 Golf Links Road, Ancaster, ON L9G 3K9

3.98km
H.G. Thode Library

1280 Main Street W, Hamilton, ON L8S

0.65km

Mills Memorial Library

1280 Main Street W, Hamilton, ON L8S 4L8

0.93km

Health Sciences Library, McMaster University

1280 Main Street, Hamilton, ON L8S 4K1

1.13km
McMaster Children's Hospital

1200 Main Street W, Hamilton, ON L8N 3Z5

0.45km

St Joseph's Hospital

50 Charlton Avenue E, Hamilton, ON L8N 4A6

4.36km

Juravinski Cancer Centre

699 Concession Street, Hamilton, ON L8V 5C2

6.39km
Alexander Park

259 Whitney Ave (Whitney and Rifle Range), Hamilton ON

0.48km

Dundas Driving Park

71 Cross St, Dundas ON

2.94km

Fonthill Park

Wendover Dr, Hamilton ON

3.05km
CIBC

1200 Main St W, Hamilton ON L8S 4K1

0.48km

TD Bank Financial Group

938 King St W, Hamilton ON L8S 1K8

1.83km

TD Bank Financial Group

860 King St W, Hamilton ON L8S 1K3

1.83km