Property Management Co: Dynamic Property Management

Main Intersection: Dixie/Queen

Ownership Type: Condo Apt

Smallest Unit: 1000

Largest Unit: 1200

Style: Apartment

Stories: 28

Walk Score: 63

Transit Score: 65

Year Built: 1986

Total Units: 222

Amenities: Exercise Room, Indoor Pool, Indoor Pool, Outdoor Pool, Security Guard

Condominium Corporation #: PCC - 260

Maintenance Fees Cover: Hydro, Heat, Water

Owner Pays: Air Conditioning
Stats
Building 8 Lisa Street is situated in the neighbourhood of Queen Street Corridor and is located in Brampton, L6T 4S6 . Additionally, there are neighbourhoods such Gore Industrial South, Madoc, Bramalea West Industrial, Downtown Brampton, Sandringham Wellington North in the immediate vicinity. In the Queen Street Corridor neighbourhood, 65 new homes are available for sale, which represents 2.8% of Brampton's total 2332 homes currently listed. Queen Street Corridor homeowners pay a monthly mortgage of $6,710, based on an average asking price of $1,980,736, 1.4 times than Brampton's average list price of $1,444,407. The average listed property in Queen Street Corridor is 833 sq ft, has 1.8 bedrooms, and 1.4 bathrooms. In the area around 8 Lisa Street, 61.5% of the homes for sale are apartments.
Currently there are no apartments for rent at 8 Lisa Street. Contact us for this details regarding this building's price history or to see units in nearby buildings.
Car-Dependent
Almost all errands require a car.
Good Transit
Some errands can be accomplished by public transportation.
Bikeable
Some errands can be accomplished on bike.
| | | | |
| --- | --- | --- | --- |
| Unit: 2505 W5961557 | 2 br | 2 bath 2 Parking | 1000 sqft | Sold Apr 30, 2023 | $625,000 List: $650,000 |
| Unit: 2106 W5951131 | 2 br | 2 bath 1 Parking | 1000 sqft | Sold Mar 17, 2023 | $529,500 List: $529,000 |
| Unit: 1801 W5891315 | 2 br | 2 bath 2 Parking | 1200 sqft | Sold Mar 07, 2023 | $505,000 List: $525,000 |
| Unit: 2401 W5931435 | 2 br | 2 bath 1 Parking | 1200 sqft | Sold Mar 02, 2023 | $518,000 List: $530,000 |
| Unit: 706 W5819964 | 2 br | 2 bath 0 Parking | 1000 sqft | Sold Dec 13, 2022 | $420,000 List: $495,000 |
| Unit: 508 W5674672 | 2 br | 2 bath 1 Parking | 1200 sqft | Sold Jul 27, 2022 | $545,250 List: $580,000 |
| Unit: 907 W5666767 | 2 br | 2 bath 0 Parking | 1200 sqft | Sold Jun 27, 2022 | $585,000 List: $585,000 |
| Unit: 2907 W5610370 | 2 br | 2 bath 1 Parking | 1200 sqft | Sold Jun 10, 2022 | $548,000 List: $624,000 |
| Unit: 902 W5574438 | 2 br | 2 bath 0 Parking | 1200 sqft | Sold May 12, 2022 | $565,000 List: $499,900 |
| Unit: 2003 W5579282 | 2 br | 2 bath 0 Parking | 1000 sqft | Sold May 10, 2022 | $590,000 List: $624,900 |
| | | | |
| --- | --- | --- | --- |
| Unit: 1801 W6008544 | 2 br | 2 bath 1 Parking | 1200 sqft | Leased May 24, 2023 | $2,850 List: $2,850 |
| Unit: 2904 W6043241 | 1 br | 2 bath 1 Parking | 800 sqft | Leased Apr 26, 2023 | $2,400 List: $2,400 |
| Unit: 2403 W5906280 | 2 br | 2 bath 0 Parking | 1000 sqft | Leased Apr 15, 2023 | $2,750 List: $2,750 |
| Unit: 2303 W5871655 | 2 br | 2 bath 0 Parking | 1200 sqft | Leased Feb 06, 2023 | $2,800 List: $2,799 |
| Unit: 1107 W5755158 | 2 br | 2 bath 1 Parking | 1200 sqft | Leased Sep 14, 2022 | $2,900 List: $2,750 |
| Unit: 2404 W5755681 | 1 br | 2 bath 2 Parking | 1000 sqft | Leased Sep 09, 2022 | $2,200 List: $2,100 |
| Unit: 1803 W5708016 | 2 br | 2 bath 1 Parking | 1200 sqft | Leased Aug 12, 2022 | $2,900 List: $2,950 |
| Unit: 704 W5663757 | 1 br | 2 bath 1 Parking | 1000 sqft | Leased Jun 21, 2022 | $2,000 List: $2,000 |
| Unit: 1603 W5566117 | 2 br | 2 bath 2 Parking | 1000 sqft | Leased May 06, 2022 | $3,200 List: $3,000 |
| Unit: 2002 W5491859 | 2 br | 2 bath 1 Parking | 1200 sqft | Leased Feb 16, 2022 | $2,450 List: $2,450 |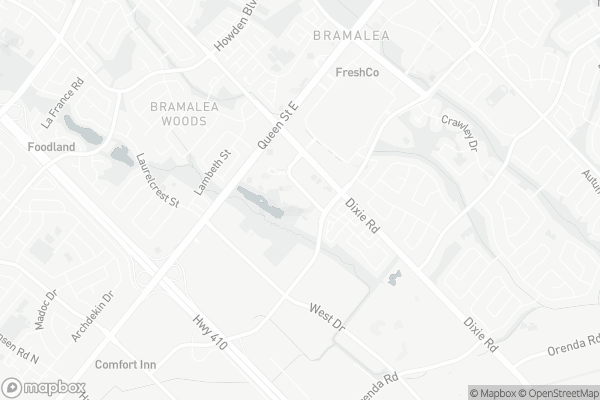 Hanover Public School
Elementary: Public
Lester B Pearson Catholic School
Elementary: Catholic
ÉÉC Sainte-Jeanne-d'Arc
Elementary: Catholic
St John Fisher Separate School
Elementary: Catholic
Balmoral Drive Senior Public School
Elementary: Public
Clark Boulevard Public School
Elementary: Public
Judith Nyman Secondary School
Secondary: Public
Holy Name of Mary Secondary School
Secondary: Catholic
Chinguacousy Secondary School
Secondary: Public
Central Peel Secondary School
Secondary: Public
Bramalea Secondary School
Secondary: Public
North Park Secondary School
Secondary: Public
Rabba Fine Foods

100 Peel Centre Drive, Brampton

0.36km

Metro

25 Peel Centre Drive, Brampton

0.68km

Oceans Fresh Food Market

104-150 West Drive, Brampton

0.72km
LCBO

City Centre, 80 Peel Centre Drive, Brampton

0.31km

Purple Skull Brewing Company

80 Peel Centre Drive, Brampton

0.33km

The Beer Store

80 Peel Centre Drive, Brampton

0.35km
Lazeez Shawarma

14 Lisa Street Unit 1, Brampton

0.33km

Mr.Sub

14 Lisa Street, Brampton

0.33km

Walkers Brew

14 Lisa Street, Brampton

0.34km
Kung Fu Tea on Peel

50 Peel Centre Drive Unit 112, Brampton

0.49km

Demetres Bramalea

50 Peel Centre Drive, Brampton

0.49km

Tim Hortons

35 Peel Centre Drive, Brampton

0.56km
CIBC Branch with ATM

60 Peel Centre Drive Unit 1, Brampton

0.34km

TD Canada Trust Branch and ATM

100 Peel Centre Drive, Brampton

0.38km

Scotiabank

54 Peel Centre Drive, Brampton

0.42km
Electric Vehicle Charging Station - Bramalea City Centre

27-45 Peel Centre Drive, Brampton

0.5km

Circle K

145 Clark Boulevard, Brampton

0.62km

Esso

145 Clark Boulevard, Brampton

0.65km
Sai Patanjali International Yoga Academy

2001-2 Silver Maple Court, Brampton

0.18km

Modo Yoga Brampton

205-50 Peel Centre Drive, Brampton

0.49km

ESQ Athletic Inc.

101 West Drive, Brampton

0.49km
Norton Park Community Garden

Norton Place Park

170 Clark Boulevard, Brampton

0.3km

Archway To Bramalea

Dixie Road, Brampton

0.51km
Brampton Library - Chinguacousy Branch

150 Central Park Drive, Brampton

1.04km

Biblioteca c comercial

150 Central Park Drive, Brampton

1.04km

Brampton Library - Four Corners Branch

65 Queen Street East, Brampton

3.59km
SAF Medical Center

440B-25 Peel Centre Drive, Brampton

0.67km

Bramalea Orthopedics

25 Peel Centre Dr UPPER LEVEL, Bramalea City Centre Drive, Brampton

0.68km

Kings Cross Doctors Office

17 Kings Cross Road, Brampton

1.37km
Bramcity Pharmasave Pharmacy & Methadone Clinic/Walk-in Clinic

14 Lisa Street #2, Brampton

0.33km

Shoppers Drug Mart

25 Peel Centre Drive Unit 379, Brampton

0.65km

Metro Pharmacy

25 Peel Centre Drive, Brampton

0.68km
Dixie Plaza

14 Lisa Street, Brampton

0.39km

Clark West Plaza

71 West Drive, Brampton

0.64km

The Spot

25 Peel Centre Drive, Brampton

0.68km
SilverCity Brampton Cinemas

50 Great Lakes Drive, Brampton

4.21km
Walkers Brew

14 Lisa Street, Brampton

0.34km

St. Louis Bar & Grill

100 Peel Centre Drive, Brampton

0.36km

MOXIES Bramalea City Centre Restaurant

56 Peel Centre Drive, Brampton

0.41km