Property Management Co: Wilson Blanchard

Main Intersection: Wentworth St

Ownership Type: Condo Apt

Smallest Unit: 800

Largest Unit: 800

Style: Apartment

Stories: 5

Walk Score: 70

Transit Score: 67

Year Built: 2020

Total Units: 45

Condominium Corporation #: WSCC - 599

Maintenance Fees Cover: Water

Owner Pays: Hydro, Heat, Air Conditioning
Stats
Building 467 Charlton Avenue East is situated in the neighbourhood of Stinson and is located in Hamilton, L8N 0B3 . Additionally, there are neighbourhoods such Landsdale, Corktown, St Clair, Eastmount, Beasley in the immediate vicinity. In the Stinson neighbourhood, 39 new homes are available for sale, which represents 2% of Hamilton's total 1955 homes currently listed. Stinson homeowners pay a monthly mortgage of $2,947, based on an average asking price of $869,925, 1.6 times less than Hamilton's average list price of $1,422,855. The average listed property in Stinson is 1188 sq ft, has 2.6 bedrooms, and 2.3 bathrooms. In the area around 467 Charlton Avenue East, 17.9% of the homes for sale are apartments.
Currently there are no apartments for rent at 467 Charlton Avenue East. Contact us for this details regarding this building's price history or to see units in nearby buildings.
Car-Dependent
Most errands require a car.
Good Transit
Some errands can be accomplished by public transportation.
Somewhat Bikeable
Most errands require a car.
| | | | |
| --- | --- | --- | --- |
| Unit: 304 X5826092 | 2 br | 2 bath 0 Parking | 900 sqft | Sold Jan 04, 2023 | $525,000 List: $549,900 |
| Unit: 206 X5733918 | 2 br | 2 bath 1 Parking | 700 sqft | Sold Dec 01, 2022 | $500,500 List: $529,900 |
| Unit: 208 X5617228 | 2 br | 2 bath 0 Parking | 800 sqft | Sold May 18, 2022 | $640,000 List: $639,900 |
| Unit: #104 X5570350 | 2 br | 2 bath 1 Parking | 900 sqft | Sold Apr 15, 2022 | $645,000 List: $639,000 |
| Unit: 405 X5531134 | 2 br | 2 bath 0 Parking | 800 sqft | Sold Mar 10, 2022 | $650,000 List: $650,000 |
| Unit: 210 X5497830 | 2 br | 2 bath 0 Parking | 700 sqft | Sold Feb 15, 2022 | $640,100 List: $549,990 |
| Unit: 205 X5450650 | 2 br | 2 bath 1 Parking | 700 sqft | Sold Feb 07, 2022 | $558,000 List: $569,990 |
| Unit: 309 X5473087 | 1 br | 1 bath 0 Parking | 500 sqft | Sold Jan 18, 2022 | $490,000 List: $439,900 |
| Unit: 204 X5441634 | 2 br | 2 bath 0 Parking | 900 sqft | Sold Dec 21, 2021 | $583,900 List: $582,900 |
| Unit: 606 X5312504 | 1 br | 2 bath 0 Parking | 700 sqft | Sold Aug 12, 2021 | $525,000 List: $530,000 |
| | | | |
| --- | --- | --- | --- |
| Unit: 601 X5960152 | 2 br | 2 bath 0 Parking | 700 sqft | Leased May 15, 2023 | $2,500 List: $2,500 |
| Unit: 204 X5903360 | 2 br | 2 bath 1 Parking | 900 sqft | Leased May 15, 2023 | $2,450 List: $2,500 |
| Unit: 601 X5724786 | 2 br | 2 bath 0 Parking | 700 sqft | Leased Aug 12, 2022 | $2,400 List: $2,400 |
| Unit: 210 X5194720 | 2 br | 2 bath 0 Parking | 700 sqft | Leased Apr 21, 2021 | $2,000 List: $2,000 |
| Unit: 601 X4913477 | 2 br | 2 bath 0 Parking | 700 sqft | Leased Sep 18, 2020 | $2,000 List: $2,000 |
| Unit: 602 X4885155 | 2 br | 2 bath 1 Parking | 1200 sqft | Leased Sep 03, 2020 | $3,200 List: $3,650 |
| Unit: 502 X4865992 | 1 br | 1 bath 1 Parking | 500 sqft | Leased Aug 14, 2020 | $1,750 List: $1,750 |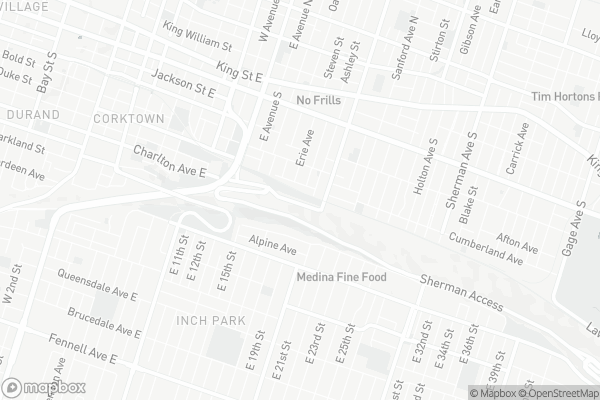 Sacred Heart of Jesus Catholic Elementary School
Elementary: Catholic
St. Patrick Catholic Elementary School
Elementary: Catholic
St. Brigid Catholic Elementary School
Elementary: Catholic
George L Armstrong Public School
Elementary: Public
Queen Victoria Elementary Public School
Elementary: Public
Cathy Wever Elementary Public School
Elementary: Public
King William Alter Ed Secondary School
Secondary: Public
Turning Point School
Secondary: Public
Vincent Massey/James Street
Secondary: Public
St. Charles Catholic Adult Secondary School
Secondary: Catholic
Sir John A Macdonald Secondary School
Secondary: Public
Cathedral High School
Secondary: Catholic
Cadillac Jax Bar & Grill

532 Main Street E, Hamilton, ON L8M 1J1

0.61km

The Corktown Pub

175 Young St, Hamilton, ON L8N 1V7

0.96km

The North Fork

215 King Street E, Hamilton, ON L8N 1B6

1.24km
Heal

584 Concession Street, Hamilton, ON L8V 1B1

0.6km

Cafe Oranje

312 King Street E, Hamilton, ON L8N 1C2

1.03km

Jet Cafe

184 King Street E, Hamilton, ON L8N 1B4

1.29km
Shoppers Drug Mart

510 Concession Street, Hamilton, ON L9A 1C4

0.49km

Rexall

447 Main Street E, Hamilton, ON L8N 1K1

0.65km

700 Main Pharmacy

700 Main Street E, Hamilton, ON L8M 1K7

1.01km
Good Friends Sandwich Shop

522 Concession Street, Hamilton, ON L8V 1A6

0.48km

Stoneroads Bar & Grill

533 Concession Street, Hamilton, ON L8V 1A8

0.51km

Fishing Sushi

542 Concession Street, Hamilton, ON L8V 1A9

0.52km
Hamilton City Centre Mall

77 James Street N, Hamilton, ON L8R

1.89km

Jackson Square

2 King Street W, Hamilton, ON L8P 1A1

1.98km

CF Lime Ridge

999 Upper Wentworth Street, Hamilton, ON L9A 4X5

3.31km
Franco's No Frills

435 Main Street E, Hamilton, ON L8N 1J9

0.67km

Duarte's Supermarket

417 Barton Street E, Hamilton, ON L8L 2Y4

1.64km

Coven Market

949 Main Street E, Hamilton, ON L8M 1M9

1.85km
Liquor Control Board of Ontario

233 Dundurn Street S, Hamilton, ON L8P 4K8

3.16km

LCBO

1149 Barton Street E, Hamilton, ON L8H 2V2

3.35km

The Beer Store

396 Elizabeth St, Burlington, ON L7R 2L6

10.05km
Canadian Tire Gas+

314 Main Street E, Hamilton, ON L8N 1H9

0.78km

Mark's General Contracting

51 Blake Street, Hamilton, ON L8M 2S4

1.21km

Chadwick's & Hack's

682 Fennell Avenue E, Hamilton, ON L8V 1V4

1.79km
The Pearl Company

16 Steven Street, Hamilton, ON L8L 5N3

0.84km

Theatre Aquarius

190 King William Street, Hamilton, ON L8R 1A8

1.26km

Landmark Cinemas 6 Jackson Square

2 King Street W, Hamilton, ON L8P 1A2

1.88km
Hamilton Public Library

100 Mohawk Road W, Hamilton, ON L9C 1W1

3.16km

Hamilton Public Library

955 King Street W, Hamilton, ON L8S 1K9

4.44km

Mills Memorial Library

1280 Main Street W, Hamilton, ON L8S 4L8

5.51km
Juravinski Cancer Centre

699 Concession Street, Hamilton, ON L8V 5C2

0.84km

Juravinski Hospital

711 Concession Street, Hamilton, ON L8V 5C2

0.97km

St Peter's Hospital

88 Maplewood Avenue, Hamilton, ON L8M 1W9

1.36km
Bishop's Park

Woolverton Park

90 Charlton Ave E, Ontario

0.69km

Mountain Brow Park
Scotiabank

924 King St E, Hamilton ON L8M 1B8

1.42km

BMO Bank of Montreal

281 Barton St E (Barton And Victoria), Hamilton ON L8L 2X4

1.72km

CIBC

386 Upper Gage Ave, Hamilton ON L8V 4H9

1.84km