Property Management Co: First Service Residential

Main Intersection: Southdown Rd/ Lakesh

Ownership Type: Condo Townhouse

Smallest Unit: 1400

Largest Unit: 1400

Style: 3-Storey

Amenities: Bbqs Allowed, Visitor Parking

Condominium Corporation #: N/A - 0
Stats
This building can be found at 1150 Stroud Lane, in the neighbourhood of Clarkson, in Mississauga, Ontario. Among the nearby neighbourhoods are Southdown, Lorne Park, Erindale, Sheridan Park, Mavis Erindale. 104 new homes are available for sale in Mississauga's Clarkson neighbourhood, representing 2.8% of all current listings in the city. In Mississauga, the average price for a home in Clarkson is $1,679,857. Clarkson homeowners pay a monthly mortgage of $5,691, 1.2 times than Mississauga's average price for a home. According to the MLS, the average listed property in Clarkson has 1127 sq ft, 2.8 bedrooms, and 2.6 bathrooms. Among the residential properties for sale in the area surrounding 1150 Stroud Lane, 13.5% are apartments.
Currently there are no apartments for sale at 1150 Stroud Lane. Contact us for this details regarding this building's price history or to see units in nearby buildings.
Car-Dependent
Almost all errands require a car.
Good Transit
Some errands can be accomplished by public transportation.
Bikeable
Some errands can be accomplished on bike.
| | | | |
| --- | --- | --- | --- |
| Unit: 06 W6048504 | 3 br | 3 bath 1 Parking | 1400 sqft | Leased Jun 15, 2023 | $3,499 List: $3,499 |
| Unit: 06 W5738671 | 3 br | 3 bath 1 Parking | 1400 sqft | Leased Aug 29, 2022 | $3,300 List: $3,299 |
| Unit: 05 W5595947 | 3 br | 3 bath 1 Parking | 1400 sqft | Leased Apr 30, 2022 | $3,200 List: $3,000 |
| Unit: 14 W5574056 | 3 br | 3 bath 1 Parking | 1400 sqft | Leased Apr 18, 2022 | $2,900 List: $2,900 |
| Unit: 14 W5574056 | 3 br | 3 bath 1 Parking | 1400 sqft | Leased Apr 18, 2022 | $2,900 List: $2,900 |
| Unit: 05 W5241836 | 3 br | 3 bath 1 Parking | 1400 sqft | Leased Jun 09, 2021 | $2,900 List: $2,800 |
| Unit: 09 W5067317 | 3 br | 3 bath 1 Parking | 1800 sqft | Leased Jan 04, 2021 | $2,850 List: $2,900 |
| Unit: 02 W4974199 | 3 br | 3 bath 0 Parking | 1400 sqft | Leased Dec 14, 2020 | $2,600 List: $2,600 |
| Unit: 14 W4799284 | 3 br | 3 bath 1 Parking | 1400 sqft | Leased Aug 05, 2020 | $2,700 List: $2,700 |
| Unit: 14 W4799284 | 3 br | 3 bath 1 Parking | 1400 sqft | Leased Aug 05, 2020 | $2,700 List: $2,700 |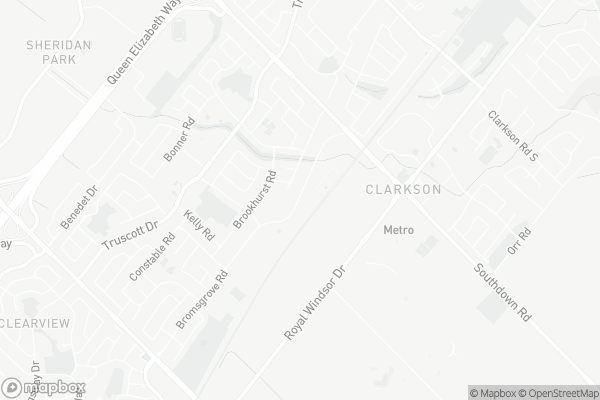 Hillside Public School Public School
Elementary: Public
St Helen Separate School
Elementary: Catholic
St Louis School
Elementary: Catholic
École élémentaire Horizon Jeunesse
Elementary: Public
St Christopher School
Elementary: Catholic
Hillcrest Public School
Elementary: Public
Erindale Secondary School
Secondary: Public
Clarkson Secondary School
Secondary: Public
Iona Secondary School
Secondary: Catholic
Lorne Park Secondary School
Secondary: Public
St Martin Secondary School
Secondary: Catholic
Oakville Trafalgar High School
Secondary: Public
Metro Gardens Centre

910 Southdown Road, Mississauga

0.73km

Metro

910 Southdown Road, Mississauga

0.73km

Food Basics

2425 Truscott Drive, Mississauga

0.82km
Clarkson Vine

2133 Royal Windsor Drive, Mississauga

0.52km

Northern Landings GinBerry

930 Southdown Road, Mississauga

0.56km

LCBO

930 Southdown Road, Mississauga

0.57km
Hoey J J Inc

2245 Royal Windsor Drive, Mississauga

0.46km

Tim Hortons

2165 Royal Windsor Drive, Mississauga

0.48km

Ambiance of India

2157 Royal Windsor Drive, Mississauga

0.5km
Tim Hortons

2165 Royal Windsor Drive, Mississauga

0.48km

GATEWAY On The Go

1106-1110 Southdown Road, Mississauga

0.54km

Central Parkway Catering-Peacock Cafe

2359 Royal Windsor Drive, Mississauga

0.57km
TD Canada Trust Branch and ATM

1052 Southdown Road, Mississauga

0.59km

TD Drive-thru ATM

1038-1052 Southdown Road, Mississauga

0.6km

Meridian Credit Union

970 Southdown Road, Mississauga

0.67km
Canadian Tire Gas+

1212 Southdown Road, Mississauga

0.57km

Petro-Canada

1405 Southdown Road, Mississauga

0.99km

Circle K

1765 Lakeshore Road West, Mississauga

1.42km
Healthy Bodz

2250 Utley Road, Mississauga

0.56km

HAZEL PILATES STUDIO AND DANCE

2355 Royal Windsor Drive #9, Mississauga

0.59km

Magnitude Well Being Centre Clarkson

2380 Royal Windsor Drive, Mississauga

0.71km
Bromsgrove Park

2258 Bromsgrove Road, Mississauga

0.23km

Nine Creek Trail

Bromsgrove Rd At 2170 Bromsgrove Rd, Mississauga

0.28km

Willow Glen Park

1294 Epton Crescent, Mississauga

0.5km
Clarkson Library

2475 Truscott Drive, Mississauga

0.95km

Oakville Public Library - Clearview Branch

2860 Kingsway Drive, Oakville

2.07km

Lorne Park Library

1474 Truscott Drive, Mississauga

2.46km
Truscott Animal Hospital

2425 Truscott Drive, Mississauga

0.92km

Clarkson Medical Clinic

1900 Lakeshore Road West, Mississauga

1.07km

Precision Dental Hygiene

1900 Lakeshore Road West Unit 12, Mississauga

1.1km
Saje Natural wellness distribution centre

4B-2301 Royal Windsor Drive, Mississauga

0.46km

Shoppers Drug Mart

920 Southdown Road Unit #1, Mississauga

0.69km

Metro Pharmacy

910 Southdown Road, Mississauga

0.73km
Clarkson Gateway Centre

Clarkson Crossing

2250-2260 Royal Windsor Drive, Mississauga

0.69km

Park Royal Plaza

2425 Truscott Drive, Mississauga

0.84km
Cineplex Cinemas Winston Churchill & VIP

2081 Winston Park Drive, Oakville

2.48km

The Starlight Theatre

7g9, 2332 Ninth Line, Oakville

4.13km

5 Drive-In

2332 Ninth Line, Oakville

4.13km
Stir N Flair

2254 Bromsgrove Road Unit 38, Mississauga

0.11km

Old Town Bar & Grill

980 Southdown Road, Mississauga

0.76km

Solstice Restaurant & Wine Bar

1801 Lakeshore Road West, Mississauga

1.31km