Property Management Co: Crossbridge Condominium Services

Main Intersection: Church & Dundas

Ownership Type: Condo Apt

Smallest Unit: 700

Largest Unit: 2250

Style: Loft

Amenities: Concierge, Exercise Room, Gym, Indoor Pool, Party/Meeting Room, Rooftop Deck/Garden

Condominium Corporation #: MTCC - 1369
This building can be found at 155 Dalhousie Street, in the neighbourhood of Church-Yonge Corridor, in Toronto, Ontario. Among the nearby neighbourhoods are Cabbagetown South St James Town, North St James Town, Yonge St Clair, Rosedale Moore Park, Annex. 651 new homes are available for sale in Toronto's Church-Yonge Corridor neighbourhood, representing 4.9% of all current listings in the city. In Toronto, the average price for a home in Church-Yonge Corridor is $1,328,124. Church-Yonge Corridor homeowners pay a monthly mortgage of $4,499, 1.2 times less than Toronto's average price for a home. According to the MLS, the average listed property in Church-Yonge Corridor has 584 sq ft, 1.1 bedrooms, and 1.4 bathrooms. Among the residential properties for sale in the area surrounding 155 Dalhousie Street, 30.4% are apartments.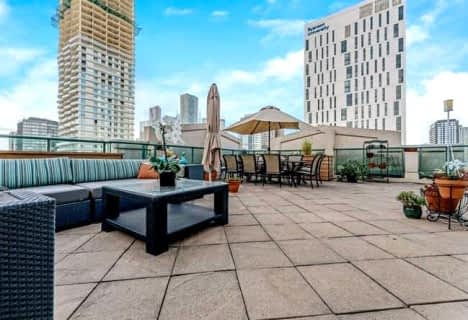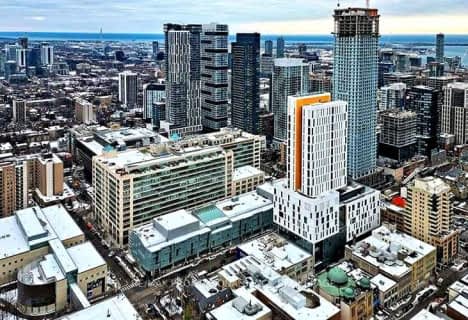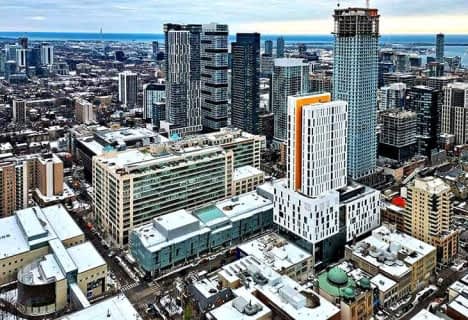 Somewhat Walkable
Some errands can be accomplished on foot.
Rider's Paradise
Daily errands do not require a car.
Biker's Paradise
Daily errands do not require a car.
| | | | |
| --- | --- | --- | --- |
| Unit: 1008 C5915375 | 2 br | 1 bath 1 Parking | 1200 sqft | Sold Feb 24, 2023 | $1,000,000 List: $1,049,000 |
| Unit: 1023 C5856013 | 2 br | 2 bath 1 Parking | 1400 sqft | Sold Jan 24, 2023 | $1,148,000 List: $1,199,000 |
| Unit: 809 C5802342 | 2 br | 2 bath 1 Parking | 1400 sqft | Sold Nov 28, 2022 | $1,210,500 List: $1,199,000 |
| Unit: 615 C5779949 | 1 br | 1 bath 1 Parking | 800 sqft | Sold Oct 25, 2022 | $700,000 List: $729,900 |
| Unit: 542 C5763651 | 2 br | 2 bath 1 Parking | 1200 sqft | Sold Oct 15, 2022 | $900,000 List: $950,000 |
| Unit: 511 C5777787 | 1 br | 1 bath 0 Parking | 700 sqft | Sold Oct 14, 2022 | $650,000 List: $669,000 |
| Unit: 747 C5781058 | 2 br | 1 bath 1 Parking | 1000 sqft | Sold Oct 06, 2022 | $812,000 List: $826,000 |
| Unit: 510 C5662809 | 1 br | 1 bath 0 Parking | 700 sqft | Sold Jul 27, 2022 | $692,500 List: $719,900 |
| Unit: 656 C5642340 | 2 br | 2 bath 0 Parking | 1200 sqft | Sold Jun 17, 2022 | $1,225,000 List: $1,295,000 |
| Unit: 817 C5593352 | 2 br | 2 bath 2 Parking | 1600 sqft | Sold May 02, 2022 | $1,400,000 List: $1,449,000 |
| | | | |
| --- | --- | --- | --- |
| Unit: 947 C5907929 | 2 br | 1 bath 1 Parking | 1000 sqft | Leased Feb 19, 2023 | $3,450 List: $3,450 |
| Unit: 918 C5898293 | 1 br | 1 bath 0 Parking | 700 sqft | Leased Feb 11, 2023 | $2,350 List: $2,350 |
| Unit: 826 C5885722 | 1 br | 1 bath 1 Parking | 600 sqft | Leased Feb 07, 2023 | $2,950 List: $2,950 |
| Unit: 826 C4400081 | 1 br | 1 bath 1 Parking | 600 sqft | Leased Feb 07, 2023 | $2,500 List: $2,500 |
| Unit: 550 C5885668 | 2 br | 2 bath 1 Parking | 1000 sqft | Leased Feb 06, 2023 | $3,525 List: $3,500 |
| Unit: 845 C5869475 | 1 br | 1 bath 0 Parking | 500 sqft | Leased Jan 16, 2023 | $2,050 List: $2,100 |
| Unit: 1063 C5825357 | 1 br | 1 bath 0 Parking | 600 sqft | Leased Nov 17, 2022 | $2,450 List: $2,300 |
| Unit: 741 C5791510 | 1 br | 1 bath 1 Parking | 600 sqft | Leased Nov 10, 2022 | $2,300 List: $2,300 |
| Unit: 1017 C5766239 | 3 br | 2 bath 0 Parking | 1600 sqft | Leased Oct 13, 2022 | $5,000 List: $4,999 |
| Unit: Ph45 C5753185 | 1 br | 1 bath 1 Parking | 600 sqft | Leased Sep 11, 2022 | $2,525 List: $2,525 |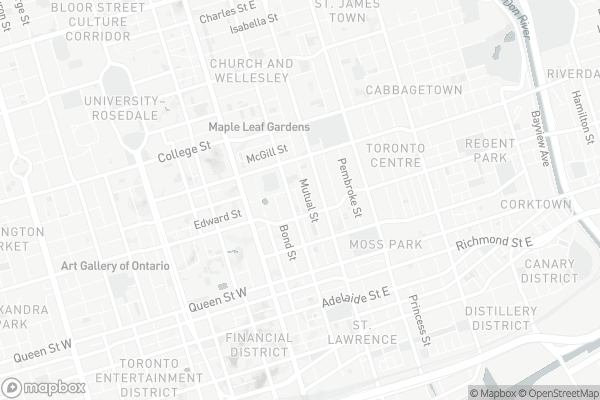 Msgr Fraser College (OL Lourdes Campus)
Elementary: Catholic
Collège français élémentaire
Elementary: Public
St Michael's Choir (Jr) School
Elementary: Catholic
École élémentaire Gabrielle-Roy
Elementary: Public
Church Street Junior Public School
Elementary: Public
Our Lady of Lourdes Catholic School
Elementary: Catholic
Native Learning Centre
Secondary: Public
St Michael's Choir (Sr) School
Secondary: Catholic
Collège français secondaire
Secondary: Public
Msgr Fraser-Isabella
Secondary: Catholic
Jarvis Collegiate Institute
Secondary: Public
St Joseph's College School
Secondary: Catholic
Metro

89 Gould Street, Toronto

0.06km

Rabba Fine Foods

256 Jarvis Street, Toronto

0.21km

H Mart

338 Yonge Street, Toronto

0.39km
Wine Rack

10 Dundas Street East, Toronto

0.31km

The Beer Store

10 Dundas Street East Suite B-1, Toronto

0.31km

Wine Rack

67 Shuter Street, Toronto

0.32km
Panga

106 Mutual Street, Toronto

0.05km

Bento Sushi

89 Gould Street, Toronto

0.06km

Tim Hortons

241 Church Street, Toronto

0.09km
Page One Coffee + Bar

106 Mutual Street Unit #8, Toronto

0.05km

Tim Hortons

241 Church Street, Toronto

0.09km

Oakham Cafe

35 Gould Street, Toronto

0.13km
TD Advice Centre

190 Dundas Street East Unit B, Toronto

0.2km

TD Canada Trust Branch and ATM

190 Dundas Street East, Toronto

0.22km

Scotiabank

346 Yonge Street, Toronto

0.4km
Circle K

241 Church Street, Toronto

0.09km

Esso

241 Church Street, Toronto

0.09km

Petro-Canada

117 Jarvis Street, Toronto

0.63km
Ryerson Recreation

50 Gould Street, Toronto

0.22km

Gordy's Boot Camp Toronto

66 Gerrard Street East Unit 305, Toronto

0.31km

Sonia, Shutter Street Entertainment
Arena Gardens

78 Mutual Street, Toronto

0.22km

Ryerson Community Park

50 Gould Street, Toronto

0.24km

St. James Square

43 Gerrard Street East, Toronto

0.24km
Ryerson University Library

350 Victoria Street, Toronto

0.31km

Toronto Public Library - City Hall Branch

Toronto City Hall, 100 Queen Street West, Toronto

0.68km

Frederic Urban, Private Studio and Library

1002-70 Alexander Street, Toronto

0.75km
Parking Public near SMH

81 Bond Street, Toronto

0.19km

Hassle Free Clinic

66 Gerrard Street East, Toronto

0.31km

St. Michael's Hospital Li Ka Shing Knowledge Institute

38 Shuter Street, Toronto

0.35km
Metro Drugs

129 Dundas Street East, Toronto

0.13km

Jarvis St. Apothecary

275 Jarvis Street, Toronto

0.17km

Cloud Care Clinics

55 Dundas Street East, Toronto

0.24km
10 Dundas East

10 Dundas Street East, Toronto

0.32km

CF Toronto Eaton Centre

220 Yonge Street, Toronto

0.48km

Atrium

595 Bay Street, Toronto

0.49km
Cineplex Cinemas Yonge-Dundas and VIP

402-10 Dundas Street East, Toronto

0.33km

Imagine Cinemas Carlton Cinema

20 Carlton Street, Toronto

0.58km

Imagine Cinemas Market Square

80 Front Street East, Toronto

0.96km
Page One Coffee + Bar

106 Mutual Street Unit #8, Toronto

0.05km

Ram in the Rye

63 Gould Street, Toronto

0.11km

Imperial Pub

54 Dundas Street East, Toronto

0.23km