Property Management Co: Mccall Wynne Property Management

Main Intersection: Brock/Manning

Ownership Type: Condo Townhouse

Smallest Unit: 1200

Largest Unit: 1400

Style: 2-Storey

Stories: 2

Walk Score: 53

Year Built: 2000

Total Units: 227

Condominium Corporation #: DCC - 114

Maintenance Fees Cover: None

Owner Pays: Hydro, Heat, Air Conditioning, Water
Stats
Building 10 Bassett Boulevard is situated in the neighbourhood of Pringle Creek and is located in Whitby, L1N 9C3 . Additionally, there are neighbourhoods such Downtown Whitby, Rural Whitby, Whitby Industrial, Blue Grass Meadows, Rolling Acres in the immediate vicinity. In the Pringle Creek neighbourhood, 50 new homes are available for sale, which represents 10.2% of Whitby's total 492 homes currently listed. Pringle Creek homeowners pay a monthly mortgage of $3,129, based on an average asking price of $923,607, 1.6 times less than Whitby's average list price of $1,485,873. The average listed property in Pringle Creek is 883 sq ft, has 3 bedrooms, and 2.9 bathrooms. In the area around 10 Bassett Boulevard, 12% of the homes for sale are apartments.
Currently there are no apartments for rent at 10 Bassett Boulevard. Contact us for this details regarding this building's price history or to see units in nearby buildings.
Car-Dependent
Almost all errands require a car.
Some Transit
Most errands require a car.
Bikeable
Some errands can be accomplished on bike.
| | | | |
| --- | --- | --- | --- |
| Unit: 154 E6055485 | 3 br | 2 bath 1 Parking | 1200 sqft | Sold May 08, 2023 | $780,154 List: $697,800 |
| Unit: 27 E6038539 | 3 br | 2 bath 1 Parking | 1200 sqft | Sold Apr 26, 2023 | $725,000 List: $699,900 |
| Unit: 192 E6022791 | 3 br | 2 bath 1 Parking | 1200 sqft | Sold Apr 18, 2023 | $731,000 List: $699,000 |
| Unit: 123 E5984341 | 3 br | 2 bath 1 Parking | 1200 sqft | Sold Apr 04, 2023 | $727,500 List: $699,900 |
| Unit: 02 E5936481 | 3 br | 2 bath 1 Parking | 1200 sqft | Sold Mar 07, 2023 | $700,000 List: $599,000 |
| Unit: 209 E5940455 | 3 br | 2 bath 1 Parking | 1200 sqft | Sold Mar 04, 2023 | $727,000 List: $729,000 |
| Unit: 100 E5855024 | 3 br | 3 bath 1 Parking | 1200 sqft | Sold Jan 19, 2023 | $665,000 List: $689,000 |
| Unit: 103 E5849622 | 3 br | 2 bath 1 Parking | 1200 sqft | Sold Dec 24, 2022 | $649,548 List: $650,000 |
| Unit: 117 E5799303 | 3 br | 3 bath 1 Parking | 1200 sqft | Sold Nov 10, 2022 | $710,000 List: $729,900 |
| Unit: 173 E5734894 | 3 br | 3 bath 1 Parking | 1200 sqft | Sold Sep 13, 2022 | $699,500 List: $694,900 |
| | | | |
| --- | --- | --- | --- |
| Unit: 130 E6715410 | 3 br | 2 bath 2 Parking | 1200 sqft | Leased Aug 04, 2023 | $3,000 List: $3,000 |
| Unit: 180 E6042093 | 3 br | 2 bath 2 Parking | 1200 sqft | Leased Apr 25, 2023 | $2,550 List: $2,550 |
| Unit: 100 E5659473 | 3 br | 3 bath 1 Parking | 1200 sqft | Leased Jul 04, 2022 | $2,700 List: $2,800 |
| Unit: 149 E5397829 | 3 br | 2 bath 1 Parking | 1200 sqft | Leased Oct 16, 2021 | $2,700 List: $2,800 |
| Unit: 77 E5372344 | 3 br | 2 bath 1 Parking | 1200 sqft | Leased Sep 27, 2021 | $2,595 List: $2,595 |
| Unit: #56 E5289307 | 3 br | 2 bath 1 Parking | 1200 sqft | Leased Aug 17, 2021 | $2,850 List: $2,950 |
| Unit: 92 E4627082 | 3 br | 2 bath 1 Parking | 1200 sqft | Leased Nov 15, 2019 | $2,000 List: $2,050 |
| Unit: 135 E4307176 | 3 br | 4 bath 1 Parking | 1200 sqft | Leased Nov 28, 2018 | $1,900 List: $1,900 |
| Unit: 92 E4011177 | 3 br | 2 bath 1 Parking | 1200 sqft | Leased Jan 23, 2018 | $1,700 List: $1,700 |
| Unit: 180 E3766889 | 3 br | 2 bath 2 Parking | 1200 sqft | Leased Apr 23, 2017 | $1,600 List: $1,550 |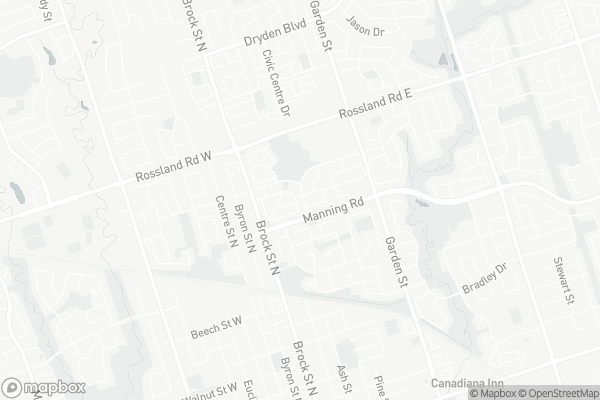 Earl A Fairman Public School
Elementary: Public
Ormiston Public School
Elementary: Public
St Matthew the Evangelist Catholic School
Elementary: Catholic
Glen Dhu Public School
Elementary: Public
Pringle Creek Public School
Elementary: Public
Julie Payette
Elementary: Public
Henry Street High School
Secondary: Public
All Saints Catholic Secondary School
Secondary: Catholic
Anderson Collegiate and Vocational Institute
Secondary: Public
Father Leo J Austin Catholic Secondary School
Secondary: Catholic
Donald A Wilson Secondary School
Secondary: Public
Sinclair Secondary School
Secondary: Public
Laurel Inn

New Road, Robin Hoods Bay, Whitby YO22 4SE

5514.48km

Charley Ronick's Pub & Restaurant

3050 Garden Street, Whitby, ON L1R 2G7

0.76km

Oh Bombay - Whitby

3100 Brock Street N, Unit A & B, Whitby, ON L1R 3J7

0.85km
Palgong Tea

605 Brock Street N, Unit 14, Whitby, ON L1N 8R2

0.81km

Markcol

106-3050 Garden Street, Whitby, ON L1R 2G6

0.78km

Tim Hortons

516 Brock Street N, Whitby, ON L1N 4J2

0.9km
I.D.A. - Jerry's Drug Warehouse

223 Brock St N, Whitby, ON L1N 4N6

1.34km

Shoppers Drug Mart

910 Dundas Street W, Whitby, ON L1P 1P7

2.47km

Shoppers Drug Mart

1801 Dundas Street E, Whitby, ON L1N 2L3

3.3km
The Brock House

918 Brock Street N, Whitby, ON L1N 4J6

0.33km

Starr Ave Burger

900 Brock Street N, Whitby, ON L1N 4J6

0.33km

Mariondale Fisheries

Mariondale Cottage, Albion Road, Robin Hoods Bay, Whitby YO22 4SW

5514.61km
Whitby Mall

1615 Dundas Street E, Whitby, ON L1N 7G3

2.93km

Oshawa Centre

419 King Street West, Oshawa, ON L1J 2K5

5.18km

Dollarama

3920 Brock Street, Whitby, ON L1R 3E1

2.49km
Freshco

350 Brock Street S, Whitby, ON L1N 4K4

2km

Shoppers Drug Mart

910 Dundas Street W, Whitby, ON L1P 1P7

2.47km

Joe's No Frills

920 Dundas Street W, Whitby, ON L1P 1P7

2.59km
Liquor Control Board of Ontario

15 Thickson Road N, Whitby, ON L1N 8W7

2.63km

LCBO

629 Victoria Street W, Whitby, ON L1N 0E4

3.91km

LCBO

400 Gibb Street, Oshawa, ON L1J 0B2

5.53km
Shine Auto Service

Whitby, ON M2J 1L4

0.37km

Carwash Central

800 Brock Street North, Whitby, ON L1N 4J5

0.61km

Certigard (Petro-Canada)

1545 Rossland Road E, Whitby, ON L1N 9Y5

2.14km
Landmark Cinemas

75 Consumers Drive, Whitby, ON L1N 9S2

3.69km

Cineplex Odeon

248 Kingston Road E, Ajax, ON L1S 1G1

6.24km

Regent Theatre

50 King Street E, Oshawa, ON L1H 1B4

6.61km
Whitby Public Library

701 Rossland Road E, Whitby, ON L1N 8Y9

0.69km

Whitby Public Library

405 Dundas Street W, Whitby, ON L1N 6A1

1.79km

Oshawa Public Library, McLaughlin Branch

65 Bagot Street, Oshawa, ON L1H 1N2

6.35km
Ontario Shores Centre for Mental Health Sciences

700 Gordon Street, Whitby, ON L1N 5S9

5.11km

Lakeridge Health

1 Hospital Court, Oshawa, ON L1G 2B9

5.91km

Lakeridge Health Ajax Pickering Hospital

580 Harwood Avenue S, Ajax, ON L1S 2J4

8.62km
Heard Park

E. A. Fairman park

Fallingbrook Park
TD Bank Financial Group

404 Dundas St W, Whitby ON L1N 2M7

1.71km

Scotia Bank

309 Dundas St W, Whitby ON L1N 2M6

1.85km

Scotiabank

403 Brock St S, Whitby ON L1N 4K5

2.01km