Property Management Co: Online Property Management Inc.

Main Intersection: Ninth Line/Donald Co

Ownership Type: Condo Apt

Smallest Unit: 600

Largest Unit: 1000

Style: Apartment

Amenities: Concierge, Exercise Room, Party/Meeting Room, Security Guard

Condominium Corporation #: TBD - 0
This building is located at 9700 Ninth Line, Markham, L6B 1A8 and is situated in the neighbourhood of Greensborough. Other neighbourhoods nearby are Wismer, Cornell, Old Markham Village, Sherwood Amberglen, Raymerville. The district of Greensborough has 43 postings available. That's just 3.2% of the 1338 total properties for sale in the city of Markham. Homes in Greensborough are listed for an average asking price of $812,958, or an estimated monthly mortgage of $2,754. That is 1.7 times less the average list price of $1,402,781 in Markham. Greensborough listed properties average 722 sq ft, 2 beds, and 2.2 baths. Apartments make up 18.6% of homes for sale in the neighbourhood around 9700 Ninth Line.

Car-Dependent
Almost all errands require a car.
Some Transit
Most errands require a car.
Somewhat Bikeable
Most errands require a car.
| | | | |
| --- | --- | --- | --- |
| Unit: 221 N5874097 | 1 br | 1 bath 1 Parking | 600 sqft | Sold Feb 17, 2023 | $545,000 List: $569,990 |
| Unit: 101 N5880710 | 1 br | 1 bath 1 Parking | 600 sqft | Sold Feb 15, 2023 | $575,000 List: $619,000 |
| Unit: 616 N5874100 | 1 br | 1 bath 1 Parking | 600 sqft | Sold Feb 12, 2023 | $548,000 List: $569,990 |
| Unit: 111 N5882573 | 1 br | 1 bath 0 Parking | 600 sqft | Sold Feb 08, 2023 | $550,000 List: $499,000 |
| Unit: 201 N5796229 | 1 br | 1 bath 1 Parking | 600 sqft | Sold Jan 05, 2023 | $560,000 List: $580,000 |
| | | | |
| --- | --- | --- | --- |
| Unit: 616 N5968919 | 1 br | 1 bath 1 Parking | 600 sqft | Leased Mar 23, 2023 | $2,300 List: $2,350 |
| Unit: 208 N5929397 | 2 br | 2 bath 0 Parking | 800 sqft | Leased Mar 13, 2023 | $2,600 List: $2,600 |
| Unit: 508 N5940679 | 2 br | 2 bath 0 Parking | 800 sqft | Leased Mar 08, 2023 | $2,600 List: $2,800 |
| Unit: 301 N5860965 | 1 br | 1 bath 1 Parking | 600 sqft | Leased Feb 27, 2023 | $2,175 List: $2,300 |
| Unit: 321 N5877734 | 1 br | 1 bath 1 Parking | 600 sqft | Leased Feb 24, 2023 | $2,250 List: $2,400 |
| Unit: 715 N5898531 | 1 br | 1 bath 1 Parking | 600 sqft | Leased Feb 21, 2023 | $2,250 List: $2,250 |
| Unit: 302 N5883757 | 1 br | 1 bath 0 Parking | 600 sqft | Leased Feb 12, 2023 | $2,350 List: $2,400 |
| Unit: 509 N5745797 | 3 br | 2 bath 1 Parking | 1000 sqft | Leased Feb 03, 2023 | $2,900 List: $2,950 |
| Unit: 220 N5867523 | 2 br | 2 bath 0 Parking | 800 sqft | Leased Feb 01, 2023 | $2,700 List: $2,700 |
| Unit: 703 N5808972 | 1 br | 1 bath 1 Parking | 600 sqft | Leased Nov 30, 2022 | $2,300 List: $2,300 |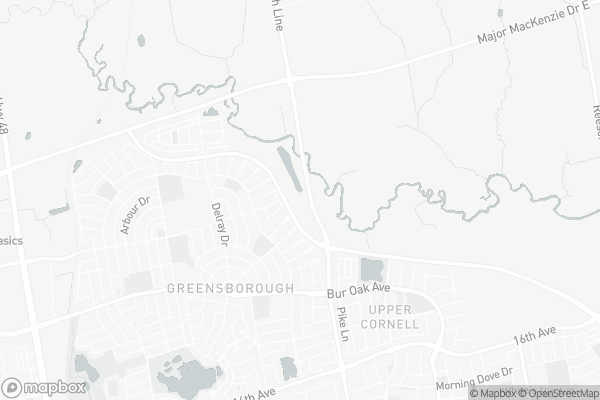 St Kateri Tekakwitha Catholic Elementary School
Elementary: Catholic
Little Rouge Public School
Elementary: Public
Greensborough Public School
Elementary: Public
Sam Chapman Public School
Elementary: Public
St Julia Billiart Catholic Elementary School
Elementary: Catholic
Mount Joy Public School
Elementary: Public
Bill Hogarth Secondary School
Secondary: Public
Stouffville District Secondary School
Secondary: Public
Markville Secondary School
Secondary: Public
St Brother André Catholic High School
Secondary: Catholic
Markham District High School
Secondary: Public
Bur Oak Secondary School
Secondary: Public
Main's Mansion

144 Main Street N, Markham, ON L3P 5T3

3.56km

The Duchess of Markham

53 Main Street N, Markham, ON L3P 1X7

3.8km

Southside Restaurant and Bar

6061 Hwy 7 E, Markham, ON L3P 3A7

3.89km
Wayne's Cup

9889 Markham Road, Unit 4, Markham, ON L6E 0B7

1.9km

Tim Hortons

9970 Highway 48, Markham, ON L3P 3J3

2.02km

Komeya Cafe

9506 Markham Road, Unit 102, Markham, ON L6E 0S5

2.17km
Cristini Athletics - CrossFit Markham

9833 Markham Road, Unit 10, Markham, ON L3P 3J3

1.84km

Go Girl Body Transformation

39 Riviera Drive, Unit 1, Markham, ON L3R 8N4

11.9km

Snap Fitness

1380 Major Mackenzie Drive E, Richmond Hill, ON L4S 0A1

12.63km
Pharmagreen

10 Greensborough Village Circle, Markham, ON L6E 1Z1

0.81km

Shoppers Drug Mart

1720 Bur Oak Ave, Markham, ON L6E 1W3

2.04km

IDA Heritage Pharmacy

9275 Markham Road, Markham, ON L6E 1A3

2.3km
PizzaForno

9249 Ninth Line, Markham, ON L6B 1A8

1.26km

Real Kebab

9909 Markham Road, Unit 10, Markham, ON L6E 0B7

1.88km

Viet Kong

9909 Markham Road, Unit 15, Markham, ON L6E 0B7

1.89km
Main Street Markham

132 Robinson Street, Markham, ON L3P 1P2

3.66km

CF Markville

5000 Highway 7 E, Markham, ON L3R 4M9

5.73km

SmartCentres Stouffville

1050 Hoover Park Drive, Stouffville, ON L4A 0G9

6.08km
Food Basics

1220 Castlemore Avenue, Markham, ON L6E 0H7

2.13km

VanSpall's No Frill's

9305 Highway 48, RR1, Markham, ON L6E 0E6

2.21km

M&M Food Market

9275 Markham Road, Markham, ON L6E 1A2

2.3km
LCBO

9720 Markham Road, Markham, ON L6E 0H8

2.02km

LCBO

219 Markham Road, Markham, ON L3P 1Y5

3.21km

LCBO

192 Bullock Drive, Markham, ON L3P 1W2

4.87km
Pioneer

6375 Major Mackenzie Drive E, Markham, ON L3P 3J3

1.2km

Petro-Canada

9249 Ninth Line, Markham, ON L6B 1A8

1.26km

Esso

5995 Major Mackenzie Dr E, Markham, ON L6E 0G1

2.04km
Cineplex Cinemas Markham and VIP

179 Enterprise Boulevard, Suite 169, Markham, ON L6G 0E7

9.23km

Markham Ribfest and Music Festival

179 Enterprise Blvd, Markham, ON L3R 9W3

9.04km

Night It Up!

179 Enterprise Boulevard, Markham, ON L6G 1B3

9.06km
Markham Public Library - Cornell

3201 Bur Oak Avenue, Markham, ON L6B 1E3

2.79km

Markham Public Library

6031 Highway 7, Markham, ON L3P 3A7

4.05km

Markham Public Library - Aaniin Branch

5665 14th Avenue, Markham, ON L3S 3K5

6.52km
Markham Stouffville Hospital

381 Church Street, Markham, ON L3P 7P3

2.83km

Markham Health Network

5 Swan Lake Boulevard, Unit 3, Markham, ON L3P 8C6

1.48km

Main Medical Clinic

60 Main Street N, Unit 1, Markham, ON L3P 1X5

3.81km
Rouge Valley Park

Hwy 48 and Hwy 7, Markham ON L3P 3C4

4.26km

Angus Glen Dog Park

Angus Meadow Dr, Unionville ON

6.47km

Sunnyridge Park
BMO Bank of Montreal

9660 Markham Rd, Markham ON L6E 0H8

2.03km

Scotiabank

101 Main St N (at Robinson St), Markham ON L3P 1X9

3.65km

HSBC

8390 Kennedy Rd (at Peachtree Plaza), Markham ON L3R 0W4

7.13km