Property Management Co: Orion Property Management

Main Intersection: Southdown/Bromsgrove

Ownership Type: Condo Townhouse

Smallest Unit: 1400

Largest Unit: 1400

Style: 3-Storey

Stories: 2

Walk Score: 39

Transit Score: 54

Year Built: 1980

Total Units: 180

Amenities: Bbqs Allowed

Condominium Corporation #: PCC - 208

Maintenance Fees Cover: Water

Owner Pays: Hydro, Heat, Air Conditioning
Stats
This building is located at 2440 Bromsgrove Road, Mississauga, L5J 4J7 and is situated in the neighbourhood of Clarkson. Other neighbourhoods nearby are Southdown, Lorne Park, Erindale, Sheridan Park, Mavis Erindale. The district of Clarkson has 128 postings available. That's just 3.1% of the 4072 total properties for sale in the city of Mississauga. Homes in Clarkson are listed for an average asking price of $1,496,348, or an estimated monthly mortgage of $5,069. That is 1 times the average list price of $1,481,613 in Mississauga. Clarkson listed properties average 1143 sq ft, 2.9 beds, and 2.6 baths. Apartments make up 14.8% of homes for sale in the neighbourhood around 2440 Bromsgrove Road.

Currently there are no apartments for rent at 2440 Bromsgrove Road. Contact us for this details regarding this building's price history or to see units in nearby buildings.
Car-Dependent
Almost all errands require a car.
Good Transit
Some errands can be accomplished by public transportation.
Somewhat Bikeable
Most errands require a car.
| | | | |
| --- | --- | --- | --- |
| Unit: 178 W7254124 | 3 br | 2 bath 1 Parking | 1200 sqft | Sold Nov 06, 2023 | $785,000 List: $789,000 |
| Unit: 168 W6802272 | 3 br | 2 bath 1 Parking | 1400 sqft | Sold Sep 18, 2023 | $744,000 List: $765,000 |
| Unit: 148 W5912973 | 3 br | 2 bath 1 Parking | 1400 sqft | Sold Feb 28, 2023 | $769,000 List: $699,000 |
| Unit: 06 W5818579 | 3 br | 2 bath 1 Parking | 1200 sqft | Sold Dec 02, 2022 | $655,000 List: $669,900 |
| Unit: 11 W5779810 | 3 br | 3 bath 1 Parking | 1200 sqft | Sold Nov 18, 2022 | $785,000 List: $799,900 |
| Unit: 13 W5711480 | 3 br | 2 bath 1 Parking | 1200 sqft | Sold Sep 08, 2022 | $715,000 List: $724,000 |
| Unit: 112 W5611355 | 3 br | 2 bath 1 Parking | 1200 sqft | Sold May 13, 2022 | $830,000 List: $830,000 |
| Unit: 167 W5567102 | 3 br | 3 bath 1 Parking | 1400 sqft | Sold Apr 25, 2022 | $825,000 List: $799,000 |
| Unit: 126 W5532908 | 3 br | 2 bath 1 Parking | 1400 sqft | Sold Mar 18, 2022 | $825,000 List: $649,000 |
| Unit: 95 W5511650 | 3 br | 3 bath 1 Parking | 1200 sqft | Sold Mar 01, 2022 | $963,000 List: $799,000 |
| | | | |
| --- | --- | --- | --- |
| Unit: 160 W4907543 | 3 br | 2 bath 1 Parking | 1400 sqft | Leased Oct 01, 2020 | $2,600 List: $2,600 |
| Unit: 117 W4517033 | 3 br | 2 bath 2 Parking | 1400 sqft | Leased Aug 16, 2019 | $2,550 List: $2,600 |
| Unit: 117 W4194731 | 3 br | 2 bath 2 Parking | 1400 sqft | Leased Jul 20, 2018 | $2,300 List: $2,300 |
| Unit: 138 W4090263 | 3 br | 2 bath 1 Parking | 1600 sqft | Leased Apr 18, 2018 | $2,000 List: $2,050 |
| Unit: 168 W4056217 | 3 br | 2 bath 1 Parking | 1600 sqft | Leased Mar 25, 2018 | $2,100 List: $2,100 |
| Unit: 160 W3930967 | 3 br | 2 bath 1 Parking | 1200 sqft | Leased Sep 23, 2017 | $2,000 List: $2,000 |
| Unit: 30 W3909045 | 3 br | 3 bath 1 Parking | 1400 sqft | Leased Sep 18, 2017 | $1,850 List: $1,850 |
| Unit: 59 W3473630 | 3 br | 2 bath 2 Parking | 1000 sqft | Leased May 11, 2016 | $1,700 List: $1,750 |
| Unit: 168 W3244162 | 3 br | 2 bath 1 Parking | 1600 sqft | Leased Jul 20, 2015 | $1,780 List: $1,800 |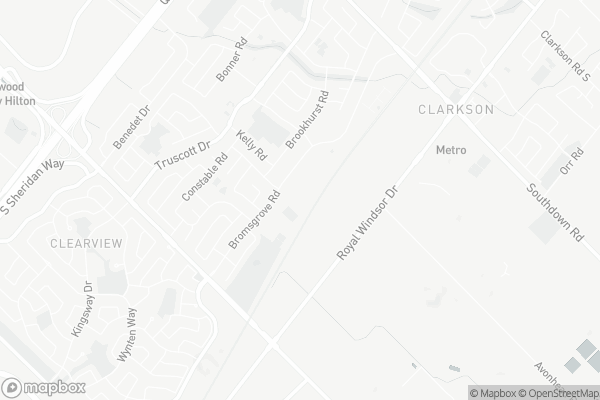 Corpus Christi School
Elementary: Catholic
St Matthew Separate School
Elementary: Catholic
Huntington Ridge Public School
Elementary: Public
Fairview Public School
Elementary: Public
Bishop Scalabrini School
Elementary: Catholic
Chris Hadfield P.S. (Elementary)
Elementary: Public
Erindale Secondary School
Secondary: Public
Clarkson Secondary School
Secondary: Public
Iona Secondary School
Secondary: Catholic
Lorne Park Secondary School
Secondary: Public
St Martin Secondary School
Secondary: Catholic
Oakville Trafalgar High School
Secondary: Public
Food Basics

2425 Truscott Drive, Mississauga

0.85km

Metro Gardens Centre

910 Southdown Road, Mississauga

1.09km

Metro

910 Southdown Road, Mississauga

1.09km
Northern Landings GinBerry

930 Southdown Road, Mississauga

0.92km

LCBO

930 Southdown Road, Mississauga

0.92km

Clarkson Vine

2133 Royal Windsor Drive, Mississauga

0.95km
The Winters' Kitchen

2395 Bromsgrove Road Unit 61, Mississauga

0.23km

Central Parkway Catering-Peacock Cafe

2359 Royal Windsor Drive, Mississauga

0.33km

Butcher Box

2359 Royal Windsor Drive Unit 18, Mississauga

0.35km
Central Parkway Catering-Peacock Cafe

2359 Royal Windsor Drive, Mississauga

0.33km

Tim Hortons

2165 Royal Windsor Drive, Mississauga

0.86km

Starbucks

960 Southdown Road C-1, Mississauga

1.07km
National Bank

2680 Sheridan Garden Drive, Oakville

0.88km

BMO Bank of Montreal

920 Southdown Road, Mississauga

1.01km

Meridian Credit Union

970 Southdown Road, Mississauga

1.15km
Canadian Tire Gas+

1212 Southdown Road, Mississauga

1.22km

Petro-Canada & Car Wash

2969 Sherwood Heights Drive, Oakville

1.53km

Petro-Canada

1405 Southdown Road, Mississauga

1.56km
Ye Olde Glute Shoppe

2564 Widemarr Road, Mississauga

0.37km

HAZEL PILATES STUDIO AND DANCE

2355 Royal Windsor Drive #9, Mississauga

0.43km

Magnitude Well Being Centre Clarkson

2380 Royal Windsor Drive, Mississauga

0.54km
Winston and Friendz

2359 Royal Windsor Drive #19, Mississauga

0.4km

Bromsgrove Park

2258 Bromsgrove Road, Mississauga

0.44km

Hillside Park
Clarkson Library

2475 Truscott Drive, Mississauga

0.89km

Oakville Public Library - Clearview Branch

2860 Kingsway Drive, Oakville

1.51km

Sheridan Library

2225 Erin Mills Parkway, Mississauga

2.89km
Truscott Animal Hospital

2425 Truscott Drive, Mississauga

0.98km

eMichael Pharmacy & Medical Centre

802 Southdown Road, Mississauga

1.41km

Clarkson Medical Clinic

1900 Lakeshore Road West, Mississauga

1.65km
Saje Natural wellness distribution centre

4B-2301 Royal Windsor Drive, Mississauga

0.52km

Clear View Pharmacy

1140 Winston Churchill Boulevard, Oakville

0.89km

Clearview Pharmacy

1140 Winston Churchill Boulevard # A6, Oakville

0.9km
Park Royal Plaza

2425 Truscott Drive, Mississauga

0.9km

Clarkson Crossing

2250-2260 Royal Windsor Drive, Mississauga

1.09km

Clarkson Gateway Centre
Cineplex Cinemas Winston Churchill & VIP

2081 Winston Park Drive, Oakville

2.16km

The Starlight Theatre

7g9, 2332 Ninth Line, Oakville

3.72km

5 Drive-In

2332 Ninth Line, Oakville

3.72km
Stir N Flair

2254 Bromsgrove Road Unit 38, Mississauga

0.56km

Oakville's Temple Bar

1-1140 Winston Churchill Boulevard, Oakville

0.89km

Old Town Bar & Grill

980 Southdown Road, Mississauga

1.24km