Property Management Co: First Service Residential

Main Intersection: Yonge/Dundas

Ownership Type: Condo Apt

Style: Apartment

Stories: 13

Walk Score: 99

Transit Score: 100

Year Built: 2004

Total Units: 143

Amenities: Concierge

Condominium Corporation #: TSCC - 1618

Maintenance Fees Cover: Water

Owner Pays: Hydro, Heat, Air Conditioning
Stats
Building 200 Victoria Street is situated in the neighbourhood of Church-Yonge Corridor and is located in Toronto, M5B 1V8 . Additionally, there are neighbourhoods such Cabbagetown South St James Town, North St James Town, Yonge St Clair, Rosedale Moore Park, Annex in the immediate vicinity. In the Church-Yonge Corridor neighbourhood, 992 new homes are available for sale, which represents 4.9% of Toronto's total 20071 homes currently listed. Church-Yonge Corridor homeowners pay a monthly mortgage of $3,882, based on an average asking price of $1,145,807, 1.4 times less than Toronto's average list price of $1,553,413. The average listed property in Church-Yonge Corridor is 601 sq ft, has 1.2 bedrooms, and 1.4 bathrooms. In the area around 200 Victoria Street, 35.3% of the homes for sale are apartments.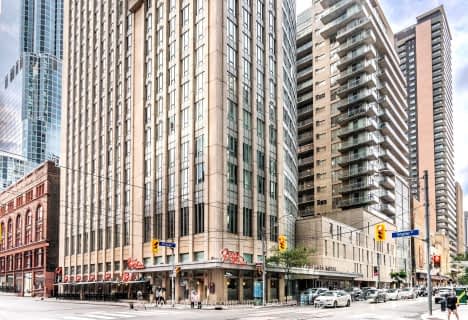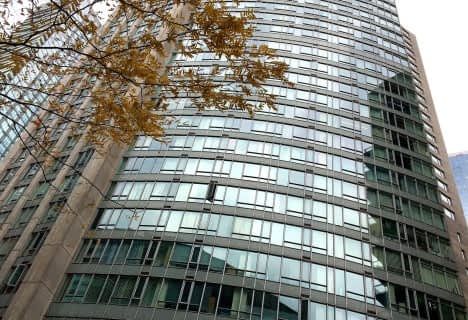 Currently there are no apartments for rent at 200 Victoria Street. Contact us for this details regarding this building's price history or to see units in nearby buildings.
Very Walkable
Most errands can be accomplished on foot.
Rider's Paradise
Daily errands do not require a car.
Biker's Paradise
Daily errands do not require a car.
| | | | |
| --- | --- | --- | --- |
| Unit: 1506 C5953128 | 0 br | 1 bath 0 Parking | 0 sqft | Sold May 29, 2023 | $470,000 List: $449,000 |
| Unit: 1611 C5540291 | 0 br | 1 bath 0 Parking | 0 sqft | Sold May 06, 2022 | $430,000 List: $489,900 |
| Unit: 1407 C5563999 | 0 br | 1 bath 0 Parking | 0 sqft | Sold Apr 25, 2022 | $416,000 List: $399,888 |
| Unit: 1406 C5401435 | 0 br | 1 bath 0 Parking | 0 sqft | Sold Oct 23, 2021 | $430,000 List: $439,000 |
| Unit: 1108 C5390920 | 0 br | 1 bath 0 Parking | 0 sqft | Sold Oct 18, 2021 | $440,000 List: $442,500 |
| Unit: 1101 C5323415 | 0 br | 1 bath 0 Parking | 500 sqft | Sold Jul 30, 2021 | $470,000 List: $479,900 |
| Unit: 1304 C5211134 | 0 br | 1 bath 0 Parking | 0 sqft | Sold Jul 07, 2021 | $394,875 List: $414,900 |
| Unit: 1406 C5237759 | 0 br | 1 bath 0 Parking | 0 sqft | Sold Jun 09, 2021 | $413,000 List: $419,000 |
| Unit: 1215 C5077697 | 0 br | 1 bath 0 Parking | 0 sqft | Sold Apr 01, 2021 | $405,000 List: $410,000 |
| Unit: 1106 C4978273 | 0 br | 1 bath 0 Parking | 0 sqft | Sold Feb 02, 2021 | $405,000 List: $418,000 |
| | | | |
| --- | --- | --- | --- |
| Unit: 1008 C7231796 | 0 br | 1 bath 0 Parking | 0 sqft | Leased Oct 25, 2023 | $2,200 List: $2,200 |
| Unit: 1107 C6666090 | 0 br | 1 bath 0 Parking | 0 sqft | Leased Aug 17, 2023 | $2,175 List: $2,175 |
| Unit: 1111 C6655310 | 0 br | 1 bath 0 Parking | 0 sqft | Leased Jul 17, 2023 | $2,150 List: $2,150 |
| Unit: 1207 C6647988 | 0 br | 1 bath 0 Parking | 0 sqft | Leased Jul 12, 2023 | $2,050 List: $2,050 |
| Unit: 1112 C6014848 | 1 br | 1 bath 0 Parking | 500 sqft | Leased Jun 15, 2023 | $2,450 List: $2,450 |
| Unit: 1014 C5971192 | 1 br | 1 bath 1 Parking | 600 sqft | Leased May 29, 2023 | $2,650 List: $2,550 |
| Unit: 1002 C5910603 | 0 br | 1 bath 0 Parking | 0 sqft | Leased Mar 18, 2023 | $2,100 List: $2,100 |
| Unit: 1009 C4828604 | 0 br | 1 bath 0 Parking | 0 sqft | Leased Feb 07, 2023 | $1,650 List: $1,650 |
| Unit: 1009 C5884777 | 0 br | 1 bath 0 Parking | 0 sqft | Leased Feb 07, 2023 | $2,050 List: $2,050 |
| Unit: 1518 C5801295 | 1 br | 1 bath 1 Parking | 700 sqft | Leased Oct 24, 2022 | $2,650 List: $2,650 |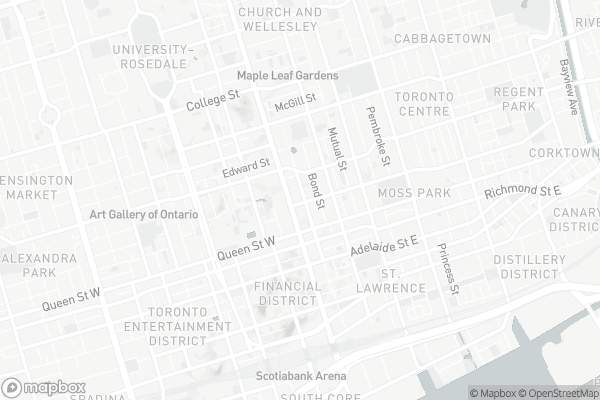 Collège français élémentaire
Elementary: Public
Downtown Alternative School
Elementary: Public
St Michael Catholic School
Elementary: Catholic
St Michael's Choir (Jr) School
Elementary: Catholic
École élémentaire Gabrielle-Roy
Elementary: Public
Church Street Junior Public School
Elementary: Public
Native Learning Centre
Secondary: Public
St Michael's Choir (Sr) School
Secondary: Catholic
Contact Alternative School
Secondary: Public
Collège français secondaire
Secondary: Public
Jarvis Collegiate Institute
Secondary: Public
St Joseph's College School
Secondary: Catholic
H Mart

338 Yonge Street, Toronto

0.4km

Metro

89 Gould Street, Toronto

0.46km

The Market by Longo's

111 Elizabeth Street, Toronto

0.47km
Wine Rack

67 Shuter Street, Toronto

0.27km

LCBO

595 Bay Street Lower Concourse, Toronto

0.28km

Wine Rack

10 Dundas Street East, Toronto

0.3km
Stages Restaurant & Lounge

200 Victoria Street, Toronto

0.01km

Fran's Restaurant

200 Victoria Street, Toronto

0.02km

CornerChef

229 Yonge Street Suite 400, Toronto

0.05km
Starbucks

209 Victoria Street, Toronto

0.05km

Sweat and Tonic

225 Yonge Street, Toronto

0.06km

Across from the top

252 Victoria Street, Toronto

0.13km
Canada Post Retail Postal Outlet - Shoppers Drug Mart

BMO Bank of Montreal

2 Queen Street East, Toronto

0.22km

CIBC Branch with ATM

1 Queen Street East, Toronto

0.24km
Esso

241 Church Street, Toronto

0.32km

Circle K

241 Church Street, Toronto

0.33km

Petro-Canada

117 Jarvis Street, Toronto

0.59km
Sonia, Shutter Street Entertainment

Sweat and Tonic

225 Yonge Street, Toronto

0.06km

GoodLife Fitness Toronto Bell Trinity Centre

483 Bay Street, Toronto

0.27km
Trinity Square Labyrinth

24 Trinity Square, Toronto

0.22km

Arena Gardens

78 Mutual Street, Toronto

0.33km

Birds Watchers

6 Richmond Street West, Toronto

0.34km
Toronto Public Library - City Hall Branch

Toronto City Hall, 100 Queen Street West, Toronto

0.34km

Ryerson University Library

350 Victoria Street, Toronto

0.41km

The Great Library at the Law Society of Ontario

130 Queen Street West, Toronto

0.57km
Indus Heart Care Centre

229 Yonge Street, Toronto

0.05km

St. Michael's Hospital Li Ka Shing Knowledge Institute

38 Shuter Street, Toronto

0.05km

Machine Intelligence in Medicine Lab (MIMLab) - St. Michael's Hospital

193 Yonge Street, Toronto

0.15km
Shoppers Drug Mart

220 Yonge Street Unit 1 - 124B, Toronto

0.13km

Shoppers Drug Mart

279 Yonge Street, Toronto

0.16km

Cloud Pharmacy

55 Dundas Street East, Toronto

0.17km
Showcase

220 Yonge Street Unit 1, Toronto

0.11km

CF Toronto Eaton Centre

220 Yonge Street, Toronto

0.12km

Reiwatakiya

Unit B206C, 220 Yonge Street, Toronto

0.12km
Cineplex Cinemas Yonge-Dundas and VIP

402-10 Dundas Street East, Toronto

0.26km

Imagine Cinemas Market Square

80 Front Street East, Toronto

0.77km

Imagine Cinemas Carlton Cinema

20 Carlton Street, Toronto

0.81km
Stages Restaurant & Lounge

200 Victoria Street, Toronto

0.01km

Sweat and Tonic

225 Yonge Street, Toronto

0.06km

Firkin on Yonge

207 Yonge Street, Toronto

0.1km