Property Management Co: Brookfield

Main Intersection: King St E & Lower Ri

Ownership Type: Condo Apt

Largest Unit: 700

Style: Apartment

Stories: 11

Walk Score: 89

Transit Score: 97

Year Built: 2015

Total Units: 240

Amenities: Concierge, Gym, Outdoor Pool, Party/Meeting Room

Condominium Corporation #: TSCC - 2467

Maintenance Fees Cover: Water

Owner Pays: Hydro, Heat, Air Conditioning
This building can be found at 32 Trolley Crescent, in the neighbourhood of Moss Park, in Toronto, Ontario. Among the nearby neighbourhoods are Bay Street Corridor, University, Regent Park, Waterfront Communities C08, Cabbagetown South St James Town. 299 new homes are available for sale in Toronto's Moss Park neighbourhood, representing 2.2% of all current listings in the city. In Toronto, the average price for a home in Moss Park is $3,097,911. Moss Park homeowners pay a monthly mortgage of $10,495, 1.9 times than Toronto's average price for a home. According to the MLS, the average listed property in Moss Park has 639 sq ft, 1.4 bedrooms, and 1.4 bathrooms. Among the residential properties for sale in the area surrounding 32 Trolley Crescent, 24.4% are apartments.
Currently there are no apartments for rent at 32 Trolley Crescent. Contact us for this details regarding this building's price history or to see units in nearby buildings.
Car-Dependent
Most errands require a car.
Rider's Paradise
Daily errands do not require a car.
Biker's Paradise
Daily errands do not require a car.
| | | | |
| --- | --- | --- | --- |
| Unit: 710 C5928343 | 2 br | 2 bath 0 Parking | 1000 sqft | Sold Mar 24, 2023 | $1,035,000 List: $1,099,000 |
| Unit: 717 C5875324 | 1 br | 1 bath 0 Parking | 600 sqft | Sold Feb 01, 2023 | $625,000 List: $680,800 |
| Unit: 1024 C5871933 | 1 br | 1 bath 0 Parking | 0 sqft | Sold Jan 29, 2023 | $500,000 List: $510,000 |
| Unit: 803 C5811164 | 1 br | 1 bath 0 Parking | 0 sqft | Sold Nov 16, 2022 | $470,000 List: $489,000 |
| Unit: 615 C5812848 | 1 br | 1 bath 0 Parking | 0 sqft | Sold Nov 12, 2022 | $490,000 List: $499,900 |
| Unit: 917 C5710934 | 1 br | 1 bath 1 Parking | 600 sqft | Sold Jul 31, 2022 | $670,000 List: $675,000 |
| Unit: 704 C5641792 | 1 br | 1 bath 0 Parking | 0 sqft | Sold Jul 12, 2022 | $480,000 List: $489,000 |
| Unit: 625 C5628213 | 1 br | 1 bath 0 Parking | 500 sqft | Sold Jun 30, 2022 | $526,000 List: $529,000 |
| Unit: 709 C5614882 | 1 br | 1 bath 0 Parking | 700 sqft | Sold May 22, 2022 | $777,000 List: $799,900 |
| Unit: 414 C5572818 | 1 br | 1 bath 0 Parking | 0 sqft | Sold Apr 25, 2022 | $550,000 List: $555,000 |
| | | | |
| --- | --- | --- | --- |
| Unit: 502 C5860833 | 1 br | 1 bath 0 Parking | 0 sqft | Leased Jan 27, 2023 | $2,250 List: $2,250 |
| Unit: 816 C5868075 | 2 br | 2 bath 1 Parking | 800 sqft | Leased Jan 26, 2023 | $3,090 List: $3,090 |
| Unit: 1110 C5855920 | 1 br | 1 bath 1 Parking | 700 sqft | Leased Jan 14, 2023 | $2,800 List: $2,800 |
| Unit: 1215 C5841886 | 1 br | 1 bath 0 Parking | 500 sqft | Leased Dec 03, 2022 | $2,000 List: $2,000 |
| Unit: 918 C5818594 | 1 br | 1 bath 1 Parking | 700 sqft | Leased Nov 23, 2022 | $2,800 List: $2,800 |
| Unit: 907 C5814299 | 1 br | 1 bath 0 Parking | 500 sqft | Leased Nov 17, 2022 | $2,300 List: $2,300 |
| Unit: 907 C5814299 | 1 br | 1 bath 0 Parking | 500 sqft | Leased Nov 17, 2022 | $2,300 List: $2,300 |
| Unit: 1003 C5821796 | 1 br | 1 bath 0 Parking | 0 sqft | Leased Nov 11, 2022 | $2,250 List: $2,250 |
| Unit: 821 C5805611 | 1 br | 1 bath 1 Parking | 600 sqft | Leased Oct 29, 2022 | $2,600 List: $2,550 |
| Unit: 422 C5793511 | 1 br | 1 bath 0 Parking | 500 sqft | Leased Oct 14, 2022 | $2,000 List: $1,900 |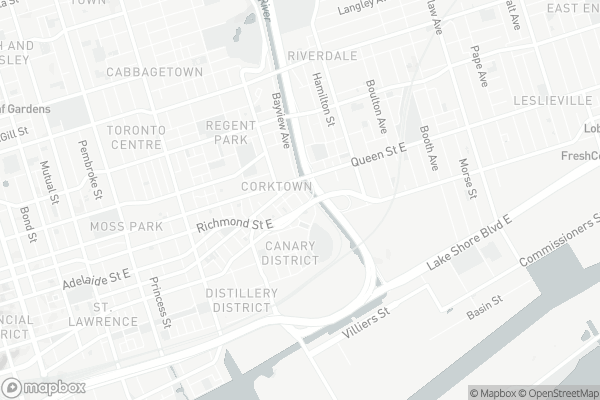 First Nations School of Toronto Junior Senior
Elementary: Public
St Paul Catholic School
Elementary: Catholic
Queen Alexandra Middle School
Elementary: Public
Dundas Junior Public School
Elementary: Public
Market Lane Junior and Senior Public School
Elementary: Public
Nelson Mandela Park Public School
Elementary: Public
Msgr Fraser College (St. Martin Campus)
Secondary: Catholic
Inglenook Community School
Secondary: Public
SEED Alternative
Secondary: Public
Eastdale Collegiate Institute
Secondary: Public
CALC Secondary School
Secondary: Public
Rosedale Heights School of the Arts
Secondary: Public
Kabul Farms Supermarket

230 Parliament Street, Toronto

0.87km

Galaxy Fresh Foods

587 Gerrard Street East, Toronto

1.01km

Marhaba Super Market Inc

324 Parliament Street, Toronto

1.01km
Wine Rack

514 King Street East #6, Toronto

0.19km

Apparition Wines & Spirits

630 Queen Street East, Toronto

0.26km

The Beer Store

28 River Street, Toronto

0.26km
Tim Hortons

589 King Street East, Toronto

0.14km

Il Ponte Cucina Italiana

625 Queen Street East, Toronto

0.2km

Impact Kitchen

573 King Street East, Toronto

0.21km
Tim Hortons

589 King Street East, Toronto

0.14km

Nava Social

514 King Street East, Toronto

0.2km

The Cannonball

641 Queen Street East, Toronto

0.25km
TD Bank – Help & Advice Centre

457 Front Street East, Toronto

0.44km

BMO Bank of Montreal

774 Queen Street East, Toronto

0.66km

RBC Royal Bank

480 Dundas Street East, Toronto

0.91km
Shell

548 Richmond Street East, Toronto

0.76km

Esso

829 Lake Shore Boulevard East, Toronto

1.38km

On The Run
Lift Corktown CrossFit

508 King Street East, Toronto

0.24km

Smits Brothers

651A Queen Street East Suite 2, Toronto

0.27km

Studio K-O East

672 Queen Street East 2ND FLOOR, Toronto

0.35km
Underpass Park

29 Lower River Street, Toronto

0.17km

Lawren Harris Square

Riverside Common Park

657 Queen Street East, Toronto

0.3km
ragweed library

216-52 Saint Lawrence Street, Toronto

0.19km

Bona Fide

11 Grant Street, Toronto

0.53km

Toronto Public Library - Queen/Saulter Branch

765 Queen Street East, Toronto

0.62km
River Medical Centre

677 Dundas Street East, Toronto

0.59km

360 Healing Centre

360 King Street East, Toronto

0.7km

Spring Health PrEP Clinic

290 Shuter Street 2nd floor, Toronto

0.89km
HealthShield Compounding Pharmacy

589 King Street East, Toronto

0.16km

HealthShield Pharmacy

681 Dundas Street East, Toronto

0.59km

Front St Pharmacy

431 King Street East, Toronto

0.66km
Danny Reisis Real Estate Information Centre

534 Queen Street East, Toronto

0.28km

VL123-Stores

230 Sackville Street, Toronto

0.77km

Corktown Residents and Business Association (CRBA)

351 Queen Street East, Toronto

0.77km
Blahzay Creative

170 Mill Street, Toronto

0.5km

Imagine Cinemas Market Square

80 Front Street East, Toronto

1.64km

Cineplex Cinemas Yonge-Dundas and VIP

402-10 Dundas Street East, Toronto

2.1km
Fusilli

531 Queen Street East, Toronto

0.22km

Longslice Brewery

484 Front Street East, Toronto

0.31km

The Aviary

484 A Front Street East, Toronto

0.32km