Property Management Co: T.S.E Management Services Inc. 905-764-9166

Main Intersection: Erin Mills & The Col

Ownership Type: Condo Townhouse

Smallest Unit: 1200

Largest Unit: 1200

Style: Stacked Townhse

Condominium Corporation #: PSCC - 1095
Stats
This building is located at 3472 Widdicombe Way, Mississauga, L5L 0B8 and is situated in the neighbourhood of Erin Mills. Other neighbourhoods nearby are Central Erin Mills, Churchill Meadows, Western Business Park, Streetsville, Creditview. The district of Erin Mills has 79 postings available. That's just 2.8% of the 2787 total properties for sale in the city of Mississauga. Homes in Erin Mills are listed for an average asking price of $1,043,125, or an estimated monthly mortgage of $3,534. That is 1.4 times less the average list price of $1,463,036 in Mississauga. Erin Mills listed properties average 1051 sq ft, 2.4 beds, and 2.5 baths. Apartments make up 26.6% of homes for sale in the neighbourhood around 3472 Widdicombe Way.

Currently there are no apartments for sale at 3472 Widdicombe Way. Contact us for this details regarding this building's price history or to see units in nearby buildings.
Car-Dependent
Almost all errands require a car.
Good Transit
Some errands can be accomplished by public transportation.
Bikeable
Some errands can be accomplished on bike.
| | | | |
| --- | --- | --- | --- |
| Unit: 14 W6047175 | 2 br | 3 bath 0 Parking | 1000 sqft | Sold May 24, 2023 | $780,000 List: $799,999 |
| Unit: 21 W5958161 | 2 br | 3 bath 1 Parking | 1200 sqft | Sold Mar 28, 2023 | $780,000 List: $799,900 |
| Unit: 003 W5930687 | 2 br | 3 bath 0 Parking | 1000 sqft | Sold Mar 07, 2023 | $750,000 List: $785,000 |
| Unit: 08 W5525700 | 2 br | 3 bath 0 Parking | 1200 sqft | Sold Mar 15, 2022 | $940,000 List: $799,000 |
| Unit: 02 W5511555 | 2 br | 3 bath 1 Parking | 1200 sqft | Sold Mar 10, 2022 | $935,000 List: $799,999 |
| Unit: 05 W5304873 | 2 br | 3 bath 0 Parking | 1200 sqft | Sold Jul 21, 2021 | $747,500 List: $699,999 |
| Unit: 26 W5199280 | 2 br | 3 bath 0 Parking | 900 sqft | Sold Apr 20, 2021 | $730,000 List: $699,900 |
| | | | |
| --- | --- | --- | --- |
| Unit: 17 W5866949 | 2 br | 3 bath 1 Parking | 0 sqft | Leased Jan 23, 2023 | $2,900 List: $2,995 |
| Unit: 13 W5843412 | 3 br | 3 bath 0 Parking | 1200 sqft | Leased Jan 02, 2023 | $2,900 List: $2,900 |
| Unit: 13 W5789168 | 3 br | 3 bath 0 Parking | 1200 sqft | Leased Oct 20, 2022 | $3,000 List: $3,100 |
| Unit: 25 W5775645 | 2 br | 3 bath 1 Parking | 1200 sqft | Leased Oct 07, 2022 | $2,790 List: $2,790 |
| Unit: 16 W5686513 | 3 br | 3 bath 0 Parking | 1200 sqft | Leased Jul 16, 2022 | $3,200 List: $3,100 |
| Unit: 12 W5584312 | 3 br | 3 bath 1 Parking | 1200 sqft | Leased Apr 25, 2022 | $3,000 List: $3,000 |
| Unit: U18 W5528467 | 2 br | 3 bath 0 Parking | 1000 sqft | Leased Apr 04, 2022 | $2,670 List: $2,650 |
| Unit: 22 W5489196 | 2 br | 3 bath 1 Parking | 1000 sqft | Leased Feb 17, 2022 | $2,575 List: $2,575 |
| Unit: 16 W5227538 | 3 br | 3 bath 0 Parking | 1200 sqft | Leased May 12, 2021 | $2,790 List: $2,790 |
| Unit: 02 W5214381 | 2 br | 3 bath 1 Parking | 1200 sqft | Leased May 05, 2021 | $2,650 List: $2,650 |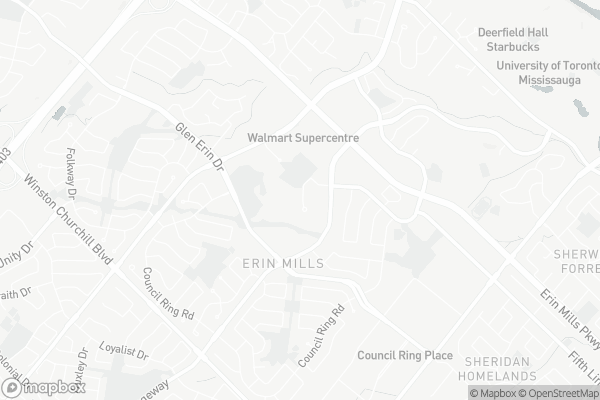 St Mark Separate School
Elementary: Catholic
St Clare School
Elementary: Catholic
Sawmill Valley Public School
Elementary: Public
Brookmede Public School
Elementary: Public
Erin Mills Middle School
Elementary: Public
St Margaret of Scotland School
Elementary: Catholic
Erindale Secondary School
Secondary: Public
Iona Secondary School
Secondary: Catholic
The Woodlands Secondary School
Secondary: Public
Loyola Catholic Secondary School
Secondary: Catholic
John Fraser Secondary School
Secondary: Public
St Aloysius Gonzaga Secondary School
Secondary: Catholic
Food Basics

3476 Glen Erin Drive, Mississauga

0.47km

M&M Food Market

2340 Council Ring Road, Mississauga

0.83km

Iqbal Halal Foods

4099 Erin Mills Parkway, Mississauga

1.19km
The Wine Shop

South Common Centre, 2150 Burnhamthorpe Road West, Mississauga

0.39km

LCBO

2458 Dundas Street West, Mississauga

1.6km

The Beer Store

2458 Dundas Street West, Mississauga

1.63km
Asian Gourmet

2150 Burnhamthorpe Road West, Mississauga

0.37km

Pita Land

2150 Burnhamthorpe Road West, Mississauga

0.41km

Popeyes Louisiana Kitchen

2150 Burnhamthorpe Road West, Mississauga

0.41km
Real Fruit Bubble Tea

2150 Burnhamthorpe Road West, Mississauga

0.35km

McDonald's

2150 Burnhamthorpe Road West, Mississauga

0.42km

Tim Hortons

3476 Glen Erin Drive, Mississauga

0.47km
TD Canada Trust Branch and ATM

2200 Burnhamthorpe Road West, Mississauga

0.47km

BMO Bank of Montreal

2146 Burnhamthorpe Road West, Mississauga

0.61km

Meridian Credit Union

4099 Erin Mills Parkway Unit 7, Mississauga

1.26km
Esso

3405 Glen Erin Drive, Mississauga

0.45km

Petro-Canada & Car Wash

2100 Burnhamthorpe Road West, Mississauga

0.68km

Mi Fuel

3233 Erin Mills Parkway, Mississauga

0.9km
Next Step to Active Living Program (The)

2233 South Millway, Mississauga

0.2km

GoodLife Fitness Mississauga South Common Centre

2150 Burnhamthorpe Road West, Mississauga

0.3km

Acupuncture Andrew Solution

50 Burnhamthorpe Rd W Unit#86 B#207, Mississauga

0.51km
Watering Hole

3473 Widdicombe Way Unit 7, Mississauga

0.04km

Justin's Park

South Common Park, 3501 Glen Erin Drive, Mississauga

0.33km

South Common Park

3501 Glen Erin Drive, Mississauga

0.34km
South Common Library

2233 South Millway, Mississauga

0.2km

University of Toronto Mississauga Library

3359 Mississauga Road, Mississauga

2.07km

University of Toronto Mississauga Library

Mississauga Road, Mississauga

2.07km
Advance Medical CosmetiCare Centre

303-2227 South Millway, Mississauga

0.28km

Advance Endoscopy and Specialist Centre

2227 South Millway #303, Mississauga

0.28km

aab Acupuncture & Massage Center

2591 Robin Dr, Mississauga

0.36km
Loblaw pharmacy

2150 Burnhamthorpe Road West, Mississauga

0.33km

Walmart Pharmacy

2160 Burnhamthorpe Road West, Mississauga

0.39km

Shoppers Drug Mart

3476 Glen Erin Drive, Mississauga

0.47km
Mississauga Erin Mills Smrtctr

2150 Burnhamthorpe Road West, Mississauga

0.4km

South Common Centre

2150 Burnhamthorpe Road West, Mississauga

0.4km

Millway Shopping Centre

3200 Erin Mills Parkway, Mississauga

0.92km
Cineplex Cinemas Winston Churchill & VIP

2081 Winston Park Drive, Oakville

3.65km

5 Drive-In

2332 Ninth Line, Oakville

4.05km

The Starlight Theatre

7g9, 2332 Ninth Line, Oakville

4.05km
Popy seed

2110 Burnhamthorpe Road West, Mississauga

0.26km

Abbey Road Pub & Patio

3200 Erin Mills Parkway, Mississauga

0.96km

CANDEC Kitchens

2410 Dunwin Drive, Mississauga

1.08km