Property Management Co: Zoran Property Management

Main Intersection: Hurontario/Eglinton

Ownership Type: Condo Townhouse

Smallest Unit: 1400-1599

Largest Unit: 1400-1599

Style: 3-Storey

Stories: 2

Walk Score: 74

Transit Score: 68

Year Built: 2005

Total Units: 182

Condominium Corporation #: PSCC - 705

Maintenance Fees Cover: None

Owner Pays: Hydro, Heat, Air Conditioning, Water
This building can be found at 4950 Albina Way, in the neighbourhood of Hurontario, in Mississauga, Ontario. Among the nearby neighbourhoods are Meadowvale Village, Meadowvale, Creditview, East Credit, Streetsville. 177 new homes are available for sale in Mississauga's Hurontario neighbourhood, representing 6.6% of all current listings in the city. In Mississauga, the average price for a home in Hurontario is $856,300. Hurontario homeowners pay a monthly mortgage of $2,901, 1.8 times less than Mississauga's average price for a home. According to the MLS, the average listed property in Hurontario has 1009 sq ft, 2.2 bedrooms, and 2.2 bathrooms. Among the residential properties for sale in the area surrounding 4950 Albina Way, 23.2% are apartments.
Currently there are no apartments for rent at 4950 Albina Way. Contact us for this details regarding this building's price history or to see units in nearby buildings.
Car-Dependent
Almost all errands require a car.
Good Transit
Some errands can be accomplished by public transportation.
Bikeable
Some errands can be accomplished on bike.
| | | | |
| --- | --- | --- | --- |
| Unit: 150 W5909687 | 3 br | 3 bath 1 Parking | 1200-1399 sqft | Sold Feb 20, 2023 | $842,000 List: $799,900 |
| Unit: 12 W5863271 | 3 br | 3 bath 1 Parking | 1400-1599 sqft | Sold Feb 10, 2023 | $797,000 List: $849,900 |
| Unit: #136 W5749068 | 3 br | 3 bath 1 Parking | 1400-1599 sqft | Sold Sep 08, 2022 | $797,000 List: $829,000 |
| Unit: 108 W5665627 | 3 br | 3 bath 1 Parking | 1400-1599 sqft | Sold Aug 10, 2022 | $797,000 List: $859,990 |
| Unit: 116 W5463297 | 3 br | 3 bath 1 Parking | 1800-1999 sqft | Sold Jan 07, 2022 | $900,000 List: $870,000 |
| Unit: 20 W5206655 | 3 br | 3 bath 1 Parking | 1200-1399 sqft | Sold Jul 15, 2021 | $847,500 List: $849,900 |
| Unit: 91 W5291418 | 3 br | 3 bath 1 Parking | 1200-1399 sqft | Sold Jul 12, 2021 | $875,000 List: $875,000 |
| Unit: 80 W5278049 | 3 br | 3 bath 2 Parking | 1400-1599 sqft | Sold Jul 09, 2021 | $825,000 List: $839,000 |
| Unit: 38 W5221697 | 3 br | 3 bath 1 Parking | 1600-1799 sqft | Sold May 11, 2021 | $875,000 List: $899,000 |
| Unit: 24 W5152748 | 3 br | 4 bath 2 Parking | 1600-1799 sqft | Sold Mar 23, 2021 | $815,000 List: $799,999 |
| | | | |
| --- | --- | --- | --- |
| Unit: 99 W5821970 | 3 br | 3 bath 1 Parking | 1400-1599 sqft | Leased Nov 18, 2022 | $3,200 List: $3,200 |
| Unit: 144 W5705204 | 3 br | 3 bath 1 Parking | 1400-1599 sqft | Leased Jul 25, 2022 | $3,400 List: $3,400 |
| Unit: 147 W5684335 | 3 br | 3 bath 1 Parking | 1400-1599 sqft | Leased Jul 14, 2022 | $2,850 List: $2,999 |
| Unit: 138 W5685603 | 3 br | 3 bath 1 Parking | 1500-2000 sqft | Leased Jul 11, 2022 | $3,000 List: $2,999 |
| Unit: 130 W5542550 | 3 br | 3 bath 1 Parking | 1600-1799 sqft | Leased Mar 22, 2022 | $2,850 List: $2,750 |
| Unit: 106 W5491814 | 3 br | 3 bath 1 Parking | 1400-1599 sqft | Leased Feb 08, 2022 | $2,700 List: $2,700 |
| Unit: 12 W5467881 | 3 br | 3 bath 1 Parking | 1400-1599 sqft | Leased Jan 18, 2022 | $2,750 List: $2,750 |
| Unit: 89 W5422699 | 3 br | 4 bath 1 Parking | 1600-1799 sqft | Leased Dec 15, 2021 | $2,750 List: $2,750 |
| Unit: 176 W5366131 | 3 br | 3 bath 1 Parking | 1200-1399 sqft | Leased Oct 21, 2021 | $2,600 List: $2,600 |
| Unit: 144 W5326109 | 3 br | 3 bath 1 Parking | 1400-1599 sqft | Leased Aug 15, 2021 | $2,900 List: $2,900 |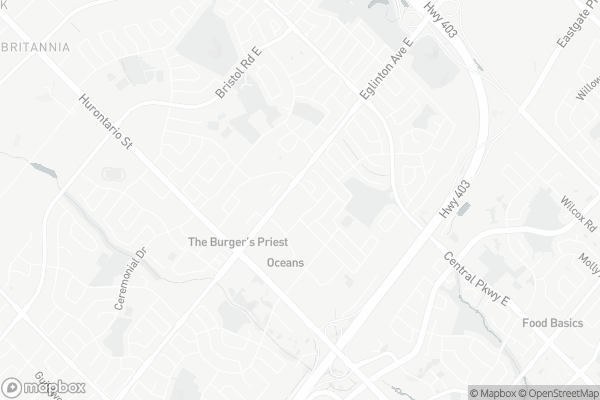 St Jude School
Elementary: Catholic
St Matthew Separate School
Elementary: Catholic
St Pio of Pietrelcina Elementary School
Elementary: Catholic
Cooksville Creek Public School
Elementary: Public
Nahani Way Public School
Elementary: Public
Bristol Road Middle School
Elementary: Public
T. L. Kennedy Secondary School
Secondary: Public
John Cabot Catholic Secondary School
Secondary: Catholic
Philip Pocock Catholic Secondary School
Secondary: Catholic
Father Michael Goetz Secondary School
Secondary: Catholic
Rick Hansen Secondary School
Secondary: Public
St Francis Xavier Secondary School
Secondary: Catholic
The Wilcox Gastropub

30 Eglinton Avenue W, Mississauga, ON L5R 3E7

0.61km

Haze Lounge

4230 Sherwoodtowne Boulevard, Mississauga, ON L4Z 2G6

1.29km

Reds

100 City Centre Drive, Unit #2-815, Square One, Mississauga, ON L5B 2C9

1.84km
Second Cup

4553 Hurontario Street, Unit E2, Mississauga, ON L4Z 3M1

0.62km

Fresh on Hurontario

5031 Hurontario Street, Mississauga, ON L4Z 3X7

0.57km

CoCo Fresh Tea & Juice

30 Eglinton Avenue W, Suite 6, Mississauga, ON L5R 3E7

0.69km
Konga Fitness

4995 Timberlea Boulevard, Unit 6, Mississauga, ON L4W 2S2

2.23km

Habitual Fitness & Lifestyle

3611 Mavis Road, Units 12-15, Mississauga, ON L5C 1T7

3.48km

Goodlife Fitness

785 Britannia Road W, Unit 3, Mississauga, ON L5V 2X8

4.08km
Inter Pharmacy

295 Eglinton Avenue E, Mississauga, ON L4Z 3K6

0.43km

Shopper's Drug Mart

5033 Hurontario Street, Mississauga, ON L4Z 3X6

0.46km

Kingsbridge Pharmacy

20 Kingsbridge Garden Cir, Mississauga, ON L5R 3K7

0.75km
KFC

4559 Hurontario Street, Mississauga, ON L4Z 3L9

0.3km

Cora's Breakfast & Lunch

4559 Hurontario St, Unit 9, Mississauga, ON L4Z 3L9

0.3km

Saravanaa Bhavan

4559 Hurontario Street, Unit 12B, Mississauga, ON L4Z 3L9

0.3km
Central Parkway Mall

377 Burnhamthorpe Road E, Mississauga, ON L5A 3Y1

1.98km

Square One

100 City Centre Dr, Mississauga, ON L5B 2C9

1.93km

Iona Square

1585 Mississauga Valley Boulevard, Mississauga, ON L5A 3W9

2.63km
Sapna Farm

295 Eglinton Avenue E, Mississauga, ON L4Z 3K6

0.43km

Oceans Fresh Food Market

4557 Hurontario Street, Mississauga, ON L4Z 3X3

0.45km

Rabba Market Express

20 Bristol Road W, Mississauga, ON L5R 3K3

1.37km
LCBO

5035 Hurontario Street, Unit 9, Mississauga, ON L4Z 3X7

0.49km

LCBO

65 Square One Drive, Mississauga, ON L5B 1M2

1.46km

Scaddabush

209 Rathburn Road West, Mississauga, ON L5B 4E5

1.85km
Shell

4685 Central Parkway E, Mississauga, ON L4Z 2E4

0.87km

Pro Auto Detailing

5555 Kennedy Road, Mississauga, ON L4Z 3E1

1.93km

Husky

5020 McLaughlin Road, Mississauga, ON L5R 3R8

1.96km
Cineplex Cinemas Mississauga

309 Rathburn Road W, Mississauga, ON L5B 4C1

1.83km

Cinéstarz

377 Burnhamthorpe Road E, Mississauga, ON L4Z 1C7

1.87km

Cineplex Odeon Corporation

100 City Centre Drive, Mississauga, ON L5B 2C9

2.09km
Frank McKechnie Community Centre

310 Bristol Road E, Mississauga, ON L4Z 3V5

0.95km

Mississauga Valley Community Centre & Library

1275 Mississauga Valley Boulevard, Mississauga, ON L5A 3R8

2.38km

Central Library

301 Burnhamthorpe Road W, Mississauga, ON L5B 3Y3

2.59km
Fusion Hair Therapy

33 City Centre Drive, Suite 680, Mississauga, ON L5B 2N5

1.85km

Pinewood Medical Centre

1471 Hurontario Street, Mississauga, ON L5G 3H5

6.64km

Trillium Health Centre - Toronto West Site

150 Sherway Drive, Toronto, ON M9C 1A4

6.84km
Kariya Park

3620 Kariya Dr (at Enfield Pl.), Mississauga ON L5B 3J4

2.45km

Mississauga Valley Park

1275 Mississauga Valley Blvd, Mississauga ON L5A 3R8

2.54km

Richard Jones Park

181 Whitchurch Mews, Mississauga ON

3.59km
CIBC

1 City Centre Dr (at Robert Speck Pkwy.), Mississauga ON L5B 1M2

1.68km

Scotiabank

2 Robert Speck Pky (Hurontario), Mississauga ON L4Z 1H8

1.74km

TD Bank Financial Group

100 City Centre Dr (in Square One Shopping Centre), Mississauga ON L5B 2C9

2.09km