Property Management Co: Wilson Blanchard Management

Main Intersection: Yonge/Sheppard

Ownership Type: Condo Apt

Largest Unit: 900

Style: Apartment

Stories: 26

Walk Score: 94

Transit Score: 92

Year Built: 2004

Total Units: 303

Amenities: Concierge, Exercise Room, Indoor Pool, Indoor Pool, Visitor Parking

Condominium Corporation #: TSCC - 1587

Maintenance Fees Cover: None

Owner Pays: Hydro, Heat, Air Conditioning, Water
Stats
This building can be found at 153 Beecroft Road, in the neighbourhood of Lansing-Westgate, in Toronto, Ontario. Among the nearby neighbourhoods are Newtonbrook East, Newtonbrook West, Clanton Park, Willowdale East, Willowdale West. 176 new homes are available for sale in Toronto's Lansing-Westgate neighbourhood, representing 1% of all current listings in the city. In Toronto, the average price for a home in Lansing-Westgate is $2,269,278. Lansing-Westgate homeowners pay a monthly mortgage of $7,687, 1.5 times than Toronto's average price for a home. According to the MLS, the average listed property in Lansing-Westgate has 569 sq ft, 1.6 bedrooms, and 1.9 bathrooms. Among the residential properties for sale in the area surrounding 153 Beecroft Road, 15.3% are apartments.
Walker's Paradise
Daily errands do not require a car.
Excellent Transit
Most errands can be accomplished by public transportation.
Bikeable
Some errands can be accomplished on bike.
| | | | |
| --- | --- | --- | --- |
| Unit: 2305 C6004876 | 2 br | 2 bath 1 Parking | 900 sqft | Sold May 24, 2023 | $840,000 List: $848,000 |
| Unit: Ph105 C5945008 | 2 br | 2 bath 2 Parking | 900 sqft | Sold May 15, 2023 | $844,000 List: $858,000 |
| Unit: 2215 C5940932 | 1 br | 1 bath 1 Parking | 600 sqft | Sold May 09, 2023 | $693,000 List: $699,900 |
| Unit: 2109 C6020037 | 1 br | 1 bath 1 Parking | 0 sqft | Sold Apr 13, 2023 | $549,000 List: $549,900 |
| Unit: 2603 C6007351 | 1 br | 1 bath 1 Parking | 600 sqft | Sold Apr 07, 2023 | $645,000 List: $658,000 |
| Unit: 1012 C5947319 | 1 br | 1 bath 1 Parking | 600 sqft | Sold Mar 15, 2023 | $650,000 List: $669,000 |
| Unit: 208 C5754869 | 1 br | 1 bath 1 Parking | 500 sqft | Sold Oct 14, 2022 | $522,000 List: $549,000 |
| Unit: 2009 C5711306 | 1 br | 1 bath 1 Parking | 0 sqft | Sold Aug 08, 2022 | $569,000 List: $569,000 |
| Unit: 211 C5670649 | 2 br | 2 bath 1 Parking | 800 sqft | Sold Jul 15, 2022 | $678,000 List: $688,000 |
| Unit: 2201 C5688257 | 2 br | 2 bath 1 Parking | 800 sqft | Sold Jul 14, 2022 | $765,000 List: $768,800 |
| | | | |
| --- | --- | --- | --- |
| Unit: 105 C7024238 | 1 br | 1 bath 1 Parking | 500 sqft | Leased Sep 26, 2023 | $2,300 List: $2,300 |
| Unit: 1101 C6756900 | 2 br | 2 bath 0 Parking | 900 sqft | Leased Aug 29, 2023 | $3,300 List: $3,200 |
| Unit: 2509 C6668506 | 1 br | 1 bath 1 Parking | 500 sqft | Leased Jul 24, 2023 | $2,400 List: $2,400 |
| Unit: 1203 C6665310 | 1 br | 1 bath 1 Parking | 600 sqft | Leased Jul 19, 2023 | $2,600 List: $2,550 |
| Unit: 2707 C6158956 | 1 br | 1 bath 1 Parking | 500 sqft | Leased Jul 06, 2023 | $2,500 List: $2,500 |
| Unit: 2010 C6624166 | 2 br | 1 bath 0 Parking | 700 sqft | Leased Jul 06, 2023 | $2,780 List: $2,780 |
| Unit: 615 C6159548 | 1 br | 1 bath 0 Parking | 600 sqft | Leased Jun 26, 2023 | $2,500 List: $2,500 |
| Unit: 2807 C5912349 | 1 br | 1 bath 1 Parking | 0 sqft | Leased Mar 17, 2023 | $2,300 List: $2,300 |
| Unit: Ph207 C5952743 | 1 br | 1 bath 1 Parking | 500 sqft | Leased Mar 10, 2023 | $2,300 List: $2,300 |
| Unit: 1215 C4284707 | 1 br | 1 bath 1 Parking | 600 sqft | Leased Feb 07, 2023 | $2,000 List: $2,000 |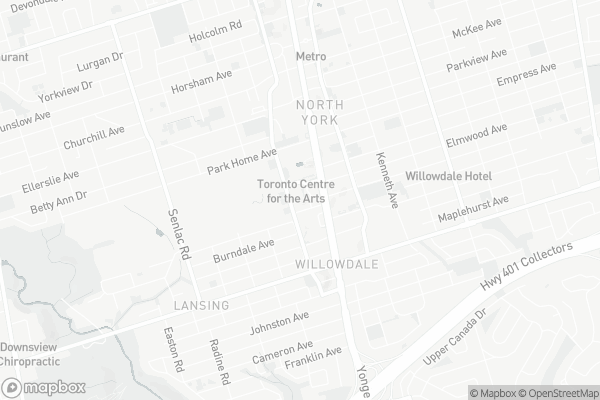 Cardinal Carter Academy for the Arts
Elementary: Catholic
Claude Watson School for the Arts
Elementary: Public
St Cyril Catholic School
Elementary: Catholic
Willowdale Middle School
Elementary: Public
St Edward Catholic School
Elementary: Catholic
McKee Public School
Elementary: Public
Avondale Secondary Alternative School
Secondary: Public
Drewry Secondary School
Secondary: Public
ÉSC Monseigneur-de-Charbonnel
Secondary: Catholic
Cardinal Carter Academy for the Arts
Secondary: Catholic
Loretto Abbey Catholic Secondary School
Secondary: Catholic
Earl Haig Secondary School
Secondary: Public
PAT Spring Garden Market

63 Spring Garden Avenue, North York

0.36km

Longo's Yonge & Sheppard

4841 Yonge Street Level 3, North York

0.4km

Whole Foods Market

4771 Yonge Street, North York

0.59km
LCBO

5095 Yonge Street A4, North York

0.4km

LCBO

22 Poyntz Avenue Suite 200, Toronto

0.64km

Wine Rack

20 Church Avenue, North York

0.96km
Chipotle Mexican Grill

4996 Yonge Street, Toronto

0.13km

The Power Vision

4950 Yonge Street, North York

0.13km

Druxy's Famous Deli

Madison Centre, 4950 Yonge Street Unit #40, North York

0.13km
Yonge Cafe and Bistro

105-5000 Yonge Street, North York

0.14km

Tim Hortons

4986 Yonge Street, North York

0.15km

Cafe Landwer

5000 Yonge Street, North York

0.16km
Canadian Insolvency and Credit Alliance Inc.

5000 Yonge Street, North York

0.12km

International Commercial Bank Of The

4950 Yonge Street, North York

0.13km

1Q banking

4950 Yonge Street #1101, North York

0.13km
Shell

4722 Yonge Street, North York

0.7km

Deli2go

Esso

4696 Yonge Street, North York

0.81km
GoodLife Fitness North York Madison Centre

4950 Yonge Street, North York

0.13km

Fit4Less

5150 Yonge Street, North York

0.32km

The Boxing4Fitness Company

18 Hillcrest Avenue, North York

0.38km
Beecroft Park

Beecroft Park

174 Beecroft Road, North York

0.33km

Ring Road Linear Park

139 Doris Avenue, Toronto

0.39km
Library Shipping & Receiving

5120 Yonge Street, North York

0.28km

Toronto Public Library - North York Central Library

5120 Yonge Street, North York

0.32km

Tiny Library - "Take a book, Leave a book" [book trading box]

274 Burnett Avenue, North York

0.97km
Sheppard Centre Self Care Dialysis Unit

4881 Yonge Street, North York

0.42km

Malcolm W Dr

40 Sheppard Av W, North York

0.45km

Sinai Health System Fertility Clinic

2 Sheppard Avenue East, North York

0.46km
Yonge Elmwood Pharmacy Inc.

201-5025 Yonge Street, North York

0.23km

Sparo

4905A Yonge Street, North York

0.26km

Rexall

5150 Yonge Street, North York

0.35km
North York Centre

5150 Yonge Street, North York

0.35km

Empress Walk

5095 Yonge Street, North York

0.37km

Yonge Sheppard Centre

4841 Yonge Street, North York

0.45km
Cineplex Cinemas Empress Walk

Empress Walk, 5095 Yonge Street 3rd Floor, North York

0.39km

Funland

265-7181 Yonge Street, Markham

4.22km
High On Yonge

4914A Yonge Street, North York

0.23km

Jack Astor's Bar & Grill North York

5051 Yonge Street Unit #2, North York

0.24km

Studio Lounge Karaoke

4901A Yonge Street, North York

0.28km