Property Management Co: Manor Crest Management

Main Intersection: Yonge/Sheppard

Ownership Type: Condo Apt

Smallest Unit: 700

Largest Unit: 900

Style: Apartment

Stories: 36

Walk Score: 96

Transit Score: 92

Year Built: 2008

Total Units: 341

Amenities: Concierge, Exercise Room, Indoor Pool, Indoor Pool

Condominium Corporation #: TSCC - 1974

Maintenance Fees Cover: None

Owner Pays: Hydro, Heat, Air Conditioning, Water
Stats
This building is located at 18 Spring Garden Avenue, Toronto, M2N 7M2 and is situated in the neighbourhood of Willowdale East. Other neighbourhoods nearby are Willowdale West, Newtonbrook East, Newtonbrook West, Bayview Village, Lansing Westgate. The district of Willowdale East has 465 postings available. That's just 2.7% of the 17546 total properties for sale in the city of Toronto. Homes in Willowdale East are listed for an average asking price of $1,205,364, or an estimated monthly mortgage of $4,083. That is 1.3 times less the average list price of $1,507,752 in Toronto. Willowdale East listed properties average 844 sq ft, 1.9 beds, and 2.1 baths. Apartments make up 34.8% of homes for sale in the neighbourhood around 18 Spring Garden Avenue.

Currently there are no apartments for sale at 18 Spring Garden Avenue. Contact us for this details regarding this building's price history or to see units in nearby buildings.
Walker's Paradise
Daily errands do not require a car.
Excellent Transit
Most errands can be accomplished by public transportation.
Bikeable
Some errands can be accomplished on bike.
| | | | |
| --- | --- | --- | --- |
| Unit: 1605 C6103628 | 2 br | 2 bath 1 Parking | 1000 sqft | Sold Jun 20, 2023 | $835,000 List: $799,800 |
| Unit: 3610 C6009668 | 2 br | 2 bath 0 Parking | 1000 sqft | Sold Jun 02, 2023 | $880,000 List: $799,900 |
| Unit: 3103 C5930525 | 2 br | 1 bath 1 Parking | 700 sqft | Sold Apr 11, 2023 | $720,000 List: $748,000 |
| Unit: 610 C5966989 | 2 br | 2 bath 1 Parking | 1000 sqft | Sold Mar 23, 2023 | $868,000 List: $799,900 |
| Unit: 2603 C5859471 | 2 br | 1 bath 0 Parking | 700 sqft | Sold Jan 22, 2023 | $725,000 List: $738,000 |
| Unit: 1503 C5793608 | 2 br | 1 bath 1 Parking | 700 sqft | Sold Jan 18, 2023 | $700,000 List: $738,800 |
| Unit: 3801 C5846987 | 1 br | 1 bath 1 Parking | 700 sqft | Sold Dec 19, 2022 | $635,000 List: $599,000 |
| Unit: 2609 C5780989 | 1 br | 1 bath 1 Parking | 500 sqft | Sold Oct 17, 2022 | $582,000 List: $518,800 |
| Unit: 305 C5699301 | 2 br | 2 bath 0 Parking | 1000 sqft | Sold Jul 20, 2022 | $772,000 List: $789,999 |
| Unit: 1710 C5608729 | 3 br | 2 bath 1 Parking | 1000 sqft | Sold Jun 13, 2022 | $868,000 List: $899,000 |
| | | | |
| --- | --- | --- | --- |
| Unit: 1908 C6790918 | 2 br | 2 bath 1 Parking | 1000 sqft | Leased Sep 15, 2023 | $3,600 List: $3,600 |
| Unit: 2611 C6716900 | 1 br | 1 bath 1 Parking | 700 sqft | Leased Aug 22, 2023 | $2,800 List: $2,800 |
| Unit: 3901 C6722346 | 1 br | 1 bath 1 Parking | 700 sqft | Leased Aug 17, 2023 | $2,800 List: $2,800 |
| Unit: 3609 C6733682 | 1 br | 1 bath 1 Parking | 500 sqft | Leased Aug 16, 2023 | $2,700 List: $2,700 |
| Unit: 710 C6708480 | 2 br | 2 bath 1 Parking | 1000 sqft | Leased Aug 13, 2023 | $3,800 List: $3,800 |
| Unit: 2311 C6694076 | 1 br | 1 bath 0 Parking | 700 sqft | Leased Jul 31, 2023 | $2,700 List: $2,700 |
| Unit: 3608 C6153288 | 2 br | 2 bath 1 Parking | 1000 sqft | Leased Jul 07, 2023 | $3,700 List: $3,800 |
| Unit: Ph107 C6147080 | 1 br | 1 bath 1 Parking | 600 sqft | Leased Jul 06, 2023 | $2,800 List: $2,800 |
| Unit: 1802 C6106336 | 2 br | 2 bath 0 Parking | 800 sqft | Leased Jun 28, 2023 | $3,200 List: $3,200 |
| Unit: 3103 C6016224 | 2 br | 1 bath 0 Parking | 700 sqft | Leased Jun 01, 2023 | $3,100 List: $3,000 |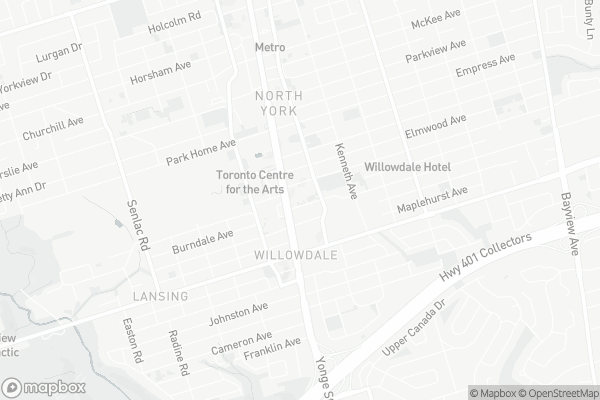 Cardinal Carter Academy for the Arts
Elementary: Catholic
Avondale Alternative Elementary School
Elementary: Public
Avondale Public School
Elementary: Public
Claude Watson School for the Arts
Elementary: Public
St Edward Catholic School
Elementary: Catholic
McKee Public School
Elementary: Public
Avondale Secondary Alternative School
Secondary: Public
St Andrew's Junior High School
Secondary: Public
Drewry Secondary School
Secondary: Public
Cardinal Carter Academy for the Arts
Secondary: Catholic
Loretto Abbey Catholic Secondary School
Secondary: Catholic
Earl Haig Secondary School
Secondary: Public
PAT Spring Garden Market

63 Spring Garden Avenue, North York

0.07km

Longo's Yonge & Sheppard

4841 Yonge Street Level 3, North York

0.25km

Hullmark Centre - Lot #56

33 Sheppard Avenue East, North York

0.44km
LCBO

5095 Yonge Street A4, North York

0.46km

LCBO

22 Poyntz Avenue Suite 200, Toronto

0.54km

BIN BANTER Spirits & Wine

30 Harrison Garden Boulevard, North York

0.94km
Hotopia SiChuan Cuisine 龍门阵总店

25 Spring Garden Avenue, North York

0.05km

Jameh Bossam 자매보쌈

39 Spring Garden Avenue, North York

0.06km

Hay Sushi - Spring Garden

41 Spring Garden Avenue, North York

0.06km
Cafe Inside

23 Spring Garden Avenue, North York

0.05km

Daigyo

4909 Yonge Street, North York

0.1km

Tea Shop 168

4936 Yonge Street, North York

0.14km
Korean Bank of Canada Main Br

Yonge Street, North York

0.12km

Royal Bank Building

5001 Yonge Street, North York

0.15km

RBC Royal Bank

5001 Yonge Street, Toronto

0.15km
Shell

4722 Yonge Street, North York

0.59km

Deli2go

Esso

4696 Yonge Street, North York

0.7km
GoodLife Fitness North York Madison Centre

4950 Yonge Street, North York

0.17km

True Training & Tactics

Second, 206-593 Yonge Street, Toronto

0.23km

SEMI (Sports & Exercise Medicine Institute)

2 Sheppard Avenue East #601, North York

0.29km
Ring Road Linear Park

139 Doris Avenue, Toronto

0.17km

Willowdale Park

75 Hollywood Avenue, North York

0.21km

Spring Garden Parkette
Library Shipping & Receiving

5120 Yonge Street, North York

0.48km

Toronto Public Library - North York Central Library

5120 Yonge Street, North York

0.5km

Tiny Library - "Take a book, Leave a book" [book trading box]

274 Burnett Avenue, North York

1.22km
Sheppard Centre Self Care Dialysis Unit

4881 Yonge Street, North York

0.25km

Sinai Health System Fertility Clinic

2 Sheppard Avenue East, North York

0.29km

RegenerVate

2 Sheppard Avenue East #601, North York

0.29km
Sparo

4905A Yonge Street, North York

0.11km

Yonge Elmwood Pharmacy Inc.

201-5025 Yonge Street, North York

0.25km

Shoppers Drug Mart

4841 Yonge Street, Willowdale

0.27km
Sheppard Centre III

6 Forest Laneway, North York

0.26km

Yonge Sheppard Centre

4841 Yonge Street, North York

0.3km

Hullmark Centre

4789 Yonge Street, Toronto

0.39km
Cineplex Cinemas Empress Walk

Empress Walk, 5095 Yonge Street 3rd Floor, North York

0.44km

Funland

265-7181 Yonge Street, Markham

4.32km
Studio Lounge Karaoke

4901A Yonge Street, North York

0.12km

Union Social Eatery

4899 Yonge Street, North York

0.12km

High On Yonge

4914A Yonge Street, North York

0.14km