Property Management Co: First Service Residential Ontario (416-293-5900)

Main Intersection: Shepard Ave E & Bayv

Ownership Type: Condo Townhouse

Smallest Unit: 2250

Largest Unit: 2250

Style: 3-Storey

Amenities: Bbqs Allowed

Condominium Corporation #: TSCC - 2826
Stats
This building can be found at 25 Dervock Crescent, in the neighbourhood of Bayview Village, in Toronto, Ontario. Among the nearby neighbourhoods are Bayview Woods Steeles, St Andrew Windfields, Willowdale East, Willowdale West, Don Valley Village. 159 new homes are available for sale in Toronto's Bayview Village neighbourhood, representing 1.2% of all current listings in the city. In Toronto, the average price for a home in Bayview Village is $1,504,183. Bayview Village homeowners pay a monthly mortgage of $5,096, 1.1 times less than Toronto's average price for a home. According to the MLS, the average listed property in Bayview Village has 693 sq ft, 2.2 bedrooms, and 2.2 bathrooms. Among the residential properties for sale in the area surrounding 25 Dervock Crescent, 35.8% are apartments.
Car-Dependent
Most errands require a car.
Excellent Transit
Most errands can be accomplished by public transportation.
Somewhat Bikeable
Most errands require a car.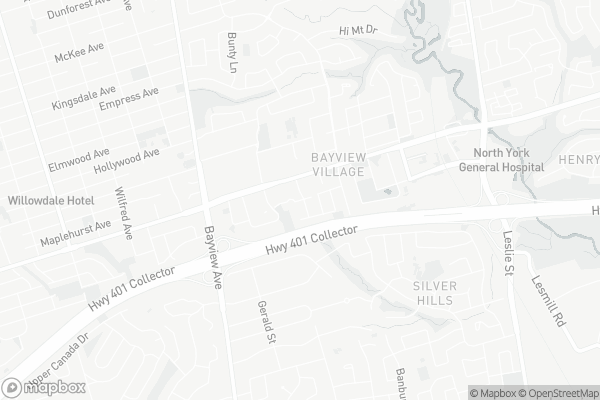 Harrison Public School
Elementary: Public
St Gabriel Catholic Catholic School
Elementary: Catholic
Hollywood Public School
Elementary: Public
Elkhorn Public School
Elementary: Public
Bayview Middle School
Elementary: Public
Dunlace Public School
Elementary: Public
St Andrew's Junior High School
Secondary: Public
Windfields Junior High School
Secondary: Public
École secondaire Étienne-Brûlé
Secondary: Public
Cardinal Carter Academy for the Arts
Secondary: Catholic
York Mills Collegiate Institute
Secondary: Public
Earl Haig Secondary School
Secondary: Public
Lettieri Expression Bar

2901 Bayview Avenue, Toronto, ON M2N 5Z7

0.72km

The Keg Steakhouse + Bar

1977 Leslie St, North York, ON M3B 2M3

1.8km

The Goose & Firkin

1875 Leslie Street, North York, ON M3B 2M5

2km
Drippin Coffee

5 Kenaston Gardens, Toronto, ON M2K 1G7

0.46km

Bread & Roses Bakery Cafe

2901 Bayview Avenue, Toronto, ON M2K 2S3

0.5km

Starbucks

2901 Bayview Avenue, Suite 152, Toronto, ON M2K 1E6

0.63km
St. Gabriel Medical Pharmacy

650 Sheppard Avenue E, Toronto, ON M2K 1B7

0.18km

Shoppers Drug Mart

2901 Bayview Avenue, Unit 7A, Toronto, ON M2K 1E6

0.54km

Main Drug Mart

1100 Sheppard Avenue E, North York, ON M2K 2W1

0.94km
Parcheggio

2901 Bayview Avenue, Suite 300, Toronto, ON M2K 2S3

0.43km

Beauty Eats

2901 Bayview Avenue, Suite 300, Toronto, ON M2K 2S3

0.45km

Kourosh Super Market

740 Sheppard Avenue E, Unit 2, Toronto, ON M2K 1C3

0.43km
Bayview Village Shopping Centre

2901 Bayview Avenue, North York, ON M2K 1E6

0.5km

Sandro Bayview Village

2901 Bayview Avenue, North York, ON M2K 1E6

0.72km

Yonge Sheppard Centre

4841 Yonge Street, North York, ON M2N 5X2

2.53km
Pusateri's Fine Foods

2901 Bayview Avenue, Toronto, ON M2N 5Z7

0.4km

Kourosh Super Market

740 Sheppard Avenue E, Unit 2, Toronto, ON M2K 1C3

0.43km

Loblaws

2877 Bayview Avenue, North York, ON M2K 2S3

0.61km
LCBO

2901 Bayview Avenue, North York, ON M2K 1E6

0.36km

Sheppard Wine Works

187 Sheppard Avenue E, Toronto, ON M2N 3A8

1.59km

LCBO

808 York Mills Road, Toronto, ON M3B 1X8

2.26km
Shell

730 Avenue Sheppard E, North York, ON M2K 1C3

0.42km

Mr Shine

2877 Bayview Avenue, North York, ON M2K 2S3

0.55km

Shell

2831 Avenue Bayview, North York, ON M2K 1E5

0.6km
Cineplex Cinemas Empress Walk

5095 Yonge Street, 3rd Floor, Toronto, ON M2N 6Z4

2.61km

Cineplex Cinemas Fairview Mall

1800 Sheppard Avenue E, Unit Y007, North York, ON M2J 5A7

3.18km

Cineplex VIP Cinemas

12 Marie Labatte Road, unit B7, Toronto, ON M3C 0H9

4.55km
Toronto Public Library - Bayview Branch

2901 Bayview Avenue, Toronto, ON M2K 1E6

0.72km

North York Central Library

5120 Yonge Street, Toronto, ON M2N 5N9

2.77km

Toronto Public Library

35 Fairview Mall Drive, Toronto, ON M2J 4S4

2.99km
North York General Hospital

4001 Leslie Street, North York, ON M2K 1E1

1.3km

Canadian Medicalert Foundation

2005 Sheppard Avenue E, North York, ON M2J 5B4

3.43km

Sunnybrook Health Sciences Centre

2075 Bayview Avenue, Toronto, ON M4N 3M5

5.06km
Bayview Village Park

Bayview/Sheppard, Ontario

1.04km

Glendora Park

201 Glendora Ave (Willowdale Ave), Toronto ON

1.7km

Harrison Garden Blvd Dog Park

Harrison Garden Blvd, North York ON M2N 0C3

2.18km
TD Bank Financial Group

686 Finch Ave E (btw Bayview Ave & Leslie St), North York ON M2K 2E6

2.34km

RBC Royal Bank

4789 Yonge St (Yonge), North York ON M2N 0G3

2.52km

CIBC

4841 Yonge St (at Sheppard Ave. E.), North York ON M2N 5X2

2.54km