Property Management Co: Maple Ridge Community Management

Main Intersection: Yonge/Bloor

Ownership Type: Condo Apt

Largest Unit: 1000

Style: Apartment

Stories: 32

Walk Score: 100

Transit Score: 95

Year Built: 2010

Total Units: 349

Amenities: Concierge, Exercise Room, Indoor Pool, Indoor Pool, Party/Meeting Room

Condominium Corporation #: TSCC - 2094

Maintenance Fees Cover: Water

Owner Pays: Hydro, Heat, Air Conditioning
Stats
This building can be found at 35 Hayden Street, in the neighbourhood of Church-Yonge Corridor, in Toronto, Ontario. Among the nearby neighbourhoods are Cabbagetown South St James Town, North St James Town, Yonge St Clair, Rosedale Moore Park, Annex. 840 new homes are available for sale in Toronto's Church-Yonge Corridor neighbourhood, representing 4.8% of all current listings in the city. In Toronto, the average price for a home in Church-Yonge Corridor is $964,951. Church-Yonge Corridor homeowners pay a monthly mortgage of $3,269, 1.6 times less than Toronto's average price for a home. According to the MLS, the average listed property in Church-Yonge Corridor has 608 sq ft, 1.3 bedrooms, and 1.4 bathrooms. Among the residential properties for sale in the area surrounding 35 Hayden Street, 43.2% are apartments.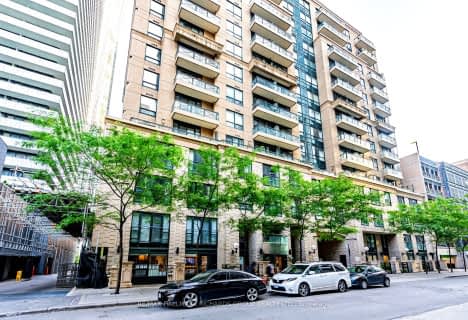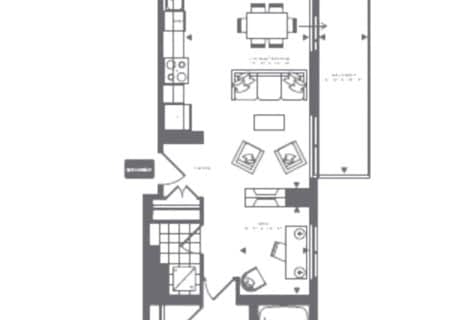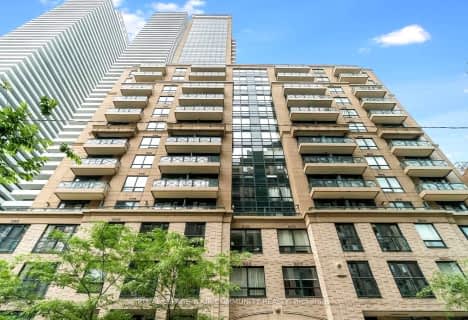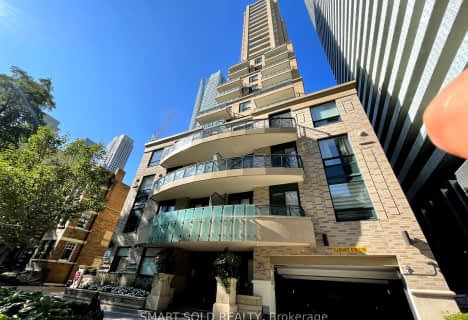 Very Walkable
Most errands can be accomplished on foot.
Rider's Paradise
Daily errands do not require a car.
Biker's Paradise
Daily errands do not require a car.
| | | | |
| --- | --- | --- | --- |
| Unit: 1020 C6154320 | 1 br | 1 bath 0 Parking | 500 sqft | Sold Jun 22, 2023 | $680,000 List: $706,000 |
| Unit: 1609 C6107496 | 2 br | 2 bath 1 Parking | 1200 sqft | Sold Jun 08, 2023 | $1,270,000 List: $1,299,000 |
| Unit: 2201 C5868599 | 1 br | 1 bath 0 Parking | 800 sqft | Sold May 12, 2023 | $775,500 List: $799,900 |
| Unit: 821 C6019207 | 1 br | 1 bath 0 Parking | 500 sqft | Sold Apr 19, 2023 | $618,000 List: $629,000 |
| Unit: 202 C6008811 | 0 br | 1 bath 0 Parking | 0 sqft | Sold Apr 09, 2023 | $475,000 List: $429,999 |
| Unit: 1504 C5914243 | 1 br | 1 bath 0 Parking | 700 sqft | Sold Mar 06, 2023 | $740,000 List: $748,800 |
| Unit: 805 C5890161 | 2 br | 2 bath 1 Parking | 800 sqft | Sold Feb 16, 2023 | $875,000 List: $879,000 |
| Unit: 413 C5843549 | 1 br | 1 bath 0 Parking | 0 sqft | Sold Feb 08, 2023 | $530,000 List: $549,999 |
| Unit: 920 C5785701 | 1 br | 1 bath 0 Parking | 500 sqft | Sold Oct 17, 2022 | $605,000 List: $629,000 |
| Unit: 508 C5729548 | 1 br | 1 bath 0 Parking | 500 sqft | Sold Oct 12, 2022 | $660,000 List: $680,000 |
| | | | |
| --- | --- | --- | --- |
| Unit: 1020 C7014378 | 1 br | 1 bath 1 Parking | 500 sqft | Leased Oct 02, 2023 | $2,700 List: $2,800 |
| Unit: 416 C7027360 | 1 br | 1 bath 0 Parking | 500 sqft | Leased Sep 27, 2023 | $2,500 List: $2,500 |
| Unit: 2603 C6810854 | 2 br | 2 bath 1 Parking | 1200 sqft | Leased Sep 27, 2023 | $4,850 List: $4,850 |
| Unit: 317 C6811612 | 1 br | 1 bath 0 Parking | 600 sqft | Leased Sep 25, 2023 | $2,500 List: $2,500 |
| Unit: 1019 C7008702 | 1 br | 1 bath 0 Parking | 500 sqft | Leased Sep 24, 2023 | $2,600 List: $2,600 |
| Unit: 1703 C6761064 | 2 br | 2 bath 1 Parking | 1000 sqft | Leased Sep 15, 2023 | $4,150 List: $4,150 |
| Unit: 1316 C6779064 | 1 br | 1 bath 1 Parking | 0 sqft | Leased Sep 13, 2023 | $2,780 List: $2,780 |
| Unit: 903 C6799312 | 0 br | 1 bath 0 Parking | 0 sqft | Leased Sep 12, 2023 | $2,450 List: $2,400 |
| Unit: 1210 C6780248 | 1 br | 1 bath 0 Parking | 600 sqft | Leased Sep 12, 2023 | $2,895 List: $2,895 |
| Unit: 404 C6736902 | 1 br | 1 bath 0 Parking | 700 sqft | Leased Sep 06, 2023 | $3,250 List: $3,250 |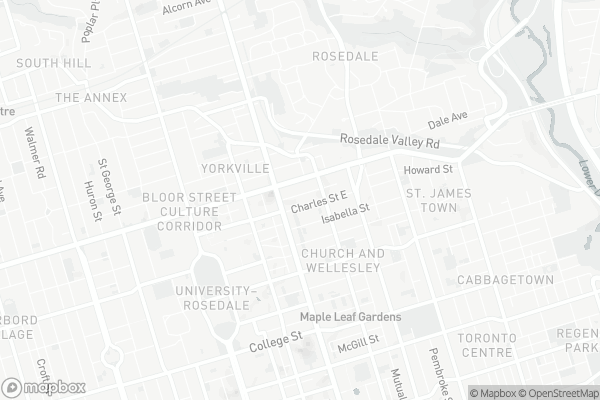 Msgr Fraser College (OL Lourdes Campus)
Elementary: Catholic
Collège français élémentaire
Elementary: Public
Rosedale Junior Public School
Elementary: Public
Church Street Junior Public School
Elementary: Public
Jesse Ketchum Junior and Senior Public School
Elementary: Public
Our Lady of Lourdes Catholic School
Elementary: Catholic
Native Learning Centre
Secondary: Public
St Michael's Choir (Sr) School
Secondary: Catholic
Collège français secondaire
Secondary: Public
Msgr Fraser-Isabella
Secondary: Catholic
Jarvis Collegiate Institute
Secondary: Public
St Joseph's College School
Secondary: Catholic
H Mart

703 Yonge Street, Toronto

0.13km

The Market by Longo's

100 Bloor Street East, Toronto

0.17km

Town Star Food Mart

599 Church Street, Toronto

0.2km
LCBO

20 Bloor Street East, Toronto

0.19km

LCBO

Manulife Centre, 55 Bloor Street West, Toronto

0.3km

Northern Landings GinBerry

Manulife Centre, 55 Bloor Street West, Toronto

0.32km
Onnki Donburi

40 Hayden Street, Toronto

0.05km

Tokyo Kitchen

20 Charles Street East, Toronto

0.06km

The Salad House

17 Hayden Street, Toronto

0.09km
Palgong Tea

53 Bloor Street East, Toronto

0.09km

Presse Café

85 Bloor Street East, Toronto

0.12km

Crows Nest Cafe

15 Charles Street East, Toronto

0.12km
Creative Arts Financial

625 Church Street Theatre, Toronto

0.18km

RBC Royal Bank

2 Bloor Street East, Toronto

0.2km

BMO Bank of Montreal

101-120 Bloor Street East, Toronto

0.22km
Canadian Tire Gas+

835 Yonge Street, Toronto

0.47km

Petro-Canada

505 Jarvis Street, Toronto

0.61km

Shell

1077 Yonge Street, Toronto

1.19km
T Fitness & Nutrition

40 Hayden Street 2nd Floor, Toronto

0.04km

BOSS Lifting

1 Bloor Street East, Toronto

0.15km

Paul Brown Boxfit

661 Yonge Street, Toronto

0.16km
George Hislop Park

George Hislop Park

20 Isabella Street, Toronto

0.15km

Norman Jewison Park

13 Isabella Street, Toronto

0.24km
The Japan Foundation, Toronto

300-2 Bloor Street East, Toronto

0.22km

Toronto Public Library - Toronto Reference Library

789 Yonge Street, Toronto

0.32km

CMC

20 Saint Joseph Street, Toronto

0.41km
Medikplus Inc

4 Charles Street East, Toronto

0.12km

The Salvation Army Toronto Grace Health Centre

650 Church Street, Toronto

0.16km

Berman Ruth Dr

730 Yonge Street, Toronto

0.2km
The Pharmacy Examining Board of Canada

200-59 Hayden Street, Toronto

0.08km

ED Pills Store Canada

657 A Yonge Street, Toronto

0.15km

Shoppers Drug Mart

728 Yonge Street, Toronto

0.16km
Sunglass Hut at Hudsons Bay

44 Bloor Street East, Toronto

0.16km

Hudson's Bay

44 Bloor Street East, Toronto

0.2km

INS MARKET

33 Bloor Street East, Toronto

0.2km
Lewis Kay Casting

10 Saint Mary Street, Toronto

0.21km

Cineplex Cinemas Varsity and VIP

55 Bloor Street West, Toronto

0.3km

Imagine Cinemas Carlton Cinema

20 Carlton Street, Toronto

0.91km
Firkin on Bloor

81 Bloor Street East, Toronto

0.11km

Crows Nest Cafe

15 Charles Street East, Toronto

0.12km

Dalbam

640 Church Street, Toronto

0.14km