Property Management Co: Del Property Management

Main Intersection: Yonge/Finch

Ownership Type: Condo Apt

Smallest Unit: 500

Largest Unit: 900

Style: Apartment

Stories: 25

Walk Score: 86

Transit Score: 100

Year Built: 2010

Total Units: 198

Amenities: Concierge, Exercise Room

Condominium Corporation #: TSCC - 2048

Maintenance Fees Cover: None

Owner Pays: Hydro, Heat, Air Conditioning, Water
Stats
This building can be found at 5791 Yonge Street, in the neighbourhood of Newtonbrook East, in Toronto, Ontario. Among the nearby neighbourhoods are Newtonbrook West, Willowdale East, Willowdale West, Lansing Westgate, Westminster Branson. 133 new homes are available for sale in Toronto's Newtonbrook East neighbourhood, representing 0.7% of all current listings in the city. In Toronto, the average price for a home in Newtonbrook East is $1,598,287. Newtonbrook East homeowners pay a monthly mortgage of $5,414, 1 times than Toronto's average price for a home. According to the MLS, the average listed property in Newtonbrook East has 913 sq ft, 2.5 bedrooms, and 2.7 bathrooms. Among the residential properties for sale in the area surrounding 5791 Yonge Street, 23.3% are apartments.
Very Walkable
Most errands can be accomplished on foot.
Rider's Paradise
Daily errands do not require a car.
Bikeable
Some errands can be accomplished on bike.
| | | | |
| --- | --- | --- | --- |
| Unit: 1701 C7061966 | 1 br | 1 bath 1 Parking | 500 sqft | Sold Nov 03, 2023 | $538,000 List: $549,900 |
| Unit: 1907 C5997236 | 2 br | 1 bath 0 Parking | 700 sqft | Sold May 23, 2023 | $720,000 List: $649,900 |
| Unit: 2210 C5948344 | 2 br | 1 bath 1 Parking | 700 sqft | Sold May 16, 2023 | $669,000 List: $668,800 |
| Unit: 901 C5871302 | 1 br | 1 bath 1 Parking | 500 sqft | Sold Jan 19, 2023 | $530,000 List: $549,900 |
| Unit: 710 C5858252 | 2 br | 1 bath 1 Parking | 700 sqft | Sold Jan 11, 2023 | $638,000 List: $669,000 |
| Unit: 1106 C5784014 | 1 br | 1 bath 0 Parking | 500 sqft | Sold Dec 20, 2022 | $515,000 List: $529,000 |
| Unit: 2610 C5725686 | 2 br | 1 bath 1 Parking | 700 sqft | Sold Aug 26, 2022 | $630,000 List: $679,000 |
| Unit: 1910 C5731413 | 2 br | 1 bath 1 Parking | 700 sqft | Sold Aug 23, 2022 | $629,000 List: $499,000 |
| Unit: 2306 C5697982 | 1 br | 1 bath 0 Parking | 500 sqft | Sold Aug 10, 2022 | $535,000 List: $499,000 |
| Unit: Ph 20 C5599022 | 2 br | 1 bath 1 Parking | 700 sqft | Sold May 11, 2022 | $720,000 List: $739,000 |
| | | | |
| --- | --- | --- | --- |
| Unit: 909 C7242108 | 2 br | 2 bath 1 Parking | 800 sqft | Leased Dec 01, 2023 | $3,150 List: $3,150 |
| Unit: 2610 C7058432 | 2 br | 1 bath 1 Parking | 700 sqft | Leased Oct 11, 2023 | $3,100 List: $3,100 |
| Unit: 2109 C7026746 | 2 br | 2 bath 1 Parking | 900 sqft | Leased Oct 10, 2023 | $3,300 List: $3,300 |
| Unit: 501 C6789826 | 1 br | 1 bath 1 Parking | 500 sqft | Leased Sep 22, 2023 | $2,450 List: $2,450 |
| Unit: 1507 C6740602 | 2 br | 1 bath 1 Parking | 700 sqft | Leased Aug 28, 2023 | $3,100 List: $3,125 |
| Unit: 2210 C6704320 | 2 br | 1 bath 1 Parking | 700 sqft | Leased Aug 15, 2023 | $3,100 List: $3,100 |
| Unit: 2503 C6123076 | 2 br | 2 bath 1 Parking | 800 sqft | Leased Aug 08, 2023 | $3,190 List: $3,190 |
| Unit: 2510 C6695952 | 2 br | 1 bath 0 Parking | 700 sqft | Leased Aug 08, 2023 | $3,000 List: $3,000 |
| Unit: 2003 C6655612 | 2 br | 2 bath 1 Parking | 800 sqft | Leased Jul 17, 2023 | $3,150 List: $3,050 |
| Unit: 1010 C6629246 | 2 br | 1 bath 1 Parking | 700 sqft | Leased Jul 08, 2023 | $3,000 List: $3,000 |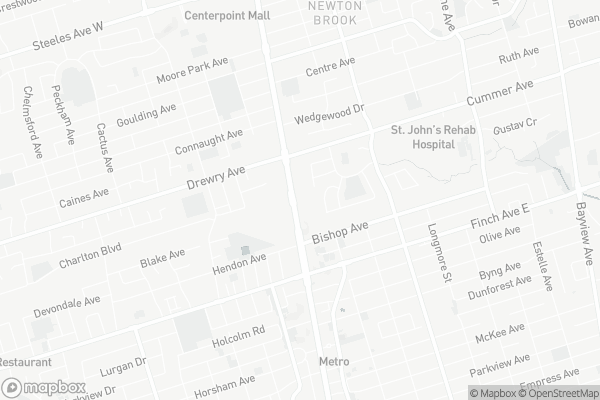 ÉIC Monseigneur-de-Charbonnel
Elementary: Catholic
St Cyril Catholic School
Elementary: Catholic
Lillian Public School
Elementary: Public
R J Lang Elementary and Middle School
Elementary: Public
Cummer Valley Middle School
Elementary: Public
McKee Public School
Elementary: Public
Avondale Secondary Alternative School
Secondary: Public
Drewry Secondary School
Secondary: Public
ÉSC Monseigneur-de-Charbonnel
Secondary: Catholic
Cardinal Carter Academy for the Arts
Secondary: Catholic
Newtonbrook Secondary School
Secondary: Public
Earl Haig Secondary School
Secondary: Public
H-Mart Finch

5545 Yonge Street, North York

0.65km

Metro

20 Church Avenue, Toronto

1.13km

H Mart North York

5323 Yonge Street, North York

1.21km
The Beer Store

6212 Yonge Street, North York

1.15km

Wine Rack

20 Church Avenue, North York

1.16km

LCBO

6267 Yonge Street, North York

1.19km
Select Sandwich Office Catering

5775 Yonge Street, North York

0.13km

Jung Soo Nae 핀치 정수네 뚝배기

5754 Yonge Street, North York

0.13km

Hot Dog Stand

2 Bishop Avenue, North York

0.28km
Soul Cafe Toronto

23 Drewry Avenue, North York

0.31km

Coffee Time

5926 Yonge Street, North York

0.33km

超级玩家 Super E-sports Cafe (North York)

5649 Yonge Street, North York

0.35km
Intesa Bci Canada

5775 Yonge Street, North York

0.11km

RBC Royal Bank

5700 Yonge Street, Toronto

0.33km

TD Canada Trust Branch and ATM

5928 Yonge Street, Willowdale

0.35km
Esso

5571 Yonge Street, North York

0.61km

Circle K

5571 Yonge Street, North York

0.61km

Esso

7015 Yonge Street, Thornhill

1.61km
OMYoga

2503-5791 Yonge Street, North York

0.01km

whYoga

5734 Yonge Street Suite 500, Toronto

0.19km

Spa Nut Skin Care

24 Drewry Avenue, North York

0.36km
Silverview Park

23 Silverview Drive, Toronto

0.37km

Silverview Park

Bishop Park

45 Bishop Avenue, North York

0.39km
Toronto Public Library - North York Central Library

5120 Yonge Street, North York

1.81km

Library Shipping & Receiving

5120 Yonge Street, North York

1.84km

Tiny Library - "Take a book, Leave a book" [book trading box]

274 Burnett Avenue, North York

2.58km
Active Health

5799 Yonge Street, North York

0.06km

Dynamic Medical Center

5734 Yonge Street 3rd Floor, North York

0.19km

trueNorth Medical North York Addiction Treatment Centre

5925 Yonge Street, North York

0.33km
Pharmasave Medcentral Pharmacy (중앙약국)

20 Drewry Avenue, North York

0.35km

I.D.A. - North York Pharmacy

5631 Yonge Street, North York

0.42km

9-Eleven Drug Mart

6018 Yonge Street, North York

0.55km
wine rack

5765 Yonge Street, North York

0.16km

Yonge Connaught Plaza

6002-6018 Yonge Street, North York

0.53km

Whohou Marketplace

307 - 6021 Yonge Street, North York

0.59km
Cineplex Cinemas Empress Walk

Empress Walk, 5095 Yonge Street 3rd Floor, North York

1.77km

Funland

265-7181 Yonge Street, Markham

2.12km

Imagine Cinemas Promenade

1 Promenade Circle, Thornhill

3.83km
Ace Liquir

5765 Yonge Street, North York

0.16km

Puck 'N Wings

5625 Yonge Street, North York

0.44km

Chicken in the Kitchen

5600 Yonge Street, Toronto

0.54km