Property Management Co: Icc Property Management

Main Intersection: Hazelton Ave & Daven

Ownership Type: Condo Apt

Smallest Unit: 700

Largest Unit: 700

Style: Apartment

Stories: 9

Walk Score: 96

Transit Score: 89

Year Built: 2015

Total Units: 38

Amenities: Concierge, Exercise Room, Guest Suites, Media Room, Party/Meeting Room, Visitor Parking

Condominium Corporation #: TSCC - 2434

Maintenance Fees Cover: Water

Owner Pays: Hydro, Heat, Air Conditioning
Stats
Building 133 Hazelton Avenue is situated in the neighbourhood of Annex and is located in Toronto, M5R 2E4 . Additionally, there are neighbourhoods such Casa Loma, Palmerston Little Italy, Kensington Chinatown, Church Yonge Corridor, Trinity Bellwoods in the immediate vicinity. In the Annex neighbourhood, 504 new homes are available for sale, which represents 2.6% of Toronto's total 19589 homes currently listed. Annex homeowners pay a monthly mortgage of $9,142, based on an average asking price of $2,698,787, 1.7 times than Toronto's average list price of $1,554,881. The average listed property in Annex is 1126 sq ft, has 1.9 bedrooms, and 2.3 bathrooms. In the area around 133 Hazelton Avenue, 31.2% of the homes for sale are apartments.
Currently there are no apartments for rent at 133 Hazelton Avenue. Contact us for this details regarding this building's price history or to see units in nearby buildings.
Walker's Paradise
Daily errands do not require a car.
Excellent Transit
Most errands can be accomplished by public transportation.
Very Bikeable
Most errands can be accomplished on bike.
| | | | |
| --- | --- | --- | --- |
| Unit: 305 C5812122 | 2 br | 3 bath 2 Parking | 2000 sqft | Sold Nov 08, 2022 | $3,900,000 List: $3,995,000 |
| Unit: 407 C5465050 | 1 br | 1 bath 0 Parking | 700 sqft | Sold Jan 31, 2022 | $1,300,000 List: $1,300,000 |
| Unit: 203 C5412362 | 2 br | 3 bath 2 Parking | 1400 sqft | Sold Nov 10, 2021 | $3,000,000 List: $3,099,000 |
| Unit: 602 C5116815 | 1 br | 2 bath 0 Parking | 1000 sqft | Sold Mar 15, 2021 | $1,750,000 List: $1,850,000 |
| Unit: 504 C5093656 | 2 br | 3 bath 0 Parking | 1600 sqft | Sold Jan 29, 2021 | $3,200,000 List: $3,250,000 |
| Unit: 501 C5056138 | 1 br | 1 bath 1 Parking | 700 sqft | Sold Jan 18, 2021 | $900,000 List: $929,000 |
| Unit: 201 C4658916 | 1 br | 1 bath 1 Parking | 700 sqft | Sold Jan 05, 2020 | $929,000 List: $929,000 |
| Unit: 503 C4566777 | 1 br | 2 bath 1 Parking | 1000 sqft | Sold Sep 06, 2019 | $1,300,000 List: $1,349,000 |
| Unit: 301 C4393732 | 1 br | 1 bath 1 Parking | 700 sqft | Sold May 01, 2019 | $845,000 List: $899,900 |
| Unit: 202 C4237334 | 2 br | 2 bath 1 Parking | 900 sqft | Sold Sep 24, 2018 | $1,195,000 List: $1,224,900 |
| | | | |
| --- | --- | --- | --- |
| Unit: 204 C6784174 | 2 br | 2 bath 0 Parking | 1400 sqft | Leased Sep 25, 2023 | $7,300 List: $7,499 |
| Unit: 502 C6201184 | 2 br | 2 bath 0 Parking | 900 sqft | Leased Jul 08, 2023 | $5,250 List: $5,500 |
| Unit: 306 C5939656 | 1 br | 2 bath 1 Parking | 800 sqft | Leased May 11, 2023 | $5,600 List: $5,800 |
| Unit: 504 C5818530 | 2 br | 3 bath 1 Parking | 1600 sqft | Leased Nov 10, 2022 | $10,000 List: $10,000 |
| Unit: 601 C5444459 | 2 br | 2 bath 1 Parking | 1200 sqft | Leased Dec 19, 2021 | $6,500 List: $6,250 |
| Unit: 306 C4958668 | 1 br | 2 bath 1 Parking | 800 sqft | Leased Nov 10, 2020 | $4,950 List: $4,850 |
| Unit: 601 C4921211 | 2 br | 2 bath 1 Parking | 1200 sqft | Leased Oct 02, 2020 | $6,500 List: $6,800 |
| Unit: 506 C4684539 | 1 br | 1 bath 0 Parking | 700 sqft | Leased Feb 15, 2020 | $4,000 List: $4,200 |
| Unit: 204 C4670042 | 2 br | 2 bath 1 Parking | 1400 sqft | Leased Feb 04, 2020 | $6,888 List: $6,888 |
| Unit: 501 C4465202 | 1 br | 1 bath 0 Parking | 700 sqft | Leased Jul 16, 2019 | $4,800 List: $4,800 |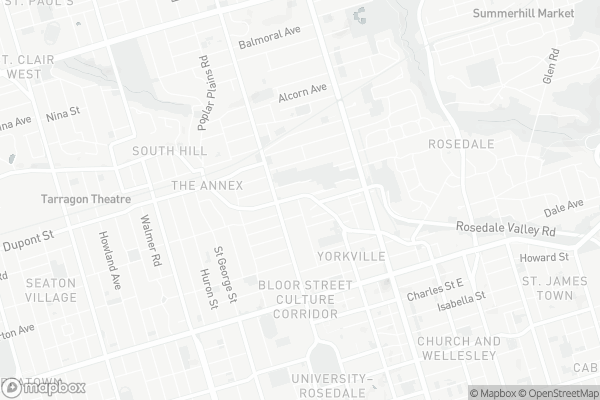 Cottingham Junior Public School
Elementary: Public
Rosedale Junior Public School
Elementary: Public
Huron Street Junior Public School
Elementary: Public
Jesse Ketchum Junior and Senior Public School
Elementary: Public
Deer Park Junior and Senior Public School
Elementary: Public
Brown Junior Public School
Elementary: Public
Native Learning Centre
Secondary: Public
Subway Academy II
Secondary: Public
Msgr Fraser-Isabella
Secondary: Catholic
Loretto College School
Secondary: Catholic
St Joseph's College School
Secondary: Catholic
Central Technical School
Secondary: Public
Whole Foods Market

87 Avenue Road, Toronto

0.33km

The Kitchen Table

155 Dupont Street, Toronto

0.67km

Rabba Fine Foods

40 Asquith Avenue, Toronto

0.84km
KX Yorkville

263 Davenport Road, Toronto

0.29km

The Wine Shop

55 Avenue Road, Toronto

0.4km

Wine Wire

920 Yonge Street, Toronto

0.49km
Joso's

202 Davenport Road, Toronto

0.12km

전기제품수리

165 Avenue Road, Toronto

0.13km

Figures

137 Avenue Road, Toronto

0.16km
5 Elements Espresso Bar

131 Avenue Road, Toronto

0.17km

Havana Coffee Bar

233 Davenport Road, Toronto

0.19km

WFM Coffee Bar

87 Avenue Road, Toronto

0.33km
TD Canada Trust Branch and ATM

165 Avenue Road, Toronto

0.13km

Evig Holding Co

1235 Bay Street, Toronto

0.59km

HSBC Bank

150 Bloor Street West, Toronto

0.6km
Canadian Tire Gas+

835 Yonge Street, Toronto

0.6km

Shell

1077 Yonge Street, Toronto

0.61km

Esso

150 Dupont Street, Toronto

0.7km
Jaima Yoga

188 Davenport Road, Toronto

0.08km

CrossFit YKV

175 Avenue Road, Toronto

0.15km

KX Yorkville

263 Davenport Road, Toronto

0.29km
Belmont Parkette

Belmont Parkette

Belmont Parkette, 105 Belmont Street, Toronto

0.16km

Ramsden Park

143 A Roxborough Street West, Toronto

0.19km
Christian Science Reading Room

927 Yonge Street, Toronto

0.48km

Toronto Public Library - Yorkville Branch

22 Yorkville Avenue, Toronto

0.58km

Royal Ontario Museum Libraries

100 Queens Park, Toronto

0.71km
Toronto Endovascular Centre

217 Davenport Road, Toronto

0.08km

The Vein Institute Of Toronto | Dr. Sanjoy Kundu

217 Davenport Road, Toronto

0.08km

Yorkville Vein Clinic

217 Davenport Road, Toronto

0.08km
Guardian - Davenport Pharmacy

115-219 Davenport Road, Toronto

0.09km

Medisystem Pharmacy Inc

55 Belmont Street, Toronto

0.28km

Rexall

87 Avenue Road, Toronto

0.33km
Yorkville Village

55 Avenue Road Suite 2250, Toronto

0.34km

BIELNINO SHOPPING MALL

65 Avenue Road, Toronto

0.39km

Bay St Shopping Mall

93 Cumberland Street, Toronto

0.6km
Cineplex Cinemas Varsity and VIP

55 Bloor Street West, Toronto

0.86km

Lewis Kay Casting

10 Saint Mary Street, Toronto

1.01km

Innis Town Hall Theatre

Innis College, 2 Sussex Avenue, Toronto

1.08km
Figures

137 Avenue Road, Toronto

0.16km

Ristorante Sotto Sotto Toronto

120 Avenue Road, Toronto

0.2km

KX Coffee Bar

263 Davenport Road, Toronto

0.29km