Property Management Co: Maple Ridge Community Management

Main Intersection: Bayview/Sheppard

Ownership Type: Condo Apt

Smallest Unit: 700

Largest Unit: 700

Style: Apartment

Stories: 20

Walk Score: 82

Transit Score: 72

Year Built: 2006

Total Units: 231

Amenities: Concierge, Exercise Room, Indoor Pool, Party/Meeting Room, Visitor Parking

Condominium Corporation #: TSCC - 1763

Maintenance Fees Cover: None

Owner Pays: Hydro, Heat, Air Conditioning, Water
This building is located at 18 Kenaston Gardens, Toronto, M2K 1G8 and is situated in the neighbourhood of Bayview Village. Other neighbourhoods nearby are Bayview Woods Steeles, St Andrew Windfields, Willowdale East, Willowdale West, Don Valley Village. The district of Bayview Village has 151 postings available. That's just 1.1% of the 13327 total properties for sale in the city of Toronto. Homes in Bayview Village are listed for an average asking price of $1,219,380, or an estimated monthly mortgage of $4,131. That is 1.3 times less the average list price of $1,595,259 in Toronto. Bayview Village listed properties average 696 sq ft, 1.8 beds, and 1.9 baths. Apartments make up 33.1% of homes for sale in the neighbourhood around 18 Kenaston Gardens.

Currently there are no apartments for rent at 18 Kenaston Gardens. Contact us for this details regarding this building's price history or to see units in nearby buildings.
Very Walkable
Most errands can be accomplished on foot.
Excellent Transit
Most errands can be accomplished by public transportation.
Bikeable
Some errands can be accomplished on bike.
| | | | |
| --- | --- | --- | --- |
| Unit: Lph05 C5857579 | 1 br | 1 bath 0 Parking | 500 sqft | Sold Jan 28, 2023 | $610,000 List: $639,000 |
| Unit: 1807 C5696342 | 2 br | 2 bath 1 Parking | 900 sqft | Sold Sep 15, 2022 | $765,000 List: $779,000 |
| Unit: 1403 C5647208 | 1 br | 2 bath 1 Parking | 700 sqft | Sold Jun 16, 2022 | $680,000 List: $648,800 |
| Unit: 710 C5615851 | 2 br | 2 bath 0 Parking | 900 sqft | Sold Jun 03, 2022 | $755,000 List: $759,900 |
| Unit: 709 C5581755 | 1 br | 1 bath 1 Parking | 500 sqft | Sold Apr 23, 2022 | $650,000 List: $568,900 |
| Unit: 404 C5532862 | 1 br | 2 bath 0 Parking | 600 sqft | Sold Apr 07, 2022 | $620,000 List: $639,888 |
| Unit: 1002 C5557740 | 2 br | 2 bath 1 Parking | 900 sqft | Sold Apr 07, 2022 | $780,000 List: $739,000 |
| Unit: Lph01 C5522817 | 1 br | 1 bath 1 Parking | 500 sqft | Sold Mar 09, 2022 | $715,000 List: $568,000 |
| Unit: 503 C5490534 | 2 br | 2 bath 0 Parking | 1000 sqft | Sold Feb 24, 2022 | $795,000 List: $779,000 |
| Unit: 514 C5467404 | 2 br | 2 bath 1 Parking | 800 sqft | Sold Jan 22, 2022 | $750,000 List: $699,000 |
| | | | |
| --- | --- | --- | --- |
| Unit: 902 C5950947 | 2 br | 2 bath 1 Parking | 900 sqft | Leased Mar 16, 2023 | $2,900 List: $2,900 |
| Unit: 1007 C5905037 | 2 br | 2 bath 1 Parking | 900 sqft | Leased Feb 13, 2023 | $2,875 List: $2,875 |
| Unit: 409 C5880910 | 1 br | 2 bath 1 Parking | 700 sqft | Leased Jan 31, 2023 | $2,500 List: $2,500 |
| Unit: 1101 C5879543 | 1 br | 1 bath 1 Parking | 500 sqft | Leased Jan 27, 2023 | $2,350 List: $2,350 |
| Unit: 1709 C5870893 | 2 br | 2 bath 1 Parking | 1000 sqft | Leased Jan 24, 2023 | $2,900 List: $2,900 |
| Unit: 418 C5813823 | 2 br | 2 bath 1 Parking | 800 sqft | Leased Nov 15, 2022 | $2,770 List: $2,770 |
| Unit: 1410 C5806881 | 1 br | 1 bath 1 Parking | 500 sqft | Leased Nov 03, 2022 | $2,350 List: $2,350 |
| Unit: 417 C5760049 | 1 br | 2 bath 1 Parking | 700 sqft | Leased Sep 13, 2022 | $2,550 List: $2,400 |
| Unit: 515 C5721314 | 1 br | 1 bath 1 Parking | 500 sqft | Leased Aug 06, 2022 | $2,100 List: $2,000 |
| Unit: 513 C5691827 | 1 br | 2 bath 1 Parking | 700 sqft | Leased Aug 05, 2022 | $2,450 List: $2,450 |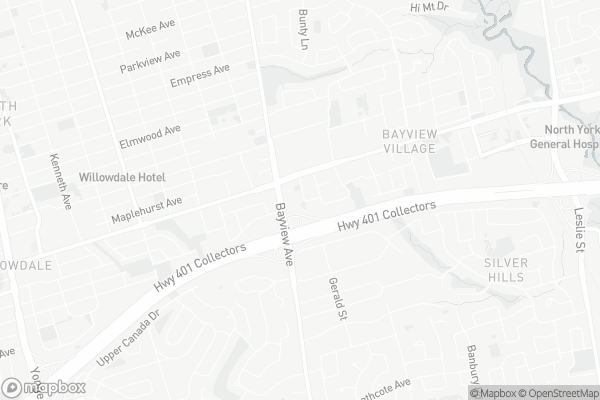 Harrison Public School
Elementary: Public
St Gabriel Catholic Catholic School
Elementary: Catholic
Hollywood Public School
Elementary: Public
Elkhorn Public School
Elementary: Public
Bayview Middle School
Elementary: Public
St Andrew's Junior High School
Elementary: Public
St Andrew's Junior High School
Secondary: Public
Windfields Junior High School
Secondary: Public
École secondaire Étienne-Brûlé
Secondary: Public
Cardinal Carter Academy for the Arts
Secondary: Catholic
York Mills Collegiate Institute
Secondary: Public
Earl Haig Secondary School
Secondary: Public
Pusateri's Fine Foods

2901 Bayview Avenue, North York

0.37km

Hullmark Centre - Lot #56

33 Sheppard Avenue East, North York

1.9km

PAT Spring Garden Market

63 Spring Garden Avenue, North York

1.91km
Northern Landings GinBerry

2901 Bayview Avenue, Toronto

0.39km

LCBO

2901 Bayview Avenue - Unit 125 Bayview Village Mall, Toronto

0.42km

Dionysus Wines & Spirits Ltd.

350 Sheppard Avenue East, North York

0.73km
EwuraAmma's Delight

7 Kenaston Gardens, North York

0.13km

Tim Hortons

461 Sheppard Avenue East, North York

0.23km

Beauty Eats

Parking Lot, Bayview Village, South, 2901 Bayview Avenue Suite 300, Toronto

0.24km
Drippin Coffee

5 Kenaston Gardens Unit #1, North York

0.15km

Tim Hortons

461 Sheppard Avenue East, North York

0.23km

Starbucks

2877 Bayview Avenue, Toronto

0.23km
Hana Bank Canada - Bayview Br.

22 Rean Drive, Toronto

0.29km

Scotiabank

2901 Bayview Avenue, North York

0.31km

RBC Royal Bank

27 Rean Drive, Toronto

0.31km
Shell

2831 Bayview Avenue, North York

0.13km

Esso

461 Sheppard Avenue East, North York

0.21km

Circle K

461 Sheppard Avenue East, North York

0.23km
North York YMCA

567 Sheppard Avenue East, North York

0.06km

Pool-- YMCA

567 Sheppard Avenue East, North York

0.06km

Arthur Murray Dance Studio of Toronto - North York

500 Sheppard Avenue East #104, North York

0.27km
Kenaston Gardens Parkette

Kenaston Gardens Parkette, 12 Kenaston Gardens, North York

0.08km

Kenaston Gardens Parkette

Bayview Parkette

502 Sheppard Avenue East, North York

0.21km
Toronto Public Library - Bayview Branch

2901 Bayview Avenue, North York

0.36km

Toronto Public Library - North York Central Library

5120 Yonge Street, North York

2.18km

Library Shipping & Receiving

5120 Yonge Street, North York

2.33km
The Sheppard Heart Centre

500 Sheppard Avenue East Suite 306, North York

0.29km

Held Gyneth

333 Sheppard Avenue East, North York

0.34km

Vita Health Cardiac Center

27 Rean Drive Unit 8, North York

0.39km
Bayview Village Pharmacy

595 Sheppard Avenue East Unit 102, North York

0.24km

Metro Pharmacy

500 Sheppard Avenue East, North York

0.26km

Loblaws

2877 Bayview Avenue, Toronto

0.36km
Bayview Village Shopping Centre

2901 Bayview Avenue, North York

0.4km

Wycliffe Square Plaza

804 Sheppard Avenue East, North York

1.05km

Sheppard Centre III

6 Forest Laneway, North York

1.92km
Cineplex Cinemas Empress Walk

Empress Walk, 5095 Yonge Street 3rd Floor, North York

2.13km

Cineplex Cinemas Fairview Mall

1800 Sheppard Avenue East Unit Y007, North York

3.67km
IL FORNELLO - Bayview Village

2901 Bayview Avenue, North York

0.33km

Rain Izakaya

35 Sheppard Avenue East, North York

1.91km

Kinka Izakaya

4775 Yonge Street, North York

1.99km