Property Management Co: Elite Property Management

Main Intersection: Spadina/Fort York

Ownership Type: Condo Apt

Largest Unit: 4750

Style: Apartment

Amenities: Concierge, Exercise Room

Condominium Corporation #: TSCC - 2301
Stats
This building can be found at 21 Iceboat Terrace, in the neighbourhood of Waterfront Communities C01, in Toronto, Ontario. Among the nearby neighbourhoods are Niagara, Trinity Bellwoods, Kensington Chinatown, Palmerston Little Italy, Little Portugal. 2000 new homes are available for sale in Toronto's Waterfront Communities C01 neighbourhood, representing 10.3% of all current listings in the city. In Toronto, the average price for a home in Waterfront Communities C01 is $1,080,070. Waterfront Communities C01 homeowners pay a monthly mortgage of $3,659, 1.4 times less than Toronto's average price for a home. According to the MLS, the average listed property in Waterfront Communities C01 has 671 sq ft, 1.3 bedrooms, and 1.4 bathrooms. Among the residential properties for sale in the area surrounding 21 Iceboat Terrace, 32.4% are apartments.
Somewhat Walkable
Some errands can be accomplished on foot.
Rider's Paradise
Daily errands do not require a car.
Biker's Paradise
Daily errands do not require a car.
| | | | |
| --- | --- | --- | --- |
| Unit: Locke C5953184 | 0 br | 0 bath 0 Parking | 0 sqft | Sold Jul 02, 2023 | $7,500 List: $8,500 |
| Unit: 631 C5896981 | 1 br | 1 bath 0 Parking | 600 sqft | Sold Apr 23, 2023 | $556,000 List: $574,900 |
| Unit: #1701 C5875330 | 1 br | 1 bath 1 Parking | 600 sqft | Sold Apr 12, 2023 | $633,800 List: $638,000 |
| Unit: 4806 C5918029 | 2 br | 3 bath 2 Parking | 1400 sqft | Sold Mar 24, 2023 | $1,420,000 List: $1,480,000 |
| Unit: 4615 C5878014 | 1 br | 1 bath 1 Parking | 600 sqft | Sold Mar 20, 2023 | $670,000 List: $689,900 |
| Unit: 2511 C5847628 | 1 br | 1 bath 0 Parking | 600 sqft | Sold Jan 03, 2023 | $610,000 List: $629,000 |
| Unit: 1212 C5811938 | 1 br | 1 bath 0 Parking | 500 sqft | Sold Nov 26, 2022 | $520,000 List: $539,000 |
| Unit: 4807 C5746291 | 1 br | 1 bath 1 Parking | 700 sqft | Sold Nov 23, 2022 | $705,000 List: $788,800 |
| Unit: 2011 C5770399 | 1 br | 1 bath 0 Parking | 600 sqft | Sold Sep 26, 2022 | $625,000 List: $549,999 |
| Unit: 831 C5717149 | 1 br | 1 bath 1 Parking | 600 sqft | Sold Sep 09, 2022 | $632,500 List: $639,900 |
| | | | |
| --- | --- | --- | --- |
| Unit: 2809 C7311602 | 2 br | 2 bath 1 Parking | 800 sqft | Leased Dec 02, 2023 | $3,400 List: $3,400 |
| Unit: 732 C7296476 | 1 br | 1 bath 1 Parking | 600 sqft | Leased Nov 22, 2023 | $2,950 List: $2,950 |
| Unit: 1607 C7283564 | 1 br | 1 bath 1 Parking | 700 sqft | Leased Nov 21, 2023 | $3,200 List: $3,200 |
| Unit: 2712 C7292154 | 1 br | 1 bath 0 Parking | 500 sqft | Leased Nov 15, 2023 | $2,250 List: $2,250 |
| Unit: 3607 C7225652 | 1 br | 1 bath 0 Parking | 700 sqft | Leased Nov 15, 2023 | $3,607 List: $3,850 |
| Unit: 2301 C7262240 | 1 br | 1 bath 1 Parking | 600 sqft | Leased Nov 10, 2023 | $2,650 List: $2,650 |
| Unit: 4008 C7228706 | 1 br | 1 bath 1 Parking | 700 sqft | Leased Oct 20, 2023 | $2,950 List: $3,000 |
| Unit: 2008 C7211076 | 1 br | 1 bath 1 Parking | 700 sqft | Leased Oct 20, 2023 | $2,700 List: $2,700 |
| Unit: 1025 C7046340 | 1 br | 1 bath 0 Parking | 600 sqft | Leased Oct 16, 2023 | $2,600 List: $2,600 |
| Unit: 2612 C7011080 | 1 br | 1 bath 0 Parking | 500 sqft | Leased Oct 04, 2023 | $2,350 List: $2,350 |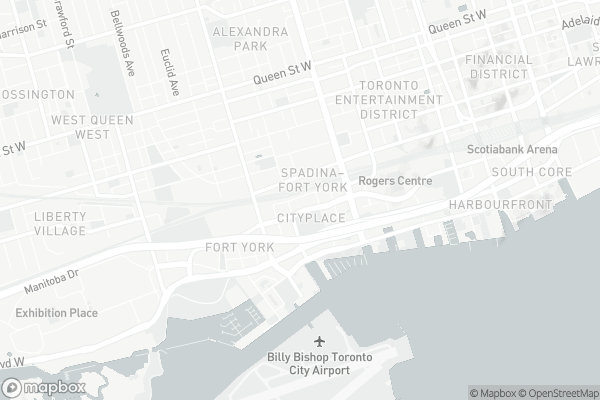 Downtown Vocal Music Academy of Toronto
Elementary: Public
ALPHA Alternative Junior School
Elementary: Public
Niagara Street Junior Public School
Elementary: Public
Ogden Junior Public School
Elementary: Public
The Waterfront School
Elementary: Public
St Mary Catholic School
Elementary: Catholic
St Michael's Choir (Sr) School
Secondary: Catholic
Oasis Alternative
Secondary: Public
City School
Secondary: Public
Subway Academy II
Secondary: Public
Heydon Park Secondary School
Secondary: Public
Contact Alternative School
Secondary: Public
Craziverse

15 Iceboat Terrace, Toronto

0.02km

Rabba Fine Foods

361 Front Street West, Toronto

0.57km

Fresh & Wild Food Market

69 Spadina Avenue, Toronto

0.63km
The Wine Shop

22 Fort York Boulevard, Toronto

0.26km

Marben

488 Wellington Street West, Toronto

0.35km

LCBO

95 Housey Street Building B, Toronto

0.37km
LOCAL BURGERS

21 Iceboat Terrace, Toronto

0.01km

The Morning After

88 Fort York Boulevard, Toronto

0.03km

Hunters Landing

82 Fort York Boulevard, Toronto

0.06km
Goppion Caffetteria

60 Fort York Boulevard, Toronto

0.09km

Bobo Tea & Juice

62 Fort York Boulevard, Toronto

0.09km

Kid Play Cafe

66 Fort York Boulevard, Toronto

0.1km
BMO Bank of Montreal

26 Fort York Boulevard, Toronto

0.21km

RBC Royal Bank

6 Fort York Boulevard, Toronto

0.3km

CIBC Branch (Cash at ATM only)

1 Fort York Boulevard, Toronto

0.31km
Shell

38 Spadina Avenue, Toronto

0.47km

Esso

553 Lake Shore Boulevard West, Toronto

0.5km

Circle K

553 Lake Shore Boulevard West, Toronto

0.51km
REAL ESTATE YOGI

21 Iceboat Terrace, Toronto

0km

SPOKEHAÜS

70 Dan Leckie Way, Toronto

0.19km

Condominium gym

3202 Housey Street, Toronto

0.25km
City place Dog Park

Canoe Landing Park

95 Fort York Boulevard, Toronto

0.17km

Victoria Memorial Square

10 Niagara Street, Toronto

0.33km
NCA Exam Help | NCA Notes and Tutoring

Neo (Concord CityPlace, 4G-1922 Spadina Avenue, Toronto

0.28km

Toronto Public Library - Fort York Branch

190 Fort York Boulevard, Toronto

0.28km

The Copp Clark Co

Wellington Street West, Toronto

0.31km
The 6ix Medical Clinics at Front

550 Front Street West Unit 58, Toronto

0.22km

NoNO

479A Wellington Street West, Toronto

0.3km

Medical Hub

77 Peter Street, Toronto

0.81km
Bloom Pharmacy

Metropolitan Pharmacy

4G Spadina Avenue, Toronto

0.32km

Remedy'sRx - Lakefront Medical Pharmacy

550 Queens Quay West Unit 14, Toronto

0.38km
stackt market

28 Bathurst Street, Toronto

0.36km

The Village Co

28 Bathurst Street, Toronto

0.39km

Puebco Canada

28 Bathurst Street, Toronto

0.39km
CineCycle

129 Spadina Avenue, Toronto

0.8km

Necessary Angel Theatre

401 Richmond Street West #393, Toronto

0.83km

TIFF Bell Lightbox

350 King Street West, Toronto

0.88km
The Morning After

88 Fort York Boulevard, Toronto

0.03km

Fox and Fiddle Cityplace

Fox & Fiddle, 17 Fort York Boulevard, Toronto

0.26km

Marben

488 Wellington Street West, Toronto

0.35km