Property Management Co: Brookfield Residential Services

Main Intersection: Yonge/Finch

Ownership Type: Condo Apt

Smallest Unit: 500

Largest Unit: 500

Style: Apartment

Stories: 26

Walk Score: 94

Transit Score: 100

Year Built: 2004

Total Units: 289

Amenities: Exercise Room

Condominium Corporation #: TSCC - 1602

Maintenance Fees Cover: None

Owner Pays: Hydro, Heat, Air Conditioning, Water
Stats
Building 22 Olive Avenue is situated in the neighbourhood of Willowdale East and is located in Toronto, M2N 7G6 . Additionally, there are neighbourhoods such Willowdale West, Newtonbrook East, Newtonbrook West, Bayview Village, Lansing Westgate in the immediate vicinity. In the Willowdale East neighbourhood, 493 new homes are available for sale, which represents 2.5% of Toronto's total 19506 homes currently listed. Willowdale East homeowners pay a monthly mortgage of $4,284, based on an average asking price of $1,264,557, 1.2 times less than Toronto's average list price of $1,555,639. The average listed property in Willowdale East is 946 sq ft, has 2 bedrooms, and 2.2 bathrooms. In the area around 22 Olive Avenue, 28.4% of the homes for sale are apartments.
Currently there are no apartments for sale at 22 Olive Avenue. Contact us for this details regarding this building's price history or to see units in nearby buildings.
Very Walkable
Most errands can be accomplished on foot.
Rider's Paradise
Daily errands do not require a car.
Bikeable
Some errands can be accomplished on bike.
| | | | |
| --- | --- | --- | --- |
| Unit: 2309 C6759828 | 1 br | 1 bath 1 Parking | 600 sqft | Sold Oct 05, 2023 | $530,000 List: $550,000 |
| Unit: 1611 C6173580 | 1 br | 1 bath 1 Parking | 600 sqft | Sold Jun 27, 2023 | $610,000 List: $498,000 |
| Unit: 315 C6002565 | 1 br | 1 bath 1 Parking | 600 sqft | Sold Apr 21, 2023 | $555,000 List: $569,000 |
| Unit: 2512 C6026403 | 1 br | 1 bath 1 Parking | 600 sqft | Sold Apr 18, 2023 | $669,900 List: $669,900 |
| Unit: 2612 C5998061 | 1 br | 1 bath 1 Parking | 600 sqft | Sold Apr 13, 2023 | $620,000 List: $588,800 |
| Unit: 903 C5984587 | 1 br | 1 bath 1 Parking | 500 sqft | Sold Apr 13, 2023 | $551,000 List: $549,900 |
| Unit: 505 C5952733 | 1 br | 1 bath 1 Parking | 500 sqft | Sold Apr 05, 2023 | $577,000 List: $578,800 |
| Unit: 1212 C5998005 | 1 br | 1 bath 1 Parking | 600 sqft | Sold Apr 05, 2023 | $657,000 List: $599,000 |
| Unit: 612 C5911983 | 1 br | 1 bath 1 Parking | 600 sqft | Sold Mar 02, 2023 | $655,000 List: $669,900 |
| Unit: 1502 C5793228 | 2 br | 1 bath 1 Parking | 800 sqft | Sold Dec 15, 2022 | $690,000 List: $699,900 |
| | | | |
| --- | --- | --- | --- |
| Unit: Ph7 C7285006 | 1 br | 1 bath 1 Parking | 500 sqft | Leased Nov 27, 2023 | $2,500 List: $2,500 |
| Unit: 2309 C7274938 | 1 br | 1 bath 0 Parking | 600 sqft | Leased Nov 08, 2023 | $2,700 List: $2,700 |
| Unit: #1712 C7223250 | 1 br | 1 bath 1 Parking | 700 sqft | Leased Oct 30, 2023 | $2,850 List: $2,900 |
| Unit: 2612 C7024024 | 1 br | 1 bath 1 Parking | 600 sqft | Leased Sep 25, 2023 | $2,950 List: $2,800 |
| Unit: 1611 C7010072 | 1 br | 1 bath 1 Parking | 600 sqft | Leased Sep 21, 2023 | $2,500 List: $2,500 |
| Unit: 1111 C6810540 | 1 br | 1 bath 0 Parking | 600 sqft | Leased Sep 16, 2023 | $2,625 List: $2,500 |
| Unit: 1805 C6774474 | 1 br | 1 bath 1 Parking | 500 sqft | Leased Sep 05, 2023 | $2,500 List: $2,500 |
| Unit: 1807 C6718170 | 1 br | 1 bath 1 Parking | 500 sqft | Leased Aug 16, 2023 | $2,500 List: $2,500 |
| Unit: 912 C6686988 | 1 br | 4 bath 0 Parking | 600 sqft | Leased Aug 08, 2023 | $2,600 List: $2,600 |
| Unit: 1808 C6623288 | 1 br | 1 bath 1 Parking | 500 sqft | Leased Jul 26, 2023 | $2,700 List: $2,550 |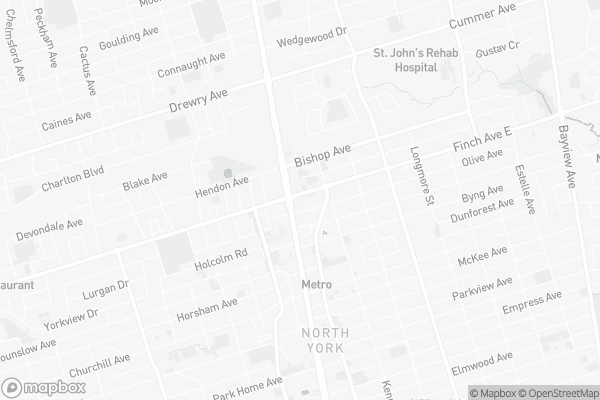 ÉIC Monseigneur-de-Charbonnel
Elementary: Catholic
Claude Watson School for the Arts
Elementary: Public
St Cyril Catholic School
Elementary: Catholic
Willowdale Middle School
Elementary: Public
R J Lang Elementary and Middle School
Elementary: Public
McKee Public School
Elementary: Public
Avondale Secondary Alternative School
Secondary: Public
Drewry Secondary School
Secondary: Public
ÉSC Monseigneur-de-Charbonnel
Secondary: Catholic
Cardinal Carter Academy for the Arts
Secondary: Catholic
Newtonbrook Secondary School
Secondary: Public
Earl Haig Secondary School
Secondary: Public
H-Mart Finch

5545 Yonge Street, North York

0.12km

Metro

20 Church Avenue, Toronto

0.58km

H Mart North York

5323 Yonge Street, North York

0.67km
Wine Rack

20 Church Avenue, North York

0.62km

LCBO

5095 Yonge Street A4, North York

1.21km

The Beer Store

6212 Yonge Street, North York

1.69km
白家老汤

3 Finch Avenue East, North York

0.04km

Northwestern Chinese Cuisine

3 Finch Avenue East, North York

0.04km

Pizza Nova

5585 Yonge Street, North York

0.05km
TasteT House

inside Basil Box, 5607 Yonge Street, North York

0.07km

Tim Hortons

5571 Yonge Street, North York

0.07km

TP Tea (North York)

5619 Yonge Street, North York

0.1km
TD Canada Trust Branch and ATM

5650 Yonge Street, North York

0.13km

BMO Bank of Montreal

5522 Yonge Street, North York

0.15km

Krish Office

5650 Yonge Street, North York

0.16km
Circle K

5571 Yonge Street, North York

0.07km

Esso

5571 Yonge Street, North York

0.08km

Esso

7015 Yonge Street, Thornhill

2.15km
ZUMBA NORTH YORK

5575 Yonge Street, North York

0.05km

GoodLife Fitness North York Yonge and Finch

5650 Yonge Street, North York

0.16km

EZiPilates Fitness & Wellness

5508 Yonge Street, North York

0.19km
Olive Square Park

5575 Yonge Street, North York

0.05km

Olive Square

Finch Parkette

Finch Avenue East, North York

0.07km
Toronto Public Library - North York Central Library

5120 Yonge Street, North York

1.27km

Library Shipping & Receiving

5120 Yonge Street, North York

1.3km

Tiny Library - "Take a book, Leave a book" [book trading box]

274 Burnett Avenue, North York

2.12km
Dr Aram Medical Clinic & Immigration Office

5460 Yonge Street Unit 108(back side of the building, North York

0.26km

Dynamic Medical Center

5734 Yonge Street 3rd Floor, North York

0.4km

Active Health

5799 Yonge Street, North York

0.61km
Shoppers Drug Mart

5576 Yonge Street, North York

0.13km

I.D.A. - North York Pharmacy

5631 Yonge Street, North York

0.14km

Dynasty - Compounding & Specialty Pharmacy

5460 Yonge Street Unit 106, North York

0.26km
wine rack

5765 Yonge Street, North York

0.39km

Collaboht Branding

205-5409 Yonge Street, Toronto

0.4km

Yonge Connaught Plaza

6002-6018 Yonge Street, North York

1.07km
Cineplex Cinemas Empress Walk

Empress Walk, 5095 Yonge Street 3rd Floor, North York

1.23km

Funland

265-7181 Yonge Street, Markham

2.66km

Promenade Shopping Centre

1 Promenade Circle, Thornhill

4.28km
Twister Karaoke

5586 Yonge Street, North York

0.1km

Chicken in the Kitchen

5600 Yonge Street, Toronto

0.1km

Yonge Karaoke

5582 Yonge Street, North York

0.11km