Property Management Co: Comfield Management

Main Intersection: Bathurst & Eglinton

Ownership Type: Co-Ownership Apt

Smallest Unit: 800

Largest Unit: 800

Style: Apartment

Amenities: Security System

Condominium Corporation #: N/A - 0
Stats
Building 2550 Bathurst Street is situated in the neighbourhood of Forest Hill North and is located in Toronto, M6B 2Z2 . Additionally, there are neighbourhoods such Humewood Cedarvale, Englemount Lawrence, Lawrence Park South, Forest Hill South, Oakwood Vaughan in the immediate vicinity. In the Forest Hill North neighbourhood, 27 new homes are available for sale, which represents 0.2% of Toronto's total 17618 homes currently listed. Forest Hill North homeowners pay a monthly mortgage of $8,746, based on an average asking price of $2,581,625, 1.7 times than Toronto's average list price of $1,504,186. The average listed property in Forest Hill North is 613 sq ft, has 1.8 bedrooms, and 2 bathrooms. In the area around 2550 Bathurst Street, 22.2% of the homes for sale are apartments.
Currently there are no apartments for rent at 2550 Bathurst Street. Contact us for this details regarding this building's price history or to see units in nearby buildings.
Car-Dependent
Most errands require a car.
Excellent Transit
Most errands can be accomplished by public transportation.
Very Bikeable
Most errands can be accomplished on bike.
| | | | |
| --- | --- | --- | --- |
| Unit: 415 C5822545 | 1 br | 1 bath 0 Parking | 700 sqft | Sold Dec 01, 2022 | $400,000 List: $419,888 |
| Unit: 405 C5600095 | 1 br | 1 bath 1 Parking | 700 sqft | Sold May 18, 2022 | $429,000 List: $449,900 |
| Unit: 207 C5464427 | 1 br | 1 bath 1 Parking | 700 sqft | Sold Jan 09, 2022 | $420,000 List: $425,000 |
| Unit: 06 C5445638 | 1 br | 1 bath 1 Parking | 800 sqft | Sold Dec 17, 2021 | $370,000 List: $395,000 |
| Unit: 414 C5002659 | 1 br | 1 bath 0 Parking | 700 sqft | Sold Jan 13, 2021 | $415,000 List: $415,000 |
| Unit: 410 C4461691 | 1 br | 1 bath 1 Parking | 700 sqft | Sold Jun 14, 2019 | $402,000 List: $399,000 |
| Unit: 108 C4453396 | 1 br | 1 bath 0 Parking | 700 sqft | Sold May 25, 2019 | $325,000 List: $345,000 |
| Unit: 112 C4283440 | 1 br | 1 bath 0 Parking | 700 sqft | Sold Oct 31, 2018 | $308,000 List: $319,900 |
| Unit: 203 C4270251 | 1 br | 1 bath 1 Parking | 700 sqft | Sold Oct 15, 2018 | $344,900 List: $349,900 |
| Unit: 411 C3926274 | 1 br | 1 bath 0 Parking | 700 sqft | Sold Oct 27, 2017 | $303,220 List: $324,000 |
| | | | |
| --- | --- | --- | --- |
| Unit: 218 C5769658 | 2 br | 1 bath 0 Parking | 1000 sqft | Leased Sep 25, 2022 | $2,770 List: $2,700 |
| Unit: 06 C5478258 | 1 br | 1 bath 1 Parking | 800 sqft | Leased Feb 14, 2022 | $1,800 List: $1,890 |
| Unit: 415 C5076196 | 1 br | 1 bath 0 Parking | 700 sqft | Leased Jan 08, 2021 | $1,600 List: $1,600 |
| Unit: 06 C4844835 | 1 br | 1 bath 1 Parking | 800 sqft | Leased Aug 12, 2020 | $1,800 List: $1,800 |
| Unit: 214 C4230239 | 1 br | 1 bath 0 Parking | 700 sqft | Leased Aug 30, 2018 | $1,800 List: $1,600 |
| Unit: 214 C3861678 | 1 br | 1 bath 0 Parking | 700 sqft | Leased Jul 10, 2017 | $1,499 List: $1,499 |
| Unit: 312 C3849526 | 1 br | 1 bath 0 Parking | 700 sqft | Leased Jun 30, 2017 | $1,550 List: $1,550 |
| Unit: 203 C3728265 | 1 br | 1 bath 1 Parking | 700 sqft | Leased Mar 24, 2017 | $1,550 List: $1,550 |
| Unit: 205 C3719521 | 1 br | 1 bath 1 Parking | 700 sqft | Leased Mar 06, 2017 | $1,340 List: $1,295 |
| Unit: 218 C3444272 | 2 br | 1 bath 1 Parking | 1000 sqft | Leased May 13, 2016 | $1,900 List: $1,895 |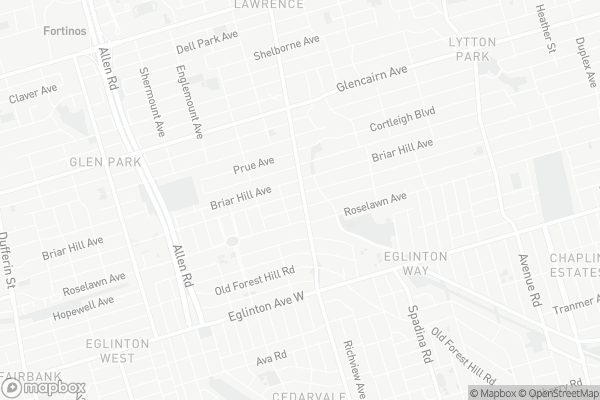 North Preparatory Junior Public School
Elementary: Public
Our Lady of the Assumption Catholic School
Elementary: Catholic
Cedarvale Community School
Elementary: Public
Glen Park Public School
Elementary: Public
West Preparatory Junior Public School
Elementary: Public
Allenby Junior Public School
Elementary: Public
Msgr Fraser College (Midtown Campus)
Secondary: Catholic
Vaughan Road Academy
Secondary: Public
John Polanyi Collegiate Institute
Secondary: Public
Forest Hill Collegiate Institute
Secondary: Public
Marshall McLuhan Catholic Secondary School
Secondary: Catholic
Lawrence Park Collegiate Institute
Secondary: Public
Nortown Foods

892 Eglinton Avenue West, Toronto

0.65km

Fresh Harvest

546 Eglinton Avenue West, Toronto

1.05km

Sobeys Urban Fresh Rosebury Square

145 Marlee Avenue, York

1.16km
Grafstein Wines

2803 Bathurst Street, North York

0.72km

LCBO

333 Eglinton Avenue West, Toronto

1.45km

LCBO

502 Lawrence Avenue West, North York

1.55km
Larry Grossman Forest Hill Memorial Arena

340 Chaplin Crescent, Toronto

0.62km

Pizza Pizza

884 Eglinton Avenue West, Toronto

0.64km

Surreal Food Co

873 Eglinton Avenue West, Toronto

0.66km
Starbucks

900 Eglinton Avenue West, Toronto

0.66km

Cafe On The Hill

916 Eglinton Avenue West, Toronto

0.68km

Surreal Food Co

973 Eglinton Avenue West, York

0.77km
TD Canada Trust Branch and ATM

846 Eglinton Avenue West, Toronto

0.61km

RBC Royal Bank

880 Eglinton Avenue West, Toronto

0.64km

TD Canada Trust Branch and ATM

500 Glencairn Avenue, Toronto

0.66km
Shell

850 Roselawn Avenue, York

1.25km

Esso

3069 Bathurst Street, North York

1.39km

Circle K

3069 Bathurst Street, North York

1.39km
the Yoga Project

Hilltop Road, Toronto

0.51km

Krav Maga Maleh Canada

Peveril Hill North, Toronto

0.64km

SXS Fitness Inc.

881 Eglinton Ave W - Side Unit, Toronto

0.69km
Castlefield Parkette

Castlefield Parkette

621 Castlefield Avenue, Toronto

0.23km

Hillhurst Parkette

Hillhurst Parkette, 254 Hillhurst Boulevard, North York

0.28km
Toronto Public Library - Forest Hill Branch

700 Eglinton Avenue West, Toronto

0.7km

Toronto Public Library - Barbara Frum Branch

20 Covington Road, North York

1.62km

Caffeine Library

372 Atlas Avenue, York

1.73km
Denture Crafters Dental Laboratory

807-515 Chaplin Crescent, Toronto

0.31km

Self-Directed Learning Place

121 Old Forest Hill Road, Toronto

0.64km

Venn Med

801 Eglinton Avenue West Unit 201, Toronto

0.66km
Eglinton Bathurst Pharmacy

856 Eglinton Avenue West, Toronto

0.62km

Specialty Rx Pharmacy (Compounding Pharmacy)

801 Eglinton Avenue West, Toronto

0.67km

Rexall

901 Eglinton Avenue West, York

0.7km
The Upper Village

1166 Eglinton Avenue West, Toronto

0.92km

Josephson Opticians

466 Eglinton Avenue West, Toronto

1.23km

The Pet Plaza

486 Lawrence Avenue West, North York

1.46km
Thirsty Fox Pub

1028 Eglinton Avenue West, Toronto

0.76km

Ergys Coffee Till Cocktail

1005 Eglinton Avenue West Unit C, York

0.88km

Ergys Studio

1005 Eglinton Avenue West, York

0.88km