Property Management Co: Crossbridge Condominium Services

Main Intersection: Queens Quay/Spadina

Ownership Type: Condo Apt

Smallest Unit: 700

Largest Unit: 700

Style: Apartment

Amenities: Concierge, Exercise Room, Party/Meeting Room, Rooftop Deck/Garden, Sauna, Visitor Parking

Condominium Corporation #: TSCC - 1485
Stats
Building 410 Queens Quay West is situated in the neighbourhood of Waterfront Communities C01 and is located in Toronto, M5V 3T1 . Additionally, there are neighbourhoods such Niagara, Trinity Bellwoods, Kensington Chinatown, Palmerston Little Italy, Little Portugal in the immediate vicinity. In the Waterfront Communities C01 neighbourhood, 1656 new homes are available for sale, which represents 9.4% of Toronto's total 17618 homes currently listed. Waterfront Communities C01 homeowners pay a monthly mortgage of $3,402, based on an average asking price of $1,004,281, 1.5 times less than Toronto's average list price of $1,504,186. The average listed property in Waterfront Communities C01 is 640 sq ft, has 1.3 bedrooms, and 1.3 bathrooms. In the area around 410 Queens Quay West, 44.7% of the homes for sale are apartments.
Currently there are no apartments for rent at 410 Queens Quay West. Contact us for this details regarding this building's price history or to see units in nearby buildings.
Somewhat Walkable
Some errands can be accomplished on foot.
Rider's Paradise
Daily errands do not require a car.
Biker's Paradise
Daily errands do not require a car.
| | | | |
| --- | --- | --- | --- |
| Unit: 1011 C6121900 | 1 br | 1 bath 1 Parking | 600 sqft | Sold Jul 04, 2023 | $650,000 List: $699,000 |
| Unit: 1008 C5715363 | 1 br | 1 bath 0 Parking | 600 sqft | Sold Dec 07, 2022 | $530,000 List: $549,000 |
| Unit: 509 C5677291 | 2 br | 1 bath 1 Parking | 800 sqft | Sold Sep 20, 2022 | $710,000 List: $748,000 |
| Unit: 503 C5752467 | 3 br | 2 bath 1 Parking | 1200 sqft | Sold Sep 19, 2022 | $1,325,000 List: $1,299,000 |
| Unit: Uph06 C5716648 | 2 br | 3 bath 1 Parking | 1200 sqft | Sold Sep 09, 2022 | $1,220,000 List: $1,350,000 |
| Unit: 913 C5736411 | 1 br | 1 bath 0 Parking | 600 sqft | Sold Sep 08, 2022 | $585,000 List: $599,000 |
| Unit: 1101 C5724210 | 1 br | 1 bath 0 Parking | 600 sqft | Sold Aug 24, 2022 | $575,000 List: $599,900 |
| Unit: 513 C5688395 | 1 br | 1 bath 0 Parking | 600 sqft | Sold Jul 25, 2022 | $580,000 List: $608,888 |
| Unit: 1217 C5648618 | 2 br | 2 bath 1 Parking | 900 sqft | Sold Jun 09, 2022 | $1,200,000 List: $1,180,000 |
| Unit: 1504 C5608052 | 1 br | 1 bath 0 Parking | 600 sqft | Sold May 21, 2022 | $731,000 List: $749,000 |
| | | | |
| --- | --- | --- | --- |
| Unit: 211 C7029768 | 1 br | 1 bath 0 Parking | 600 sqft | Leased Oct 02, 2023 | $2,800 List: $2,750 |
| Unit: 1115 C6817254 | 1 br | 1 bath 0 Parking | 500 sqft | Leased Sep 25, 2023 | $2,600 List: $2,600 |
| Unit: 303 C6804604 | 1 br | 1 bath 1 Parking | 600 sqft | Leased Sep 25, 2023 | $2,900 List: $2,900 |
| Unit: 1011 C7016604 | 1 br | 1 bath 1 Parking | 600 sqft | Leased Sep 21, 2023 | $2,800 List: $2,700 |
| Unit: 1218 C6739322 | 1 br | 1 bath 0 Parking | 500 sqft | Leased Aug 19, 2023 | $2,800 List: $2,750 |
| Unit: 610 C6676078 | 1 br | 1 bath 1 Parking | 600 sqft | Leased Aug 09, 2023 | $2,700 List: $2,698 |
| Unit: 507 C6685642 | 1 br | 1 bath 0 Parking | 600 sqft | Leased Jul 27, 2023 | $2,500 List: $2,500 |
| Unit: 1106 C6671724 | 1 br | 1 bath 1 Parking | 500 sqft | Leased Jul 25, 2023 | $2,650 List: $2,650 |
| Unit: 502 C6634848 | 1 br | 1 bath 1 Parking | 600 sqft | Leased Jul 13, 2023 | $2,650 List: $2,650 |
| Unit: 317 C6629742 | 1 br | 1 bath 0 Parking | 500 sqft | Leased Jul 11, 2023 | $2,400 List: $2,400 |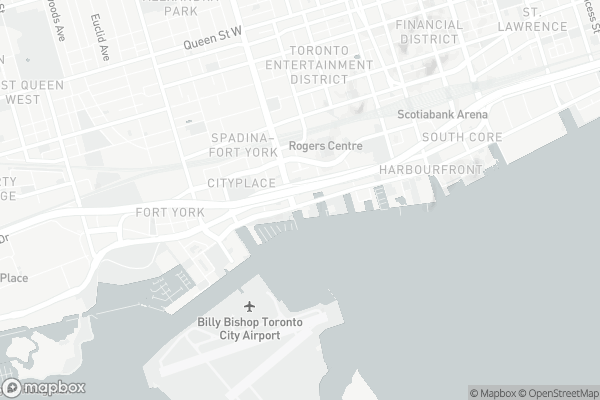 Downtown Vocal Music Academy of Toronto
Elementary: Public
ALPHA Alternative Junior School
Elementary: Public
Ogden Junior Public School
Elementary: Public
The Waterfront School
Elementary: Public
St Mary Catholic School
Elementary: Catholic
Ryerson Community School Junior Senior
Elementary: Public
St Michael's Choir (Sr) School
Secondary: Catholic
Oasis Alternative
Secondary: Public
City School
Secondary: Public
Subway Academy II
Secondary: Public
Heydon Park Secondary School
Secondary: Public
Contact Alternative School
Secondary: Public
Rabba Fine Foods

252 Queens Quay West, Toronto

0.5km

Craziverse

15 Iceboat Terrace, Toronto

0.53km

Rabba Fine Foods

361 Front Street West, Toronto

0.55km
The Beer Store

350 Queens Quay West, Toronto

0.2km

The Wine Shop

22 Fort York Boulevard, Toronto

0.34km

Amsterdam BrewHouse

245 Queens Quay West, Toronto

0.53km
Taste D West Indies

390 Queens Quay West #106B, Toronto

0.06km

Tenaz

390 Queens Quay West, Toronto

0.06km

Brazil Box

106A-390 Queens Quay West, Toronto

0.08km
Starbucks

101-10 Lower Spadina Avenue, Toronto

0.09km

Music Garden Cafe

466 Queens Quay West, Toronto

0.16km

Starbucks

2E Spadina Avenue, Toronto

0.26km
CIBC Branch (Cash at ATM only)

1 Fort York Boulevard, Toronto

0.28km

RBC Royal Bank

6 Fort York Boulevard, Toronto

0.33km

BMO Bank of Montreal

26 Fort York Boulevard, Toronto

0.36km
Circle K

553 Lake Shore Boulevard West, Toronto

0.7km

Esso

553 Lake Shore Boulevard West, Toronto

0.71km

Shell

38 Spadina Avenue, Toronto

0.73km
416 Fitness Club

390 Queens Quay West Unit 112, Toronto

0.06km

Kardia

100-10 Lower Spadina Avenue, Toronto

0.09km

CityPlace SuperClub

11 Mariner Terrace, Toronto

0.17km
HTO Park West

HTO Park West

375 Queens Quay West, Toronto

0.11km

Southern Linear Park
NCA Exam Help | NCA Notes and Tutoring

Neo (Concord CityPlace, 4G-1922 Spadina Avenue, Toronto

0.37km

Toronto Public Library - Fort York Branch

190 Fort York Boulevard, Toronto

0.74km

The Copp Clark Co

Wellington Street West, Toronto

0.82km
Dr. Patricia Galata

39 Lower Simcoe Street, Toronto

0.75km

NoNO

479A Wellington Street West, Toronto

0.76km

The 6ix Medical Clinics at Front

550 Front Street West Unit 58, Toronto

0.76km
Shoppers Drug Mart

390 Queen'S Quay West, Unit 110, Toronto

0.04km

Metropolitan Pharmacy

4G Spadina Avenue, Toronto

0.35km

Remedy'sRx - Lakefront Medical Pharmacy

550 Queens Quay West Unit 14, Toronto

0.38km
Centro de convenciones

255 Front Street West, Toronto

0.72km

stackt market

28 Bathurst Street, Toronto

0.89km

The Village Co

28 Bathurst Street, Toronto

0.92km
TIFF Bell Lightbox

350 King Street West, Toronto

0.93km

Slaight Music Stage

King Street West between Peter Street and University Avenue, Toronto

1km

CineCycle

129 Spadina Avenue, Toronto

1.07km
St. Louis Bar & Grill

313 Bremner Boulevard, Toronto

0.26km

Fox and Fiddle Cityplace

Fox & Fiddle, 17 Fort York Boulevard, Toronto

0.3km

Touti Cafe - The Sweet Spot

550 Queens Quay West, Toronto

0.43km