Property Management Co: First Service Residential

Main Intersection: Queen/Dovercourt

Ownership Type: Condo Apt

Largest Unit: 800

Style: Apartment

Stories: 21

Walk Score: 96

Transit Score: 100

Year Built: 2017

Total Units: 480

Amenities: Concierge, Exercise Room

Condominium Corporation #: TSCC - 2583

Maintenance Fees Cover: None

Owner Pays: Hydro, Heat, Air Conditioning, Water
Stats
This building can be found at 68 Abell Street, in the neighbourhood of Little Portugal, in Toronto, Ontario. Among the nearby neighbourhoods are Dufferin Grove, South Parkdale, Trinity Bellwoods, Palmerston Little Italy, Roncesvalles. 167 new homes are available for sale in Toronto's Little Portugal neighbourhood, representing 0.9% of all current listings in the city. In Toronto, the average price for a home in Little Portugal is $1,248,825. Little Portugal homeowners pay a monthly mortgage of $4,231, 1.2 times less than Toronto's average price for a home. According to the MLS, the average listed property in Little Portugal has 533 sq ft, 1.7 bedrooms, and 1.6 bathrooms. Among the residential properties for sale in the area surrounding 68 Abell Street, 26.9% are apartments.
Somewhat Walkable
Some errands can be accomplished on foot.
Rider's Paradise
Daily errands do not require a car.
Very Bikeable
Most errands can be accomplished on bike.
| | | | |
| --- | --- | --- | --- |
| Unit: 1002 C7059986 | 1 br | 1 bath 0 Parking | 0 sqft | Sold Nov 06, 2023 | $522,500 List: $550,000 |
| Unit: 545 C7019666 | 1 br | 1 bath 0 Parking | 0 sqft | Sold Oct 13, 2023 | $485,000 List: $499,800 |
| Unit: 816 C6186080 | 1 br | 1 bath 1 Parking | 500 sqft | Sold Jul 17, 2023 | $530,000 List: $500,000 |
| Unit: 531 C6115028 | 2 br | 2 bath 0 Parking | 600 sqft | Sold Jun 21, 2023 | $627,000 List: $633,888 |
| Unit: 311 C6053455 | 1 br | 1 bath 0 Parking | 600 sqft | Sold Jun 05, 2023 | $517,000 List: $565,000 |
| Unit: 2009 C5990284 | 2 br | 2 bath 1 Parking | 800 sqft | Sold Jun 01, 2023 | $780,000 List: $780,000 |
| Unit: 915 C5984408 | 2 br | 1 bath 0 Parking | 600 sqft | Sold May 29, 2023 | $580,000 List: $589,800 |
| Unit: 508 C5939024 | 1 br | 1 bath 1 Parking | 500 sqft | Sold May 24, 2023 | $555,000 List: $569,500 |
| Unit: 740 C6047983 | 3 br | 2 bath 1 Parking | 900 sqft | Sold Apr 30, 2023 | $803,500 List: $815,000 |
| Unit: 828 C6025685 | 2 br | 2 bath 0 Parking | 600 sqft | Sold Apr 26, 2023 | $627,000 List: $635,000 |
| | | | |
| --- | --- | --- | --- |
| Unit: 501 C7062554 | 1 br | 2 bath 0 Parking | 600 sqft | Leased Dec 08, 2023 | $2,200 List: $2,200 |
| Unit: 650 C7299180 | 1 br | 1 bath 0 Parking | 600 sqft | Leased Nov 23, 2023 | $2,500 List: $2,498 |
| Unit: 820 C7212722 | 2 br | 1 bath 0 Parking | 700 sqft | Leased Nov 23, 2023 | $2,800 List: $2,800 |
| Unit: 1133 C7220992 | 2 br | 2 bath 0 Parking | 600 sqft | Leased Nov 01, 2023 | $3,150 List: $3,150 |
| Unit: Lph 3 C7239656 | 2 br | 2 bath 0 Parking | 600 sqft | Leased Nov 01, 2023 | $3,100 List: $3,100 |
| Unit: 641 C7033612 | 1 br | 1 bath 1 Parking | 500 sqft | Leased Oct 19, 2023 | $2,400 List: $2,400 |
| Unit: 533 C6801348 | 1 br | 1 bath 1 Parking | 0 sqft | Leased Oct 16, 2023 | $2,350 List: $2,350 |
| Unit: 1509 C6805434 | 2 br | 1 bath 1 Parking | 600 sqft | Leased Oct 05, 2023 | $3,000 List: $2,999 |
| Unit: 508 C6779756 | 1 br | 1 bath 0 Parking | 500 sqft | Leased Sep 27, 2023 | $2,750 List: $2,700 |
| Unit: 1111 C6790338 | 1 br | 1 bath 0 Parking | 500 sqft | Leased Sep 23, 2023 | $2,475 List: $2,450 |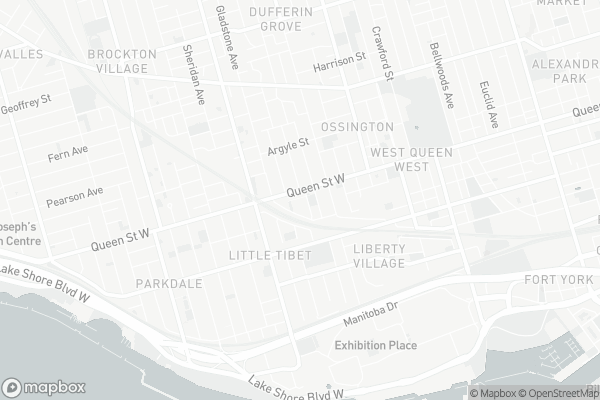 The Grove Community School
Elementary: Public
Pope Francis Catholic School
Elementary: Catholic
Ossington/Old Orchard Junior Public School
Elementary: Public
St Ambrose Catholic School
Elementary: Catholic
Givins/Shaw Junior Public School
Elementary: Public
Alexander Muir/Gladstone Ave Junior and Senior Public School
Elementary: Public
Msgr Fraser College (Southwest)
Secondary: Catholic
ÉSC Saint-Frère-André
Secondary: Catholic
École secondaire Toronto Ouest
Secondary: Public
Central Toronto Academy
Secondary: Public
Parkdale Collegiate Institute
Secondary: Public
St Mary Catholic Academy Secondary School
Secondary: Catholic
Metro at West Queen West

1230 Queen Street West, Toronto

0.24km

New Zealand Whey Protein Isolate

Popeye's Health, Atlantic Avenue, Toronto

0.42km

K & N Supermarket

998 Queen Street West, Toronto

0.54km
The Wine Shop

1230 Queen Street West, Toronto

0.25km

Wine Rack

1018 Queen Street West, Toronto

0.46km

Northern Landings GinBerry

85 Hanna Avenue Unit 103, Toronto

0.47km
Death & Taxes Free House

1154 Queen Street West, Toronto

0.08km

Kang Bang Furaiodochikin

1166 Queen Street West, Toronto

0.08km

IKUNE by Après Wine Bar

1166 Queen Street West, Toronto

0.08km
Major Treat Coffee

1158 Queen Street West, Toronto

0.08km

Tim Hortons

1167 Queen Street West, Toronto

0.09km

The Grand Order of Divine Sweets

1162 Queen Street West, Toronto

0.09km
CIBC Branch (Cash at ATM only)

1161 Queen Street West, Toronto

0.08km

RBC Royal Bank

2 Gladstone Avenue, Toronto

0.21km

TD Canada Trust Branch and ATM

1033 Queen Street West, Toronto

0.45km
Circle K

952 King Street West, Toronto

0.97km

Esso

952 King Street West, Toronto

0.99km

7-Eleven

873 Queen Street West, Toronto

1.17km
Guardian Martial Arts

68 Abell Street Unit A2, Toronto

0.03km

Sweat In Session

1163 Queen Street West, Toronto

0.08km

South Style Martial Arts

180 Sudbury Street, Toronto

0.19km
Lisgar Park

Lisgar Park

45 Abell Street, Toronto

0.09km

Rita Cox Park

14 Machells Avenue, Toronto

0.23km
Little Free Library

35 Melbourne Avenue, Toronto

0.51km

Toronto Public Library - Parkdale Branch

1303 Queen Street West, Toronto

0.65km

Little Free Library

1-17 Close Avenue, Toronto

1.16km
Prime Medical Centre

1-68 Abell Street, Toronto

0.01km

Your Stride

1179 King Street West, Toronto

0.35km

Centre for Addiction and Mental Health- Queen Street Site

1000 Queen Street West, Toronto

0.51km
Abell Pharmacy

68 Abell Street Unit #10, Toronto

0.05km

Health Care Mart Pharmacy

1173 Queen Street West, Toronto

0.1km

Dufferin Queen Animal Hospital

1179A Queen Street West, Toronto

0.12km
Shops at King Liberty

85 Hanna Avenue, Toronto

0.48km

The Queer Shopping Network

12 Claremont Street, Toronto

1.28km

Underground parking

Dufferin Mall, Toronto

1.71km
Zoomerhall

70 Jefferson Avenue, Toronto

0.55km

OLG Play Stage

955 Lake Shore Boulevard West, Toronto

1.58km

The Royal

608 College Street, Toronto

1.65km
Death & Taxes Free House

1154 Queen Street West, Toronto

0.08km

The Lounge at the Drake Hotel

1150 Queen Street West, Toronto

0.09km

The Drake Hotel

1150 Queen Street West, Toronto

0.09km