Property Management Co: First Service Residential

Main Intersection: Bay/Yorkville

Ownership Type: Condo Apt

Smallest Unit: 1200

Largest Unit: 1200

Style: Apartment

Stories: 18

Walk Score: 100

Transit Score: 95

Year Built: 2008

Total Units: 58

Amenities: Bbqs Allowed, Concierge, Party/Meeting Room, Party/Meeting Room

Condominium Corporation #: TSCC - 1937

Maintenance Fees Cover: Water

Owner Pays: Hydro, Heat, Air Conditioning
Stats
Building 68 Yorkville Avenue is situated in the neighbourhood of Annex and is located in Toronto, M5R 3V7 . Additionally, there are neighbourhoods such Casa Loma, Palmerston Little Italy, Kensington Chinatown, Church Yonge Corridor, Trinity Bellwoods in the immediate vicinity. In the Annex neighbourhood, 502 new homes are available for sale, which represents 2.6% of Toronto's total 19506 homes currently listed. Annex homeowners pay a monthly mortgage of $9,101, based on an average asking price of $2,686,573, 1.7 times than Toronto's average list price of $1,555,639. The average listed property in Annex is 1060 sq ft, has 1.9 bedrooms, and 2.3 bathrooms. In the area around 68 Yorkville Avenue, 29.3% of the homes for sale are apartments.
Currently there are no apartments for sale at 68 Yorkville Avenue. Contact us for this details regarding this building's price history or to see units in nearby buildings.
Walker's Paradise
Daily errands do not require a car.
Rider's Paradise
Daily errands do not require a car.
Very Bikeable
Most errands can be accomplished on bike.
| | | | |
| --- | --- | --- | --- |
| Unit: 501 C6793506 | 3 br | 3 bath 2 Parking | 3750 sqft | Sold Oct 18, 2023 | $4,149,000 List: $4,249,000 |
| Unit: 402 C5862565 | 2 br | 3 bath 2 Parking | 2500 sqft | Sold Mar 17, 2023 | $2,300,000 List: $2,495,000 |
| Unit: 506 C5861155 | 4 br | 5 bath 2 Parking | 2750 sqft | Sold Feb 01, 2023 | $3,600,000 List: $3,500,000 |
| Unit: 203 C5535567 | 2 br | 2 bath 2 Parking | 1400 sqft | Sold May 18, 2022 | $1,747,500 List: $1,860,000 |
| Unit: 201 C5546173 | 2 br | 2 bath 2 Parking | 1400 sqft | Sold Apr 04, 2022 | $2,250,000 List: $1,999,000 |
| Unit: 404 C5436815 | 3 br | 4 bath 3 Parking | 3750 sqft | Sold Dec 08, 2021 | $6,025,000 List: $6,895,000 |
| Unit: 705 C5407934 | 2 br | 2 bath 2 Parking | 1200 sqft | Sold Nov 06, 2021 | $1,675,000 List: $1,699,000 |
| Unit: 503 C5405907 | 1 br | 1 bath 1 Parking | 500 sqft | Sold Oct 25, 2021 | $900,000 List: $699,000 |
| Unit: 601 C5372097 | 2 br | 2 bath 0 Parking | 1400 sqft | Sold Oct 21, 2021 | $2,050,000 List: $2,195,000 |
| Unit: 801 C4512378 | 2 br | 2 bath 0 Parking | 1200 sqft | Sold Jul 26, 2019 | $1,760,000 List: $1,799,000 |
| | | | |
| --- | --- | --- | --- |
| Unit: 503 C6758696 | 1 br | 1 bath 1 Parking | 500 sqft | Leased Aug 29, 2023 | $3,595 List: $3,595 |
| Unit: 202 C6061360 | 2 br | 3 bath 2 Parking | 1800 sqft | Leased Jul 21, 2023 | $8,000 List: $8,900 |
| Unit: 608 C6034487 | 2 br | 2 bath 1 Parking | 1200 sqft | Leased Jul 05, 2023 | $6,300 List: $6,250 |
| Unit: 1002 C5847744 | 2 br | 3 bath 2 Parking | 2750 sqft | Leased Jan 04, 2023 | $13,800 List: $13,800 |
| Unit: 505 C5747382 | 2 br | 3 bath 2 Parking | 1800 sqft | Leased Oct 13, 2022 | $6,800 List: $6,800 |
| Unit: 403 C5723500 | 1 br | 1 bath 1 Parking | 600 sqft | Leased Aug 12, 2022 | $3,200 List: $3,200 |
| Unit: 608 C5624077 | 2 br | 2 bath 1 Parking | 1200 sqft | Leased Jun 14, 2022 | $6,000 List: $6,000 |
| Unit: 705 C5500072 | 2 br | 2 bath 2 Parking | 1200 sqft | Leased Mar 13, 2022 | $5,750 List: $6,000 |
| Unit: 805 C5499969 | 2 br | 2 bath 2 Parking | 1200 sqft | Leased Feb 20, 2022 | $4,500 List: $4,500 |
| Unit: 403 C4867665 | 1 br | 1 bath 1 Parking | 600 sqft | Leased Sep 25, 2020 | $2,800 List: $3,000 |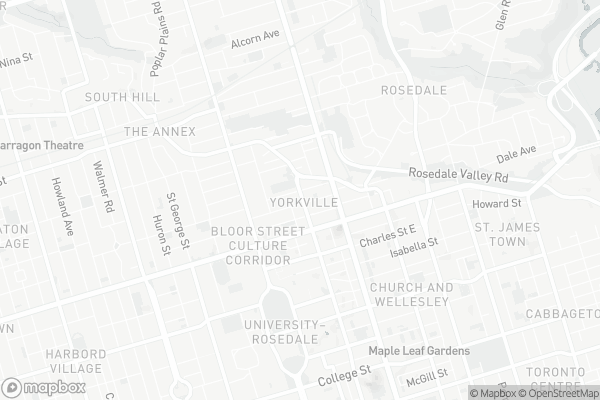 Cottingham Junior Public School
Elementary: Public
Rosedale Junior Public School
Elementary: Public
Orde Street Public School
Elementary: Public
Church Street Junior Public School
Elementary: Public
Huron Street Junior Public School
Elementary: Public
Jesse Ketchum Junior and Senior Public School
Elementary: Public
Native Learning Centre
Secondary: Public
Subway Academy II
Secondary: Public
Collège français secondaire
Secondary: Public
Msgr Fraser-Isabella
Secondary: Catholic
Jarvis Collegiate Institute
Secondary: Public
St Joseph's College School
Secondary: Catholic
Whole Foods Market

87 Avenue Road, Toronto

0.35km

H Mart

703 Yonge Street, Toronto

0.43km

Rabba Fine Foods

101-37 Charles Street West, Toronto

0.44km
Wine Rack

1235 Bay Street, Toronto

0.11km

LCBO

Manulife Centre, 55 Bloor Street West, Toronto

0.26km

Northern Landings GinBerry

Manulife Centre, 55 Bloor Street West, Toronto

0.27km
Revitasize

Sweat Shop, Located Inside, 70 Yorkville Avenue, Toronto

0.03km

Flo's Diner

70 Yorkville Avenue 2nd Floor, Toronto

0.04km

Café Boulud

60 Yorkville Avenue, Toronto

0.05km
Café Boulud

60 Yorkville Avenue, Toronto

0.05km

RC Coffee Robo Cafe

1255 Bay Street, Toronto

0.06km

Café Artois Yorkville

75 Yorkville Avenue, Toronto

0.07km
Evig Holding Co

1235 Bay Street, Toronto

0.1km

TD Canada Trust Branch and ATM

77 Bloor Street West, Toronto

0.24km

BMO Bank of Montreal

55 Bloor Street West, Toronto

0.27km
Canadian Tire Gas+

835 Yonge Street, Toronto

0.3km

Shell

1077 Yonge Street, Toronto

0.87km

Esso

150 Dupont Street, Toronto

1.13km
GoGo Muscle Training

70 Yorkville Avenue Suite MR5, Toronto

0.04km

JAMFITNESS

70 Yorkville Avenue, Toronto

0.04km

Antaeus Fitness

70 Yorkville Avenue, Toronto

0.04km
Mist Garden

34-48 Yorkville Avenue, Toronto

0.11km

Jesse Ketchum Park

1310 Bay Street, Toronto

0.13km

Orchard Parc, Inc.

202-1200 Bay Street, Toronto

0.17km
Toronto Public Library - Yorkville Branch

22 Yorkville Avenue, Toronto

0.15km

Toronto Public Library - Toronto Reference Library

789 Yonge Street, Toronto

0.3km

The Japan Foundation, Toronto

300-2 Bloor Street East, Toronto

0.34km
Apollo Cannabis Clinic (Online & Phone Appointments Only)

1255 Bay Street Unit 702, Toronto

0.06km

Affleck Deborah J Dr

1200 Bay St Toronto, Toronto

0.18km

Psilex Group

1200 Bay Street, Toronto

0.18km
Markie Pharmacy

1240 Bay Street, Toronto

0.14km

Yorkville Medical Arts Pharmacy

1240 Bay Street, Toronto

0.14km

Kingsway Drugs

114 Cumberland Street, Toronto

0.17km
Bay St Shopping Mall

93 Cumberland Street, Toronto

0.13km

DECIEM The Abnormal Beauty Company

1240 Bay Street #113, Toronto

0.15km

Josephson Opticians

60 Bloor Street West, Toronto

0.18km
Cineplex Cinemas Varsity and VIP

55 Bloor Street West, Toronto

0.37km

Lewis Kay Casting

10 Saint Mary Street, Toronto

0.51km

Innis Town Hall Theatre

Innis College, 2 Sussex Avenue, Toronto

0.96km
d|bar

60 Yorkville Avenue, Toronto

0.06km

David Rocco Bar Aperitivo

95 Cumberland Street, Toronto

0.13km

NDLG Cafe & Bar

114 Cumberland Street, Toronto

0.16km