Property Management Co: Icon Property Management

Main Intersection: King/Spadina

Ownership Type: Condo Apt

Largest Unit: 1600-1799

Style: Apartment

Stories: 36

Walk Score: 100

Transit Score: 100

Year Built: 2013

Total Units: 314

Amenities: Concierge, Exercise Room, Outdoor Pool, Party/Meeting Room, Rooftop Deck/Garden, Visitor Parking

Condominium Corporation #: TSCC - 2298

Maintenance Fees Cover: Heat, Air Conditioning, Water

Owner Pays: Hydro
This building can be found at 8 Charlotte Street, in the neighbourhood of Waterfront Communities C01, in Toronto, Ontario. Among the nearby neighbourhoods are Niagara, Trinity Bellwoods, Kensington Chinatown, Palmerston Little Italy, Little Portugal. 1233 new homes are available for sale in Toronto's Waterfront Communities C01 neighbourhood, representing 8.9% of all current listings in the city. In Toronto, the average price for a home in Waterfront Communities C01 is $1,101,639. Waterfront Communities C01 homeowners pay a monthly mortgage of $3,732, 1.4 times less than Toronto's average price for a home. According to the MLS, the average listed property in Waterfront Communities C01 has 697 sq ft, 1.4 bedrooms, and 1.4 bathrooms. Among the residential properties for sale in the area surrounding 8 Charlotte Street, 34.1% are apartments.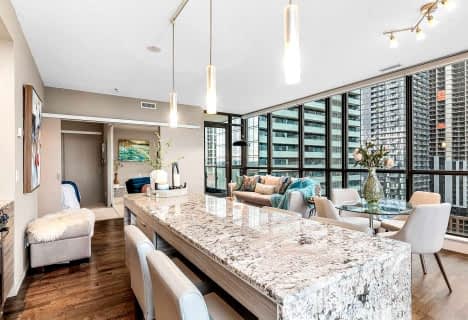 2 bath
2 bed
1000-1199 sqft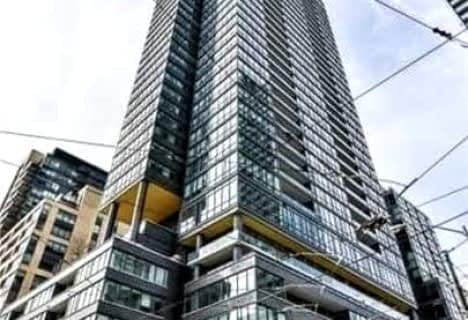 1 bath
1 bed
500-599 sqft
Somewhat Walkable
Some errands can be accomplished on foot.
Rider's Paradise
Daily errands do not require a car.
Biker's Paradise
Daily errands do not require a car.
| | | | |
| --- | --- | --- | --- |
| Unit: 304 C5945109 | 0 br | 1 bath 0 Parking | 0-499 sqft | Sold Mar 12, 2023 | $500,000 List: $509,900 |
| Unit: 1004 C5870429 | 1 br | 2 bath 1 Parking | 700-799 sqft | Sold Feb 23, 2023 | $812,500 List: $859,000 |
| Unit: 1109 C5870890 | 1 br | 1 bath 0 Parking | 600-699 sqft | Sold Feb 11, 2023 | $738,000 List: $758,000 |
| Unit: 902 C5782068 | 2 br | 2 bath 1 Parking | 800-899 sqft | Sold Oct 03, 2022 | $899,000 List: $899,999 |
| Unit: 2403 C5647340 | 2 br | 2 bath 1 Parking | 900-999 sqft | Sold Jun 27, 2022 | $1,160,000 List: $1,238,000 |
| Unit: 1601 C5629342 | 1 br | 1 bath 1 Parking | 700-799 sqft | Sold May 31, 2022 | $860,000 List: $649,900 |
| Unit: 2105 C5609380 | 1 br | 2 bath 1 Parking | 700-799 sqft | Sold May 18, 2022 | $899,000 List: $899,000 |
| Unit: 2705 C5608275 | 1 br | 2 bath 1 Parking | 700-799 sqft | Sold May 18, 2022 | $915,000 List: $949,900 |
| Unit: 907 C5556843 | 2 br | 2 bath 1 Parking | 800-899 sqft | Sold Apr 20, 2022 | $1,140,000 List: $1,199,900 |
| Unit: 1102 C5567491 | 2 br | 2 bath 1 Parking | 800-899 sqft | Sold Apr 19, 2022 | $999,999 List: $988,000 |
| | | | |
| --- | --- | --- | --- |
| Unit: 1606 C5958153 | 2 br | 2 bath 1 Parking | 1000-1199 sqft | Leased Mar 17, 2023 | $5,000 List: $5,000 |
| Unit: 1502 C5936279 | 2 br | 2 bath 1 Parking | 900-999 sqft | Leased Mar 13, 2023 | $3,750 List: $3,750 |
| Unit: 1905 C5876230 | 1 br | 2 bath 0 Parking | 700-799 sqft | Leased Jan 24, 2023 | $3,000 List: $3,000 |
| Unit: #1209 C5866011 | 1 br | 1 bath 0 Parking | 600-699 sqft | Leased Jan 15, 2023 | $2,700 List: $2,700 |
| Unit: 1401 C5851754 | 1 br | 1 bath 1 Parking | 700-799 sqft | Leased Jan 05, 2023 | $3,050 List: $3,100 |
| Unit: 1708 C5844237 | 1 br | 1 bath 0 Parking | 500-599 sqft | Leased Dec 07, 2022 | $2,700 List: $2,600 |
| Unit: 501 C5809547 | 1 br | 1 bath 0 Parking | 600-699 sqft | Leased Nov 03, 2022 | $2,600 List: $2,600 |
| Unit: 2307 C5795360 | 2 br | 2 bath 1 Parking | 800-899 sqft | Leased Oct 22, 2022 | $3,800 List: $3,800 |
| Unit: 410 C5790506 | 1 br | 1 bath 0 Parking | 500-599 sqft | Leased Oct 18, 2022 | $2,550 List: $2,600 |
| Unit: 312 C5772188 | 1 br | 1 bath 0 Parking | 500-599 sqft | Leased Sep 29, 2022 | $2,650 List: $2,650 |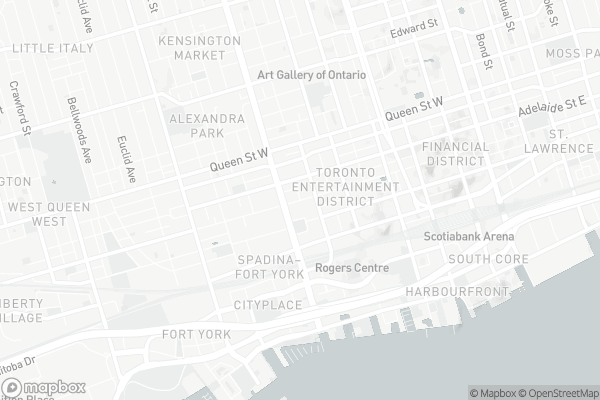 Downtown Vocal Music Academy of Toronto
Elementary: Public
ALPHA Alternative Junior School
Elementary: Public
Beverley School
Elementary: Public
Ogden Junior Public School
Elementary: Public
The Waterfront School
Elementary: Public
Ryerson Community School Junior Senior
Elementary: Public
St Michael's Choir (Sr) School
Secondary: Catholic
Oasis Alternative
Secondary: Public
City School
Secondary: Public
Subway Academy II
Secondary: Public
Heydon Park Secondary School
Secondary: Public
Contact Alternative School
Secondary: Public
Fresh & Wild Food Market

69 Spadina Avenue, Toronto

0.1km

Rabba Fine Foods

361 Front Street West, Toronto

0.34km

Winstons Grocery

430 Queen Street West, Toronto

0.48km
LCBO

49 Spadina Avenue, Toronto

0.25km

Northern Landings GinBerry

49 Spadina Avenue, Toronto

0.26km

B & W Wines

134 Peter Street Suite 1502, Toronto

0.31km
The Belly Buster Submarines

389 King Street West, Toronto

0.02km

Thai Princess Restaurant

387 King Street West, Toronto

0.02km

Aroma Espresso Bar

430 King Street West, Toronto

0.02km
Aroma Espresso Bar

430 King Street West, Toronto

0.02km

Tim Hortons

375 King Street West, Toronto

0.05km

Food Stand

400 King Street West, Toronto

0.06km
RBC Royal Bank

434 &, 436 King Street West, Toronto

0.06km

TD Canada Trust Branch and ATM

443 Queen Street West, Toronto

0.39km

CIBC Branch with ATM

378 Queen Street West, Toronto

0.44km
Petro-Canada

55 Spadina Avenue, Toronto

0.13km

Shell

38 Spadina Avenue, Toronto

0.2km

Less Emissions

500-160 John Street, Toronto

0.46km
Fit Factory Fitness

373 King Street West, Toronto

0.06km

Zen Hot Pilates

367 King Street West, Toronto

0.07km

Imprint Pilates

101 Spadina Avenue #103, Toronto

0.14km
Clarence Square

25 Clarence Square, Toronto

0.18km

Clarence Square Dog Park

Park People

401 Richmond Street West Studio 119, Toronto

0.24km
NCA Exam Help | NCA Notes and Tutoring

Neo (Concord CityPlace, 4G-1922 Spadina Avenue, Toronto

0.54km

The Copp Clark Co

Wellington Street West, Toronto

0.56km

Dorothy H. Hoover Library

113 McCaul Street, Toronto

0.91km
Medical Hub

77 Peter Street, Toronto

0.14km

NoNO

479A Wellington Street West, Toronto

0.46km

Hypercare

313 Queen Street West Summit Room, Toronto

0.47km
Shoppers Drug Mart

388 King Street West, Toronto

0.09km

Pharmacy Hub

77 Peter Street, Toronto

0.14km

Medical Hub

77 Peter Street, Toronto

0.14km
TagBuy.com

348 Queen Street West, Toronto

0.41km

Queen Boutique

55 Queen Street West, Toronto

0.43km

Centro de convenciones

255 Front Street West, Toronto

0.59km
CineCycle

129 Spadina Avenue, Toronto

0.22km

Necessary Angel Theatre

401 Richmond Street West #393, Toronto

0.24km

TIFF Bell Lightbox

350 King Street West, Toronto

0.27km
Escape Manor Toronto

383 King Street West, Toronto

0.02km

Bar Hop

391 King Street West, Toronto

0.02km

Bang Sue Bar

11 Charlotte Street, Toronto

0.06km