Property Management Co: Icon Property Management

Main Intersection: Queen/Dovercourt

Ownership Type: Condo Apt

Largest Unit: 1200

Style: Apartment

Stories: 11

Walk Score: 91

Transit Score: 100

Year Built: 2013

Total Units: 153

Amenities: Concierge, Gym, Gym, Party/Meeting Room

Condominium Corporation #: TSCC - 2321

Maintenance Fees Cover: Water

Owner Pays: Hydro, Heat, Air Conditioning
Stats
This building is located at 8 Dovercourt Road, Toronto, M6J 0B6 and is situated in the neighbourhood of Little Portugal. Other neighbourhoods nearby are Dufferin Grove, South Parkdale, Trinity Bellwoods, Palmerston Little Italy, Roncesvalles. The district of Little Portugal has 167 postings available. That's just 0.9% of the 19506 total properties for sale in the city of Toronto. Homes in Little Portugal are listed for an average asking price of $1,248,825, or an estimated monthly mortgage of $4,231. That is 1.2 times less the average list price of $1,557,248 in Toronto. Little Portugal listed properties average 533 sq ft, 1.7 beds, and 1.6 baths. Apartments make up 26.9% of homes for sale in the neighbourhood around 8 Dovercourt Road.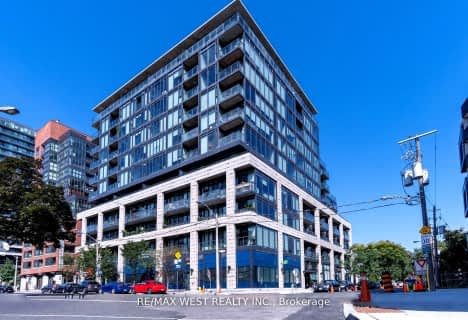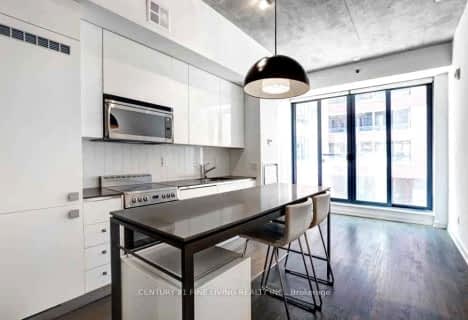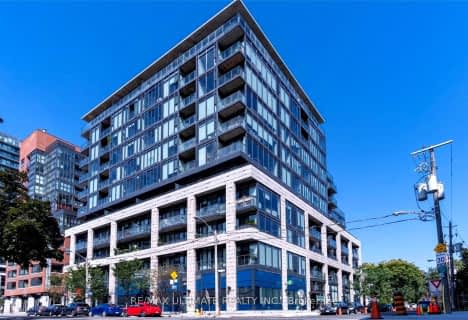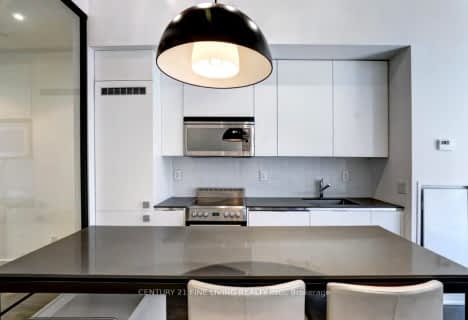 Very Walkable
Most errands can be accomplished on foot.
Rider's Paradise
Daily errands do not require a car.
Very Bikeable
Most errands can be accomplished on bike.
| | | | |
| --- | --- | --- | --- |
| Unit: 301 C5894175 | 2 br | 2 bath 1 Parking | 900 sqft | Sold Feb 09, 2023 | $905,750 List: $919,000 |
| Unit: 709 C5851037 | 2 br | 2 bath 0 Parking | 900 sqft | Sold Dec 24, 2022 | $888,000 List: $898,000 |
| Unit: 216 C5739743 | 1 br | 1 bath 1 Parking | 500 sqft | Sold Sep 14, 2022 | $685,000 List: $688,000 |
| Unit: 503 C5697664 | 2 br | 2 bath 1 Parking | 900 sqft | Sold Aug 04, 2022 | $925,000 List: $959,000 |
| Unit: 608 C5686320 | 1 br | 1 bath 0 Parking | 600 sqft | Sold Jul 12, 2022 | $730,000 List: $739,000 |
| Unit: 220 C5653419 | 1 br | 1 bath 0 Parking | 500 sqft | Sold Jul 05, 2022 | $632,000 List: $625,000 |
| Unit: 317 C5659789 | 2 br | 3 bath 1 Parking | 1000 sqft | Sold Jun 22, 2022 | $1,089,000 List: $1,139,000 |
| Unit: 403 C5626710 | 1 br | 1 bath 0 Parking | 500 sqft | Sold Jun 18, 2022 | $655,000 List: $678,000 |
| Unit: 601 C5382742 | 2 br | 2 bath 0 Parking | 900 sqft | Sold Dec 02, 2021 | $835,000 List: $849,900 |
| Unit: 303 C5398706 | 1 br | 1 bath 1 Parking | 500 sqft | Sold Oct 18, 2021 | $650,000 List: $599,900 |
| | | | |
| --- | --- | --- | --- |
| Unit: 409 C7311288 | 1 br | 1 bath 1 Parking | 600 sqft | Leased Dec 01, 2023 | $2,450 List: $2,450 |
| Unit: 1003 C7230246 | 1 br | 1 bath 0 Parking | 500 sqft | Leased Oct 27, 2023 | $2,550 List: $2,500 |
| Unit: 807 C7211152 | 0 br | 1 bath 0 Parking | 0 sqft | Leased Oct 20, 2023 | $2,300 List: $2,295 |
| Unit: 607 C7203646 | 0 br | 1 bath 0 Parking | 0 sqft | Leased Oct 19, 2023 | $2,300 List: $2,300 |
| Unit: 812 C6725018 | 1 br | 1 bath 0 Parking | 500 sqft | Leased Oct 18, 2023 | $2,600 List: $2,600 |
| Unit: 303 C6817080 | 1 br | 1 bath 1 Parking | 600 sqft | Leased Sep 20, 2023 | $2,950 List: $2,950 |
| Unit: 324 C6179500 | 1 br | 2 bath 1 Parking | 700 sqft | Leased Jul 12, 2023 | $3,100 List: $3,000 |
| Unit: 216 C5967072 | 1 br | 1 bath 1 Parking | 500 sqft | Leased May 23, 2023 | $3,000 List: $3,000 |
| Unit: 1011 C5969123 | 2 br | 2 bath 0 Parking | 800 sqft | Leased Mar 21, 2023 | $3,500 List: $3,200 |
| Unit: 308 C5927661 | 1 br | 1 bath 1 Parking | 600 sqft | Leased Mar 05, 2023 | $2,550 List: $2,500 |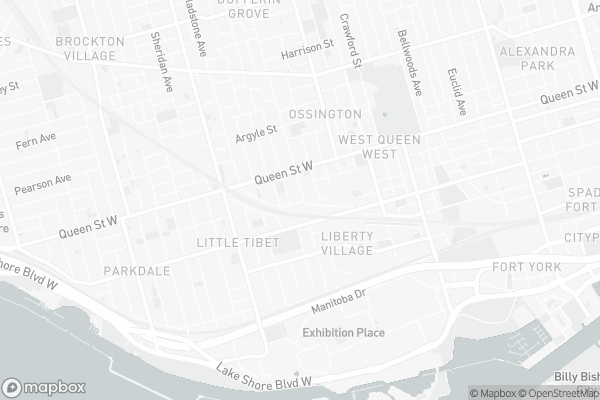 The Grove Community School
Elementary: Public
Pope Francis Catholic School
Elementary: Catholic
Ossington/Old Orchard Junior Public School
Elementary: Public
St Ambrose Catholic School
Elementary: Catholic
Givins/Shaw Junior Public School
Elementary: Public
Alexander Muir/Gladstone Ave Junior and Senior Public School
Elementary: Public
Msgr Fraser College (Southwest)
Secondary: Catholic
West End Alternative School
Secondary: Public
Central Toronto Academy
Secondary: Public
Parkdale Collegiate Institute
Secondary: Public
St Mary Catholic Academy Secondary School
Secondary: Catholic
Harbord Collegiate Institute
Secondary: Public
Corks Beer & Wine Bars

1100 King Street W, Toronto, ON M6K 1E6

0.2km

Dog & Bear Pub

1100 Queen Street W, Toronto, ON M6J 1H9

0.22km

The Good Son

1096 Queen Street W, Toronto, ON M6J 1H9

0.24km
The Common

36 Lisgar Street, Toronto, ON M6J 0A9

0.11km

The Theatre Centre

1115 Queen Street W, Toronto, ON M6J 3T4

0.2km

McDonald's

25 Joe Shuster Way, Toronto, ON M6K 0C7

0.2km
Academy of Lions

1083 Dundas Street W, Toronto, ON M6J 1W9

0.91km

Altea Active

25 Ordnance St, Toronto, ON M6K 1A1

1km

Fit Factory Fitness

373 King Street West, Toronto, ON M5V 1K1

2.37km
Shoppers Drug Mart

1090 King Street W, Toronto, ON M6K 0C7

0.16km

Rexall

1093 Queen St W, Toronto, ON M6J 1J1

0.19km

Shopper's Drug Mart

1033 Queen Street W, Toronto, ON M6J 1H8

0.23km
Levetto

68 Sudbury Street, Toronto, ON M6J 3S7

0.01km

Corks Beer & Wine Bars

1100 King Street W, Toronto, ON M6K 1E6

0.2km

Ultramen

134 Atlantic Ave, Toronto, ON M6K 1X9

0.18km
Liberty Market Building

171 E Liberty Street, Unit 218, Toronto, ON M6K 3P6

0.5km

Parkdale Village Bia

1313 Queen St W, Toronto, ON M6K 1L8

0.91km

Dufferin Mall

900 Dufferin Street, Toronto, ON M6H 4A9

1.79km
Longo's

1100 King Street W, Toronto, ON M6K 1E6

0.21km

Organic Garage

42 Hanna Avenue, Toronto, ON M6K 1X1

0.37km

Metro

100 Lynn Williams Street, Toronto, ON M6K 3N6

0.38km
LCBO

85 Hanna Avenue, Unit 103, Toronto, ON M6K 3S3

0.25km

LCBO - Dundas and Dovercourt

1230 Dundas St W, Dundas and Dovercourt, Toronto, ON M6J 1X5

0.9km

LCBO

1357 Queen Street W, Toronto, ON M6K 1M1

1.04km
Esso

952 King Street W, Toronto, ON M6K 1E4

0.77km

Spadina Auto

111 Strachan Ave, Toronto, ON M6J 2S7

0.83km

7-Eleven

873 Queen Street W, Toronto, ON M6J 1G4

0.99km
Theatre Gargantua

55 Sudbury Street, Toronto, ON M6J 3S7

0.04km

The Royal Cinema

608 College Street, Toronto, ON M6G 1A1

1.63km

CineCycle

129 Spadina Avenue, Toronto, ON M5V 2L7

2.28km
Toronto Public Library

1303 Queen Street W, Toronto, ON M6K 1L6

0.86km

College Shaw Branch Public Library

766 College Street, Toronto, ON M6G 1C4

1.52km

Sanderson Library

327 Bathurst Street, Toronto, ON M5T 1J1

1.75km
Toronto Rehabilitation Institute

130 Av Dunn, Toronto, ON M6K 2R6

1.15km

Toronto Western Hospital

399 Bathurst Street, Toronto, ON M5T

1.87km

St Joseph's Health Centre

30 The Queensway, Toronto, ON M6R 1B5

2.26km
Paul E. Garfinkel Park

1071 Queen St W (at Dovercourt Rd.), Toronto ON

0.22km

Joseph Workman Park

90 Shanly St, Toronto ON M6H 1S7

0.36km

Trinity Bellwoods Park

1053 Dundas St W (at Gore Vale Ave.), Toronto ON M5H 2N2

1km
TD Bank Financial Group

61 Hanna Rd (Liberty Village), Toronto ON M4G 3M8

0.34km

TD Bank Financial Group

1435 Queen St W (at Jameson Ave.), Toronto ON M6R 1A1

1.26km

TD Bank Financial Group

382 Roncesvalles Ave (at Marmaduke Ave.), Toronto ON M6R 2M9

2.54km