Property Management Co: Del Property Management

Main Intersection: Yonge/Bloor

Ownership Type: Condo Apt

Largest Unit: 1000

Style: Apartment

Stories: 28

Walk Score: 100

Transit Score: 94

Year Built: 2003

Total Units: 297

Amenities: Concierge, Party/Meeting Room

Condominium Corporation #: TSCC - 1525

Maintenance Fees Cover: Water

Owner Pays: Hydro, Heat, Air Conditioning
Stats
This building can be found at 8 Park Road, in the neighbourhood of Rosedale-Moore Park, in Toronto, Ontario. Among the nearby neighbourhoods are Yonge St Clair, Cabbagetown South St James Town, North St James Town, Church Yonge Corridor, Mount Pleasant East. 163 new homes are available for sale in Toronto's Rosedale-Moore Park neighbourhood, representing 0.8% of all current listings in the city. In Toronto, the average price for a home in Rosedale-Moore Park is $3,405,053. Rosedale-Moore Park homeowners pay a monthly mortgage of $11,535, 2.2 times than Toronto's average price for a home. According to the MLS, the average listed property in Rosedale-Moore Park has 1486 sq ft, 2.7 bedrooms, and 3.1 bathrooms. Among the residential properties for sale in the area surrounding 8 Park Road, 20.9% are apartments.
Very Walkable
Most errands can be accomplished on foot.
Rider's Paradise
Daily errands do not require a car.
Biker's Paradise
Daily errands do not require a car.
| | | | |
| --- | --- | --- | --- |
| Unit: 2601 C5919805 | 2 br | 2 bath 1 Parking | 700 sqft | Sold Mar 28, 2023 | $735,000 List: $779,900 |
| Unit: 1712 C5941461 | 2 br | 2 bath 1 Parking | 900 sqft | Sold Mar 20, 2023 | $815,000 List: $840,000 |
| Unit: 2708 C5828361 | 1 br | 1 bath 0 Parking | 600 sqft | Sold Nov 25, 2022 | $610,000 List: $614,900 |
| Unit: 1501 C5748354 | 2 br | 2 bath 1 Parking | 1000 sqft | Sold Nov 08, 2022 | $980,000 List: $999,999 |
| Unit: 2711 C5682087 | 2 br | 2 bath 0 Parking | 700 sqft | Sold Jul 07, 2022 | $668,000 List: $650,000 |
| Unit: 3312 C5629195 | 2 br | 2 bath 1 Parking | 900 sqft | Sold Jun 14, 2022 | $839,900 List: $875,000 |
| Unit: 1910 C5634321 | 2 br | 2 bath 1 Parking | 900 sqft | Sold Jun 14, 2022 | $830,000 List: $849,000 |
| Unit: Ph 37 C5549719 | 2 br | 2 bath 1 Parking | 900 sqft | Sold Apr 05, 2022 | $870,000 List: $889,000 |
| Unit: 3515 C5468320 | 1 br | 1 bath 0 Parking | 600 sqft | Sold Jan 20, 2022 | $618,000 List: $599,990 |
| Unit: 3311 C5469896 | 2 br | 2 bath 1 Parking | 600 sqft | Sold Jan 14, 2022 | $728,000 List: $699,000 |
| | | | |
| --- | --- | --- | --- |
| Unit: 2910 C7265358 | 2 br | 2 bath 0 Parking | 900 sqft | Leased Nov 14, 2023 | $3,600 List: $3,600 |
| Unit: 2215 C7233354 | 1 br | 1 bath 0 Parking | 600 sqft | Leased Nov 04, 2023 | $2,650 List: $2,650 |
| Unit: 2009 C7242044 | 1 br | 1 bath 0 Parking | 600 sqft | Leased Oct 29, 2023 | $2,580 List: $2,580 |
| Unit: 2101 C7049952 | 2 br | 2 bath 0 Parking | 700 sqft | Leased Oct 12, 2023 | $3,000 List: $2,950 |
| Unit: 3515 C6783214 | 1 br | 1 bath 0 Parking | 600 sqft | Leased Sep 14, 2023 | $2,800 List: $2,800 |
| Unit: 1612 C6624274 | 2 br | 2 bath 1 Parking | 900 sqft | Leased Aug 24, 2023 | $3,750 List: $3,750 |
| Unit: Ph380 C6752118 | 1 br | 1 bath 0 Parking | 600 sqft | Leased Aug 22, 2023 | $2,700 List: $2,700 |
| Unit: 2703 C6729370 | 1 br | 1 bath 0 Parking | 500 sqft | Leased Aug 22, 2023 | $2,700 List: $2,700 |
| Unit: 2803 C6748360 | 1 br | 1 bath 0 Parking | 500 sqft | Leased Aug 21, 2023 | $2,575 List: $2,550 |
| Unit: 2203 C6670310 | 1 br | 1 bath 0 Parking | 500 sqft | Leased Aug 14, 2023 | $2,550 List: $2,550 |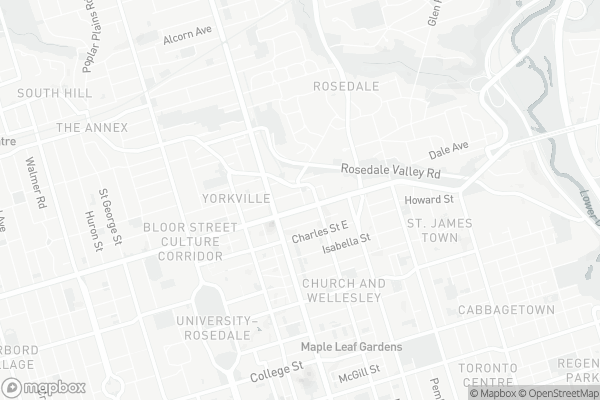 Sacred Heart School
Elementary: Catholic
Hillsdale Elementary School
Elementary: Public
St Antoine Daniel Catholic School
Elementary: Catholic
Coldwater Public School
Elementary: Public
Huron Park Public School
Elementary: Public
Tay Shores Public School
Elementary: Public
Georgian Bay District Secondary School
Secondary: Public
North Simcoe Campus
Secondary: Public
École secondaire Le Caron
Secondary: Public
Elmvale District High School
Secondary: Public
St Joseph's Separate School
Secondary: Catholic
St Theresa's Separate School
Secondary: Catholic
The Market by Longo's

100 Bloor Street East, Toronto

0.04km

Rabba Fine Foods

40 Asquith Avenue, Toronto

0.08km

H Mart

703 Yonge Street, Toronto

0.26km
LCBO

20 Bloor Street East, Toronto

0.11km

LCBO

Manulife Centre, 55 Bloor Street West, Toronto

0.33km

Northern Landings GinBerry

Manulife Centre, 55 Bloor Street West, Toronto

0.37km
Tim Hortons

2 Bloor Street East, Toronto

0.01km

A&W Canada

20 Bloor Street East, Toronto

0.02km

Bento Sushi

100 Bloor Street East, Toronto

0.03km
Tim Hortons

2 Bloor Street East, Toronto

0.01km

The Market by Longo's

100 Bloor Street East, Toronto

0.04km

Starbucks

100 Bloor Street East, Toronto

0.05km
BMO Bank of Montreal

101-120 Bloor Street East, Toronto

0.1km

RBC Royal Bank

2 Bloor Street East, Toronto

0.18km

CIBC Branch with ATM

2 Bloor Street West, Toronto

0.22km
Canadian Tire Gas+

835 Yonge Street, Toronto

0.31km

Petro-Canada

505 Jarvis Street, Toronto

0.75km

Shell

1077 Yonge Street, Toronto

1km
GoodLife Fitness Toronto Bloor and Park

Orangetheory Fitness

160 Bloor Street East Suite 100, Toronto

0.16km

T Fitness & Nutrition

40 Hayden Street 2nd Floor, Toronto

0.16km
Asquith Green Park

19 Park Road, Toronto

0.07km

Asquith Green Park

Milner Parkette
The Japan Foundation, Toronto

300-2 Bloor Street East, Toronto

0.14km

Toronto Public Library - Toronto Reference Library

789 Yonge Street, Toronto

0.18km

Toronto Public Library - Yorkville Branch

22 Yorkville Avenue, Toronto

0.33km
Ennis Pamela & Associates

160 Bloor Street East, Toronto

0.15km

The Salvation Army Toronto Grace Health Centre

650 Church Street, Toronto

0.16km

Day Rod Dr

2 Bloor Street West suite 712, Toronto

0.24km
Shoppers Drug Mart

20 Bloor Street East, Toronto

0.04km

The Pharmacy Examining Board of Canada

200-59 Hayden Street, Toronto

0.18km

Sante Pharmacy

2 Bloor Street West, Toronto

0.23km
INS MARKET

33 Bloor Street East, Toronto

0.06km

Sunglass Hut at Hudsons Bay

44 Bloor Street East, Toronto

0.07km

Hudson's Bay

44 Bloor Street East, Toronto

0.08km
Lewis Kay Casting

10 Saint Mary Street, Toronto

0.39km

Cineplex Cinemas Varsity and VIP

55 Bloor Street West, Toronto

0.41km

Imagine Cinemas Carlton Cinema

20 Carlton Street, Toronto

1.12km
Firkin on Bloor

81 Bloor Street East, Toronto

0.1km

Jack Astor's Bar & Grill Yonge & Bloor

2 Bloor Street East, Toronto

0.15km

Dalbam

640 Church Street, Toronto

0.2km