Property Management Co: Forest Hill Kipling Residential Management

Main Intersection: St. Clair Ave W / Av

Ownership Type: Condo Apt

Largest Unit: 1600

Style: Apartment

Amenities: Concierge, Gym, Indoor Pool, Party/Meeting Room, Recreation Room, Squash/Racquet Court

Condominium Corporation #: N/A - 0
Stats
This building is located at 99 Foxbar Road, Toronto, M4V 0B2 and is situated in the neighbourhood of Yonge-St. Clair. Other neighbourhoods nearby are Church Yonge Corridor, Rosedale Moore Park, Mount Pleasant West, Yonge Eglinton, Forest Hill South. The district of Yonge-St. Clair has 105 postings available. That's just 0.5% of the 19506 total properties for sale in the city of Toronto. Homes in Yonge-St. Clair are listed for an average asking price of $2,146,284, or an estimated monthly mortgage of $7,271. That is 1.4 times the average list price of $1,555,639 in Toronto. Yonge-St. Clair listed properties average 1329 sq ft, 2.1 beds, and 2.7 baths. Apartments make up 32.4% of homes for sale in the neighbourhood around 99 Foxbar Road.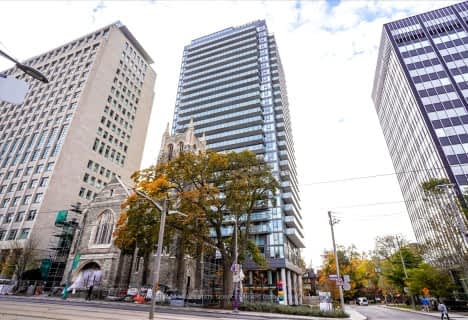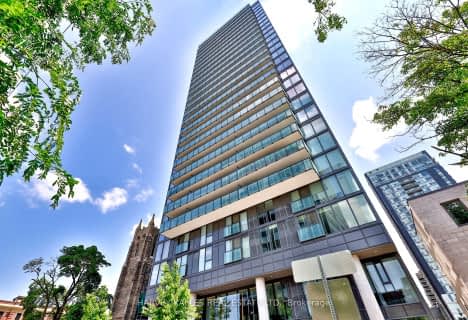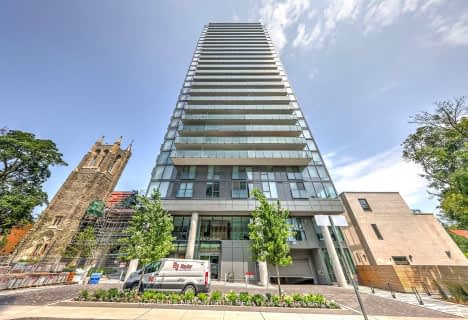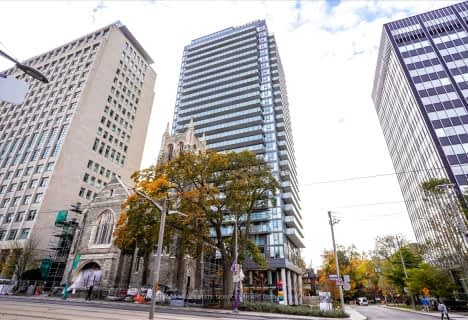 Car-Dependent
Most errands require a car.
Excellent Transit
Most errands can be accomplished by public transportation.
Very Bikeable
Most errands can be accomplished on bike.
| | | | |
| --- | --- | --- | --- |
| Unit: 509 C7025922 | 1 br | 1 bath 0 Parking | 500 sqft | Sold Nov 23, 2023 | $615,000 List: $649,900 |
| Unit: 1409 C7014056 | 1 br | 1 bath 1 Parking | 500 sqft | Sold Nov 18, 2023 | $695,000 List: $729,000 |
| Unit: 1509 C7012964 | 1 br | 1 bath 0 Parking | 500 sqft | Sold Oct 31, 2023 | $640,000 List: $669,999 |
| Unit: 701 C6786776 | 1 br | 1 bath 0 Parking | 500 sqft | Sold Sep 25, 2023 | $685,000 List: $590,000 |
| Unit: 1806 C6765070 | 1 br | 1 bath 0 Parking | 500 sqft | Sold Sep 23, 2023 | $560,000 List: $589,000 |
| Unit: 1907 C6669934 | 1 br | 1 bath 0 Parking | 0 sqft | Sold Sep 05, 2023 | $555,000 List: $554,999 |
| Unit: 1007 C6739732 | 1 br | 1 bath 0 Parking | 0 sqft | Sold Sep 01, 2023 | $538,000 List: $549,900 |
| Unit: 1803 C6633090 | 1 br | 1 bath 0 Parking | 500 sqft | Sold Jul 19, 2023 | $660,000 List: $679,000 |
| Unit: 1704 C6034760 | 2 br | 1 bath 1 Parking | 700 sqft | Sold May 25, 2023 | $905,000 List: $905,000 |
| Unit: 504 C5927115 | 2 br | 1 bath 0 Parking | 700 sqft | Sold Apr 06, 2023 | $889,200 List: $899,000 |
| | | | |
| --- | --- | --- | --- |
| Unit: 1011 C7322116 | 1 br | 1 bath 0 Parking | 500 sqft | Leased Dec 06, 2023 | $2,300 List: $2,400 |
| Unit: 901 C7297558 | 1 br | 1 bath 0 Parking | 500 sqft | Leased Nov 22, 2023 | $2,550 List: $2,550 |
| Unit: 909 C7234614 | 1 br | 1 bath 0 Parking | 500 sqft | Leased Nov 17, 2023 | $2,500 List: $2,500 |
| Unit: 2307 C7226870 | 1 br | 1 bath 0 Parking | 0 sqft | Leased Nov 15, 2023 | $2,300 List: $2,300 |
| Unit: 1907 C7232448 | 1 br | 1 bath 0 Parking | 0 sqft | Leased Nov 14, 2023 | $2,400 List: $2,400 |
| Unit: 801 C7272120 | 1 br | 1 bath 1 Parking | 500 sqft | Leased Nov 13, 2023 | $2,650 List: $2,650 |
| Unit: 1806 C7266060 | 1 br | 1 bath 0 Parking | 500 sqft | Leased Nov 11, 2023 | $2,400 List: $2,400 |
| Unit: 1307 C7250372 | 1 br | 1 bath 0 Parking | 0 sqft | Leased Nov 08, 2023 | $2,300 List: $2,300 |
| Unit: 1402 C7053118 | 2 br | 2 bath 0 Parking | 1200 sqft | Leased Nov 07, 2023 | $6,000 List: $6,000 |
| Unit: 811 C7023486 | 1 br | 1 bath 0 Parking | 500 sqft | Leased Nov 02, 2023 | $2,400 List: $2,400 |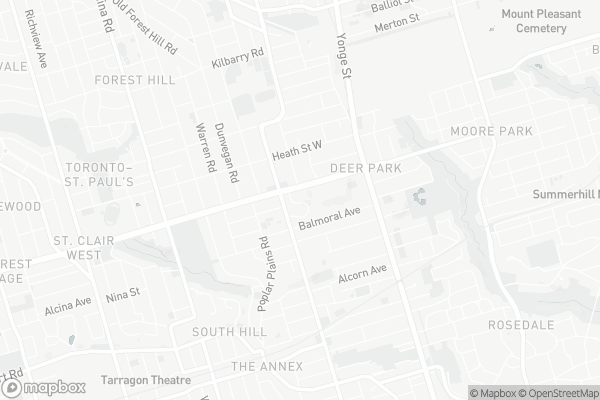 Spectrum Alternative Senior School
Elementary: Public
Cottingham Junior Public School
Elementary: Public
Holy Rosary Catholic School
Elementary: Catholic
Davisville Junior Public School
Elementary: Public
Deer Park Junior and Senior Public School
Elementary: Public
Brown Junior Public School
Elementary: Public
Msgr Fraser Orientation Centre
Secondary: Catholic
Msgr Fraser College (Midtown Campus)
Secondary: Catholic
Msgr Fraser College (Alternate Study) Secondary School
Secondary: Catholic
Loretto College School
Secondary: Catholic
Marshall McLuhan Catholic Secondary School
Secondary: Catholic
North Toronto Collegiate Institute
Secondary: Public
The Market by Longo's

111 Saint Clair Avenue West, Toronto

0.06km

The Kitchen Table

155 Dupont Street, Toronto

1.19km

Friends Fine Food & Groceries

1881 Yonge Street, Toronto

1.32km
LCBO

111 Saint Clair Avenue West, Toronto

0.08km

Boxcar Social Bottle Shop

1210 Yonge Street, Toronto

0.81km

Northern Landings GinBerry

10 Scrivener Square, Toronto

0.93km
Bento Sushi

111 Saint Clair Avenue West, Toronto

0.07km

Bistro Five61

561 Avenue Road, Toronto

0.23km

Pastucci's (St. Clair Ave West)

55 Saint Clair Avenue West unit 101, Toronto

0.24km
Starbucks

111 Saint Clair Avenue West, Toronto

0.07km

Tim Hortons

55 Saint Clair Avenue West, Toronto

0.27km

Presse Café

40 Saint Clair Avenue West, Toronto

0.39km
Desjardins Financial Security

95 Saint Clair Avenue West, Toronto

0.14km

Berriedale Limited

55 Saint Clair Avenue West, Toronto

0.27km

Homequity Bank

45 Saint Clair Avenue West, Toronto

0.37km
Shell

1077 Yonge Street, Toronto

1.07km

Circle K

150 Dupont Street, Toronto

1.17km

Esso

150 Dupont Street, Toronto

1.17km
True Star Health

55 St Clair Avenue West, Toronto

0.25km

York Fitness Worldwide Inc

30 Saint Clair Avenue West, Toronto

0.42km

Ace Sports Clinic

1 Saint Clair Avenue West #302, Toronto

0.47km
Amsterdam Square

525 Avenue Road, Toronto

0.15km

Glenn Gould Park

480 Avenue Road, Toronto

0.2km

Glenn Gould Park
Toronto Public Library - Deer Park Branch

40 Saint Clair Avenue East, Toronto

0.65km

Christian Science Reading Room

927 Yonge Street, Toronto

1.5km

Toronto Public Library - Wychwood Branch (closed for renovation)

1431 Bathurst Street, Toronto

1.51km
Kleinman Irwin Dr

200 Saint Clair Avenue West, Toronto

0.24km

dogustankanadali

55 Saint Clair Avenue West, Toronto

0.27km

Dancyger Gerry Dr

49 Saint Clair Avenue West, Toronto

0.34km
Deer Park Pharmacy

55 Saint Clair Avenue West Unit 108, Toronto

0.27km

Midtown Compounding Pharmacy

1398 Yonge Street, Toronto

0.49km

Pharmasave Balmoral

100-1366 Yonge Street, Toronto

0.5km
Canadian Outlet

1417 Yonge Street, Toronto

0.52km

Delisle Court

1560 Yonge Street, Toronto

0.53km

St. Clair Centre

2 Saint Clair Avenue East, Toronto

0.53km
Cineplex Entertainment

1303 Yonge Street, Toronto

0.61km

Vennersys Cinema Solutions

1920 Yonge Street #200, Toronto

1.41km

Tarragon Theatre

30 Bridgman Avenue, Toronto

1.64km
Union Social Eatery

21 Saint Clair Avenue West, Toronto

0.43km

Midtown Gastro Hub

1535 Yonge Street, Toronto

0.59km

Community Accessories

1276 Yonge Street, Toronto

0.64km