Property Management Co: Goldview Property Management

Main Intersection: King/Dufferin

Ownership Type: Condo Apt

Smallest Unit: 0-499

Largest Unit: 700-799

Style: Apartment

Stories: 22

Walk Score: 95

Transit Score: 100

Year Built: 2013

Total Units: 531

Amenities: Concierge, Exercise Room, Indoor Pool, Indoor Pool, Party/Meeting Room

Condominium Corporation #: TSCC - 2302

Maintenance Fees Cover: Water

Owner Pays: Hydro, Heat, Air Conditioning
This building is located at 38 Joe Shuster Way, Toronto, M6K 0A5 and is situated in the neighbourhood of Niagara. Other neighbourhoods nearby are Waterfront Communities C01, Trinity Bellwoods, Kensington Chinatown, Palmerston Little Italy, Little Portugal. The district of Niagara has 308 postings available. That's just 2.2% of the 14035 total properties for sale in the city of Toronto. Homes in Niagara are listed for an average asking price of $1,022,345, or an estimated monthly mortgage of $3,463. That is 1.6 times less the average list price of $1,592,905 in Toronto. Niagara listed properties average 587 sq ft, 1.1 beds, and 1.4 baths. Apartments make up 31.8% of homes for sale in the neighbourhood around 38 Joe Shuster Way.

Very Walkable
Most errands can be accomplished on foot.
Rider's Paradise
Daily errands do not require a car.
Very Bikeable
Most errands can be accomplished on bike.
| | | | |
| --- | --- | --- | --- |
| Unit: 1202 C5862533 | 1 br | 2 bath 0 Parking | 700-799 sqft | Sold Feb 08, 2023 | $600,000 List: $599,900 |
| Unit: 1901 C5883449 | 1 br | 2 bath 1 Parking | 700-799 sqft | Sold Feb 07, 2023 | $619,000 List: $619,000 |
| Unit: 2010 W5829973 | 1 br | 1 bath 1 Parking | 0-499 sqft | Sold Dec 20, 2022 | $570,000 List: $579,900 |
| Unit: 917 C5832342 | 1 br | 1 bath 0 Parking | 0-499 sqft | Sold Dec 07, 2022 | $502,000 List: $519,000 |
| Unit: 2201 C5788942 | 2 br | 2 bath 1 Parking | 700-799 sqft | Sold Oct 26, 2022 | $650,000 List: $669,900 |
| Unit: 1605 C5794017 | 1 br | 1 bath 1 Parking | 600-699 sqft | Sold Oct 18, 2022 | $658,000 List: $649,900 |
| Unit: 317 C5730182 | 1 br | 1 bath 0 Parking | 0-499 sqft | Sold Aug 19, 2022 | $525,000 List: $524,999 |
| Unit: 1205 C5696018 | 1 br | 1 bath 1 Parking | 600-699 sqft | Sold Jul 25, 2022 | $630,000 List: $659,900 |
| Unit: 1903 C5651652 | 1 br | 2 bath 0 Parking | 600-699 sqft | Sold Jun 12, 2022 | $660,000 List: $589,000 |
| Unit: 1105 C5642144 | 1 br | 1 bath 1 Parking | 600-699 sqft | Sold Jun 10, 2022 | $650,000 List: $599,000 |
| | | | |
| --- | --- | --- | --- |
| Unit: 1609 C5937727 | 1 br | 1 bath 0 Parking | 500-599 sqft | Leased Mar 07, 2023 | $2,425 List: $2,200 |
| Unit: 1615 C5921123 | 1 br | 1 bath 0 Parking | 500-599 sqft | Leased Feb 25, 2023 | $2,300 List: $2,250 |
| Unit: 603 C5903683 | 1 br | 2 bath 1 Parking | 600-699 sqft | Leased Feb 24, 2023 | $2,450 List: $2,450 |
| Unit: 2008 C5895719 | 1 br | 1 bath 0 Parking | 0-499 sqft | Leased Feb 18, 2023 | $2,150 List: $2,150 |
| Unit: 1213 W5871603 | 1 br | 1 bath 0 Parking | 500-599 sqft | Leased Feb 14, 2023 | $2,500 List: $2,500 |
| Unit: 2212 C5878151 | 2 br | 2 bath 0 Parking | 800-899 sqft | Leased Feb 07, 2023 | $3,100 List: $3,000 |
| Unit: 309 C5871083 | 1 br | 1 bath 0 Parking | 500-599 sqft | Leased Jan 19, 2023 | $2,300 List: $2,190 |
| Unit: 1619 C5868662 | 1 br | 1 bath 0 Parking | 0-499 sqft | Leased Jan 16, 2023 | $2,250 List: $2,150 |
| Unit: 1608 C5837318 | 1 br | 1 bath 0 Parking | 0-499 sqft | Leased Jan 14, 2023 | $2,300 List: $2,300 |
| Unit: 820 C5861262 | 1 br | 1 bath 0 Parking | 500-599 sqft | Leased Jan 10, 2023 | $2,200 List: $2,200 |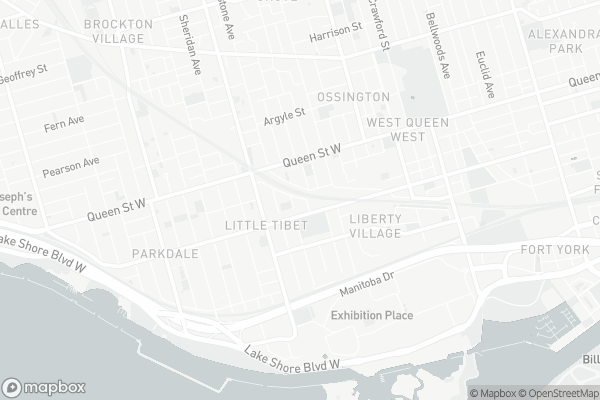 The Grove Community School
Elementary: Public
Holy Family Catholic School
Elementary: Catholic
St Ambrose Catholic School
Elementary: Catholic
Givins/Shaw Junior Public School
Elementary: Public
Alexander Muir/Gladstone Ave Junior and Senior Public School
Elementary: Public
Queen Victoria Junior Public School
Elementary: Public
Msgr Fraser College (Southwest)
Secondary: Catholic
ÉSC Saint-Frère-André
Secondary: Catholic
École secondaire Toronto Ouest
Secondary: Public
Central Toronto Academy
Secondary: Public
Parkdale Collegiate Institute
Secondary: Public
St Mary Catholic Academy Secondary School
Secondary: Catholic
New Zealand Whey Protein Isolate

Popeye's Health, Atlantic Avenue, Toronto

0.27km

Metro at West Queen West

1230 Queen Street West, Toronto

0.36km

Metro

100 Lynn Williams Street, Toronto

0.54km
Le Sommelier Inc

Toronto Carpet Factory, 67 Mowat Avenue #042, Toronto

0.29km

Northern Landings GinBerry

85 Hanna Avenue Unit 103, Toronto

0.35km

The Wine Shop

1230 Queen Street West, Toronto

0.35km
McDonald's

25 Joe Shuster Way, 1100 King Street West, Toronto

0.08km

Corks Beer & Wine Bar

1100 King Street West, Toronto

0.15km

Bento Sushi

1100 King Street West, Toronto

0.15km
McDonald's

25 Joe Shuster Way, 1100 King Street West, Toronto

0.08km

The Common

36 Lisgar Street, Toronto

0.16km

Santo Pecado Cafe at TMAC

32 Lisgar Street, Toronto

0.17km
CIBC Branch (Cash at ATM only)

1161 Queen Street West, Toronto

0.26km

RBC Royal Bank

2 Gladstone Avenue, Toronto

0.33km

RBC Royal Bank

51 Hanna Avenue, Toronto

0.39km
Circle K

952 King Street West, Toronto

0.96km

Esso

952 King Street West, Toronto

0.99km

7-Eleven

873 Queen Street West, Toronto

1.22km
The Fitness Girl Bootcamp for Women

38 Joe Shuster Way, Toronto

0.04km

South Style Martial Arts

180 Sudbury Street, Toronto

0.12km

TRIBEspace Yoga studio Toronto

80 Sudbury Street, Toronto

0.19km
King High Line

Joe Shuster Way, Toronto

0.07km

Rita Cox Park

14 Machells Avenue, Toronto

0.07km

Allan A. Lamport Stadium Park

1155 King Street West, Toronto

0.22km
Little Free Library

35 Melbourne Avenue, Toronto

0.47km

Toronto Public Library - Parkdale Branch

1303 Queen Street West, Toronto

0.66km

Little Free Library

1-17 Close Avenue, Toronto

1.02km
Your Stride

1179 King Street West, Toronto

0.15km

Prime Medical Centre

1-68 Abell Street, Toronto

0.21km

Centre for Addiction and Mental Health- Queen Street Site

1000 Queen Street West, Toronto

0.54km
Shoppers Drug Mart

1090 King Street West, Toronto

0.18km

Abell Pharmacy

68 Abell Street Unit #10, Toronto

0.2km

Family Care Pharmacy

1209 King Street West, Toronto

0.25km
Shops at King Liberty

85 Hanna Avenue, Toronto

0.37km

The Queer Shopping Network

12 Claremont Street, Toronto

1.34km

The Village Co

28 Bathurst Street, Toronto

1.79km
Zoomerhall

70 Jefferson Avenue, Toronto

0.35km

OLG Play Stage

955 Lake Shore Boulevard West, Toronto

1.39km

Cinesphere Theatre

955 Lake Shore Boulevard West, Toronto

1.51km
Longo's Liberty Village

1100 King Street West, Toronto

0.15km

The After Dark Bar

1180 Queen Street West, Toronto

0.29km

Death & Taxes Free House

1154 Queen Street West, Toronto

0.29km