Property Management Co: Brookfield Residential Services

Main Intersection: Brimley/Ellesmere

Ownership Type: Condo Apt

Smallest Unit: 600-699

Largest Unit: 700-799

Style: Apartment

Stories: 37

Walk Score: 88

Transit Score: 99

Year Built: 2005

Total Units: 340

Amenities: Concierge, Exercise Room, Indoor Pool

Condominium Corporation #: TSCC - 1721

Maintenance Fees Cover: None

Owner Pays: Hydro, Heat, Air Conditioning, Water
Building 60 Brian Harrison Way is situated in the neighbourhood of Bendale and is located in Toronto, M1P 5J5 . Additionally, there are neighbourhoods such Scarborough Village, Woburn, Eglinton East, Dorset Park, Kennedy Park in the immediate vicinity. In the Bendale neighbourhood, 97 new homes are available for sale, which represents 0.7% of Toronto's total 13846 homes currently listed. Bendale homeowners pay a monthly mortgage of $2,613, based on an average asking price of $771,222, 2.1 times less than Toronto's average list price of $1,596,121. The average listed property in Bendale is 467 sq ft, has 1.7 bedrooms, and 1.4 bathrooms. In the area around 60 Brian Harrison Way, 21.6% of the homes for sale are apartments.
Currently there are no apartments for sale at 60 Brian Harrison Way. Contact us for this details regarding this building's price history or to see units in nearby buildings.
Very Walkable
Most errands can be accomplished on foot.
Rider's Paradise
Daily errands do not require a car.
Bikeable
Some errands can be accomplished on bike.
| | | | |
| --- | --- | --- | --- |
| Unit: 904 E5878496 | 2 br | 2 bath 1 Parking | 800-899 sqft | Sold Feb 01, 2023 | $640,000 List: $599,999 |
| Unit: 1110# E5860973 | 1 br | 1 bath 1 Parking | 600-699 sqft | Sold Jan 17, 2023 | $578,500 List: $528,000 |
| Unit: 2908 E5743599 | 1 br | 1 bath 1 Parking | 600-699 sqft | Sold Sep 01, 2022 | $588,888 List: $598,888 |
| Unit: 3204 E5726850 | 2 br | 2 bath 1 Parking | 700-799 sqft | Sold Aug 23, 2022 | $700,000 List: $729,000 |
| Unit: 3306 E5693239 | 1 br | 1 bath 1 Parking | 500-599 sqft | Sold Aug 04, 2022 | $500,000 List: $499,000 |
| Unit: 1803 E5632466 | 1 br | 1 bath 1 Parking | 600-699 sqft | Sold Jun 21, 2022 | $587,000 List: $590,000 |
| Unit: 2402 E5654714 | 3 br | 2 bath 1 Parking | 900-999 sqft | Sold Jun 17, 2022 | $765,000 List: $699,900 |
| Unit: 2304 E5621743 | 2 br | 2 bath 1 Parking | 800-899 sqft | Sold May 30, 2022 | $720,000 List: $699,000 |
| Unit: 1003 E5620239 | 1 br | 1 bath 0 Parking | 600-699 sqft | Sold May 18, 2022 | $575,000 List: $549,000 |
| Unit: 905 E5609713 | 1 br | 1 bath 0 Parking | 600-699 sqft | Sold May 17, 2022 | $565,000 List: $499,000 |
| | | | |
| --- | --- | --- | --- |
| Unit: 1705 E5929227 | 1 br | 1 bath 1 Parking | 500-599 sqft | Leased Mar 04, 2023 | $2,600 List: $2,600 |
| Unit: 910 E5876724 | 1 br | 1 bath 1 Parking | 600-699 sqft | Leased Feb 22, 2023 | $2,500 List: $2,500 |
| Unit: 1104 E5884308 | 2 br | 3 bath 1 Parking | 700-799 sqft | Leased Feb 19, 2023 | $3,000 List: $3,000 |
| Unit: 2905 E5878643 | 1 br | 1 bath 0 Parking | 600-699 sqft | Leased Feb 18, 2023 | $2,500 List: $2,600 |
| Unit: 3010 E5844940 | 1 br | 1 bath 1 Parking | 600-699 sqft | Leased Dec 16, 2022 | $2,700 List: $2,700 |
| Unit: 1701 E5848603 | 1 br | 2 bath 1 Parking | 700-799 sqft | Leased Dec 12, 2022 | $2,750 List: $2,700 |
| Unit: 3305 E5825327 | 1 br | 1 bath 1 Parking | 600-699 sqft | Leased Nov 24, 2022 | $2,500 List: $2,500 |
| Unit: 404 E5754182 | 2 br | 2 bath 0 Parking | 700-799 sqft | Leased Nov 07, 2022 | $2,900 List: $2,900 |
| Unit: 409 E5751242 | 2 br | 2 bath 1 Parking | 800-899 sqft | Leased Nov 04, 2022 | $3,500 List: $3,500 |
| Unit: 408 E5750131 | 1 br | 1 bath 1 Parking | 600-699 sqft | Leased Sep 03, 2022 | $2,500 List: $2,600 |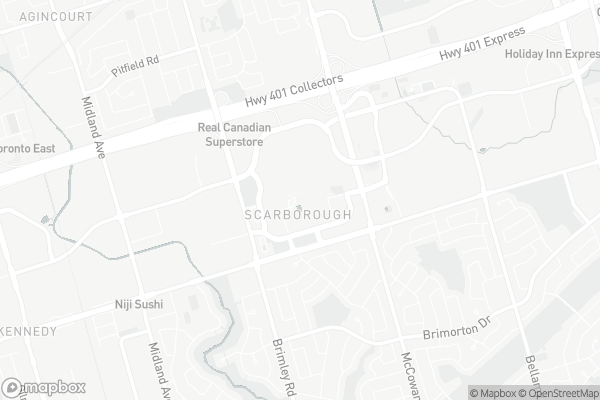 North Bendale Junior Public School
Elementary: Public
Edgewood Public School
Elementary: Public
St Victor Catholic School
Elementary: Catholic
C D Farquharson Junior Public School
Elementary: Public
St Andrews Public School
Elementary: Public
White Haven Junior Public School
Elementary: Public
Alternative Scarborough Education 1
Secondary: Public
Bendale Business & Technical Institute
Secondary: Public
Winston Churchill Collegiate Institute
Secondary: Public
David and Mary Thomson Collegiate Institute
Secondary: Public
Woburn Collegiate Institute
Secondary: Public
Agincourt Collegiate Institute
Secondary: Public
Grace Daily Mart

1579 Ellesmere Road, Scarborough

0.46km

Superstore Bakery

1755 Brimley Road, Scarborough

0.58km

Prasad Caribbean & Oriental Specialty Foods

4559 Sheppard Avenue East, Scarborough

1.66km
LCBO

420 Progress Avenue, Scarborough

0.45km

Wine Rack

1755 Brimley Road, Scarborough

0.59km

LCBO

Kennedy Commons, 21 William Kitchen Road H2, Scarborough

1.76km
Thai Express

SU&SHI Noodle Bar

300 Borough Drive, Scarborough

0.11km

NAAN KABOB

300 Borough Drive, Scarborough

0.11km
CoCo Fresh Tea & Juice

60 Brian Harrison Way Unit 4, Scarborough

0.01km

Chatime Scarborough

300 Borough Drive, Scarborough

0.12km

Gong Cha

60 Town Centre Court Unit 104, Scarborough

0.14km
TD Canada Trust Branch and ATM

300 Borough Drive Unit 36, Scarborough

0.14km

Scotiabank

300 Borough Drive Unit 211, Scarborough

0.26km

Alterna Savings

410 Progress Avenue, Scarborough

0.5km
Esso

1615 Ellesmere Road, Scarborough

0.52km

Circle K

1615 Ellesmere Road, Scarborough

0.54km

Petro-Canada

1270 Brimley Road, Scarborough

0.58km
Scarborough YMCA

230 Town Centre Court, Scarborough

0.27km

Shaolin Cultural Centre of Canada

390 Progress Avenue Unit 8, Scarborough

0.55km

GoodLife Fitness Scarborough Town Centre Women's Only

1755 Brimley Road, Scarborough

0.64km
Albert Campbell Square

150 Borough Drive, Scarborough

0.1km

Hand of God Dog Park

160 Borough Dr Scarborough ON M1P 4N7 Borough Drive, Scarborough

0.27km

Frank Faubert Wood Lot

185 Borough Drive, Toronto

0.33km
Toronto Public Library - Scarborough Civic Centre Branch

156 Borough Drive, Scarborough

0.19km

Centennial College Library

941 Progress Avenue, Scarborough

2.67km

Toronto Public Library - Bendale Branch

1515 Danforth Road, Toronto

2.77km
Nautica Health Management

1560 Brimley Rd, Scarborough

0.51km

One Care Medical and Children's Clinic

1755 Brimley Road, Scarborough

0.68km

Comfort Zone Labs

88 Corporate Drive, Scarborough

1km
Town Care I.D.A. Pharmacy

60 Town Centre Court, Scarborough

0.14km

Shoppers Drug Mart

300 Borough Drive, Scarborough

0.19km

Walmart Pharmacy

300 Borough Drive Unit 3635, Scarborough

0.36km
Scarborough Town Centre

300 Borough Drive, Scarborough

0.18km

Santa'Ville

300 Borough Drive, Scarborough

0.31km

Mac cosmetics

Town Centre Court, Toronto

0.32km
Cineplex Cinemas Scarborough

Scarborough Town Centre, 300 Borough Drive, Scarborough

0.23km

Woodside Square Cinemas

1571 Sandhurst Circle, Scarborough

4.13km
Moxies Scarborough Restaurant

300 Borough Drive, Scarborough

0.23km

St. Louis Bar & Grill

55 Town Centre Court Unit 101, Scarborough

0.29km

Jack Astor's Bar & Grill Scarborough

580 Progress Avenue, Scarborough

0.47km