Property Management Co: Meritus Property Management

Main Intersection: King/Shaw

Ownership Type: Condo Apt

Largest Unit: 800

Style: Apartment

Stories: 14

Walk Score: 94

Transit Score: 100

Year Built: 2015

Total Units: 602

Amenities: Concierge, Exercise Room, Gym, Party/Meeting Room

Condominium Corporation #: TSCC - 2424

Maintenance Fees Cover: Water

Owner Pays: Hydro, Heat, Air Conditioning
Stats
Building 1030 King Street West is situated in the neighbourhood of Niagara and is located in Toronto, M6K 3N3 . Additionally, there are neighbourhoods such Waterfront Communities C01, Trinity Bellwoods, Kensington Chinatown, Palmerston Little Italy, Little Portugal in the immediate vicinity. In the Niagara neighbourhood, 572 new homes are available for sale, which represents 2.9% of Toronto's total 20069 homes currently listed. Niagara homeowners pay a monthly mortgage of $3,725, based on an average asking price of $1,099,471, 1.4 times less than Toronto's average list price of $1,553,413. The average listed property in Niagara is 659 sq ft, has 1.4 bedrooms, and 1.6 bathrooms. In the area around 1030 King Street West, 34.8% of the homes for sale are apartments.
Somewhat Walkable
Some errands can be accomplished on foot.
Rider's Paradise
Daily errands do not require a car.
Very Bikeable
Most errands can be accomplished on bike.
| | | | |
| --- | --- | --- | --- |
| Unit: 1125 C7217916 | 0 br | 1 bath 0 Parking | 0 sqft | Sold Oct 15, 2023 | $470,000 List: $479,900 |
| Unit: 1227 C6645540 | 2 br | 2 bath 1 Parking | 700 sqft | Sold Jul 15, 2023 | $929,000 List: $948,888 |
| Unit: Ph 01 C6624610 | 1 br | 1 bath 1 Parking | 500 sqft | Sold Jul 06, 2023 | $725,000 List: $735,000 |
| Unit: 527 C6038636 | 2 br | 2 bath 0 Parking | 700 sqft | Sold May 29, 2023 | $919,000 List: $949,000 |
| Unit: 353 C6033499 | 2 br | 2 bath 0 Parking | 700 sqft | Sold Apr 28, 2023 | $785,000 List: $719,999 |
| Unit: 217 C6021839 | 0 br | 1 bath 0 Parking | 0 sqft | Sold Apr 20, 2023 | $508,700 List: $399,000 |
| Unit: 703 C5824760 | 2 br | 2 bath 0 Parking | 700 sqft | Sold Apr 17, 2023 | $868,000 List: $889,900 |
| Unit: 631 C5984403 | 0 br | 1 bath 1 Parking | 0 sqft | Sold Mar 29, 2023 | $500,000 List: $449,900 |
| Unit: 523 C5924627 | 1 br | 2 bath 0 Parking | 600 sqft | Sold Mar 29, 2023 | $665,000 List: $699,000 |
| Unit: 127 C5947621 | 0 br | 1 bath 0 Parking | 0 sqft | Sold Mar 13, 2023 | $465,000 List: $429,900 |
| | | | |
| --- | --- | --- | --- |
| Unit: 332 C7277176 | 1 br | 1 bath 0 Parking | 500 sqft | Leased Nov 17, 2023 | $2,550 List: $2,550 |
| Unit: 308 C7279134 | 1 br | 1 bath 0 Parking | 0 sqft | Leased Nov 17, 2023 | $2,500 List: $2,500 |
| Unit: 528 C7266894 | 2 br | 2 bath 1 Parking | 700 sqft | Leased Nov 07, 2023 | $3,650 List: $3,600 |
| Unit: 1132 C7225458 | 1 br | 1 bath 1 Parking | 600 sqft | Leased Oct 24, 2023 | $2,850 List: $2,850 |
| Unit: 712 C7052600 | 1 br | 1 bath 1 Parking | 500 sqft | Leased Oct 19, 2023 | $2,700 List: $2,800 |
| Unit: 1036 C7050682 | 2 br | 2 bath 1 Parking | 700 sqft | Leased Oct 16, 2023 | $3,500 List: $3,375 |
| Unit: Lph23 C7039916 | 1 br | 1 bath 0 Parking | 500 sqft | Leased Oct 11, 2023 | $2,700 List: $2,700 |
| Unit: 932 C7046294 | 0 br | 1 bath 0 Parking | 0 sqft | Leased Oct 10, 2023 | $2,300 List: $2,300 |
| Unit: 545 C7048916 | 1 br | 1 bath 0 Parking | 600 sqft | Leased Oct 06, 2023 | $3,000 List: $2,800 |
| Unit: 1115 C7017118 | 1 br | 1 bath 0 Parking | 600 sqft | Leased Oct 03, 2023 | $2,800 List: $2,800 |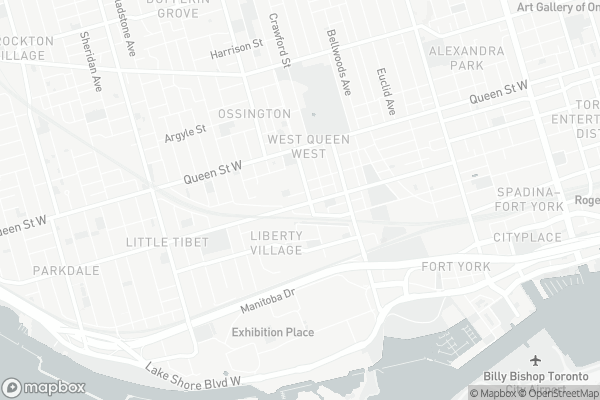 Niagara Street Junior Public School
Elementary: Public
Pope Francis Catholic School
Elementary: Catholic
Charles G Fraser Junior Public School
Elementary: Public
St Mary Catholic School
Elementary: Catholic
Givins/Shaw Junior Public School
Elementary: Public
École élémentaire Pierre-Elliott-Trudeau
Elementary: Public
Msgr Fraser College (Southwest)
Secondary: Catholic
Oasis Alternative
Secondary: Public
City School
Secondary: Public
Central Toronto Academy
Secondary: Public
Parkdale Collegiate Institute
Secondary: Public
Harbord Collegiate Institute
Secondary: Public
Metro

100 Lynn Williams Street, Toronto

0.24km

K & N Supermarket

998 Queen Street West, Toronto

0.38km

New Zealand Whey Protein Isolate

Popeye's Health, Atlantic Avenue, Toronto

0.49km
Wine Rack

1005 King Street West, Toronto

0.1km

The Wine Shop

100 Lynn Williams Street, Toronto

0.24km

LCBO

85 Hanna Avenue Unit 103, Toronto

0.36km
Tim Hortons

1034 King Street West, Toronto

0.01km

Bento Sushi

1022 King Street West, Toronto

0.03km

Konz Pizza

1029 King Street West Unit 25, Toronto

0.06km
Tim Hortons

1034 King Street West, Toronto

0.01km

Starbucks

1005 King Street West Unit 7, Toronto

0.09km

Starbucks

100 Lynn Williams Street, Toronto

0.23km
Meridian Credit Union

1029 King Street West Unit 29, Toronto

0.06km

CIBC Branch (Cash at ATM only)

120 Lynn Williams Street Suite 100, Toronto

0.32km

TD Canada Trust Branch and ATM

61 Hanna Avenue, Toronto

0.32km
Circle K

952 King Street West, Toronto

0.27km

Esso

952 King Street West, Toronto

0.29km

7-Eleven

873 Queen Street West, Toronto

0.6km
Opet Childbirth Services

2213-12 Sudbury Street, Toronto

0.18km

Tmotion

12 Sudbury Street, Toronto

0.19km

GoodLife Fitness Toronto King Liberty

85 Hanna Avenue, Toronto

0.36km
Joseph Workman Park

Joseph Workman Park

3T9, 90 Shank Street, Toronto

0.11km

Liberty Village Dog Park
Little Free Library

35 Melbourne Avenue, Toronto

1.16km

Toronto Public Library - Fort York Branch

190 Fort York Boulevard, Toronto

1.27km

Toronto Public Library - Parkdale Branch

1303 Queen Street West, Toronto

1.34km
Centre for Addiction and Mental Health- Queen Street Site

1000 Queen Street West, Toronto

0.25km

Dr. Nadia Lamanna, Naturopathic Doctor

171 East Liberty Street, Toronto

0.42km

Toronto Western Hospital - Withdrawal Management Center

16 Ossington Avenue, Toronto

0.43km
Independent City Market

1022 King Street West, Toronto

0.05km

CAMH Pharmacy

Paul Christie Community Centre, 1001 Queen Street West, Toronto

0.24km

Nature's Signature "Health Food Store" Liberty Village Toronto

1A-100 Lynn Williams Street, Toronto

0.24km
Shops at King Liberty

85 Hanna Avenue, Toronto

0.38km

The Queer Shopping Network

12 Claremont Street, Toronto

0.73km

The Village Co

28 Bathurst Street, Toronto

1.11km
Zoomerhall

70 Jefferson Avenue, Toronto

0.68km

OLG Play Stage

955 Lake Shore Boulevard West, Toronto

1.25km

Ontario Place Drive-In

955 Lake Shore Boulevard West, Toronto

1.4km
King Rustic Kitchen & Bar

905 King Street West, Toronto

0.31km

Citizen

King Street West, Toronto

0.32km

Pennies

127 Strachan Avenue, Toronto

0.36km